Vermont City Marathon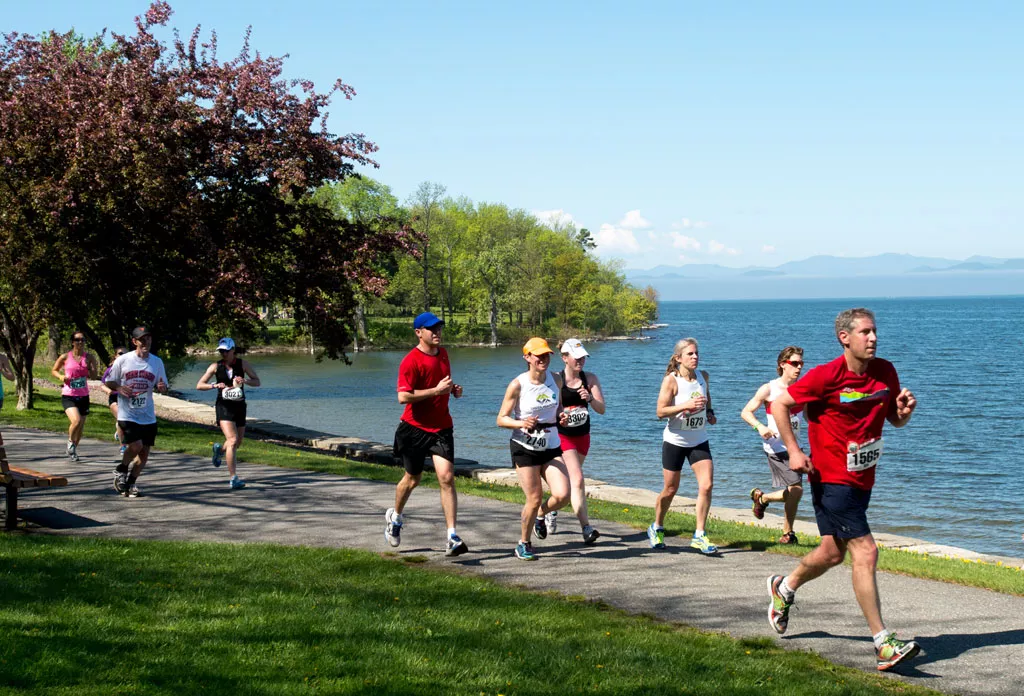 If ever there were a spectator sport, it's the People's United Bank Vermont City Marathon. Held in and around downtown Burlington, this annual Memorial Day Weekend race attracts more than 8,000 runners and an estimated 30,000 fans. The course travels 26.2 miles along Lake Champlain, down tree-lined streets and through the Church Street Marketplace, giving onlookers ample opportunity to support athletes along the way.
Now in its 27th year, Vermont's largest sporting event draws pros and amateurs alike to its varied terrain and picturesque lake and mountain views. Competing as individuals, in relay teams, or in the wheelchair and hand-cycle divisions, athletes tackle grueling hills that give way to fast, flat sections and open expanses. This year, the event hosts the USA Track & Field New England Marathon Championship, as well as Olympic bronze medalist Deena Kastor. Serving as the VCM's honorary starter, the decorated long-distance runner kicks things off at Battery Park.
Other hot spots include Main Street and the Church Street Marketplace, where eateries such as Leunig's Bistro & Café offer prime viewing. Oakledge Park marks the race's halfway point and the two-person relay hand-off, while mile 15 up Battery Street earns its nickname as the "Assault on Battery." Taiko drummers keep a steady drumbeat, encouraging runners up the six-block incline. The course concludes at scenic Waterfront Park, where thousands of supporters mob the finish line.
Sunday, May 24, in downtown Burlington. Info: 863-8412.
Événement-spectacle s'il en est un, le Vermont City Marathon, présenté par la People's United Bank, se déroule chaque année au centre-ville de Burlington et dans les alentours durant le week-end de Memorial Day. Cette course, qui attire plus de 8 000 coureurs et environ 30 000 spectateurs, s'étend sur 42 kilomètres le long du lac Champlain, parcourt des rues bordées d'arbres et traverse le marché de Church Street, donnant amplement l'occasion aux badauds d'encourager les athlètes.
Cet événement sportif, le plus important au Vermont, en est à sa 27e édition. Coureurs aguerris et amateurs ne sauraient manquer cette course au relief varié qui offre des vues superbes sur le lac et les montagnes. Qu'ils courent individuellement, en équipe de relais, en fauteuil roulant ou en vélo à main, les athlètes s'affrontent sur un parcours alternant montées éreintantes, tronçons plats et vastes étendues. Cette année, l'événement accueillera le championnat de marathon du USA Track & Field (division de la Nouvelle-Angleterre), ainsi que Deena Kastor, médaillée de bronze olympique en course de fond, qui agira comme starter honoraire et donnera le coup d'envoi à l'événement à Battery Park.
Parmi les points névralgiques, mentionnons Main Street et le marché de Church Street, où les restaurants comme Leunig's Bistro & Café offrent d'excellents postes d'observation. Oakledge Park marque le milieu du parcours et le passage du relais pour ceux qui courent en équipe de deux, tandis que le mile 15, sur Battery Street, porte bien son surnom de « Assault on Battery ». Enfin, c'est au rythme des tambours taiko que les coureurs s'attaquent à une montée longue de six pâtés de maisons, puis franchissent le fil d'arrivée au pittoresque Waterfront Park, sous les acclamations de milliers de supporters.
Le dimanche 24 mai au centre-ville de Burlington. Info: 863-8412.
Vermont Restaurant Week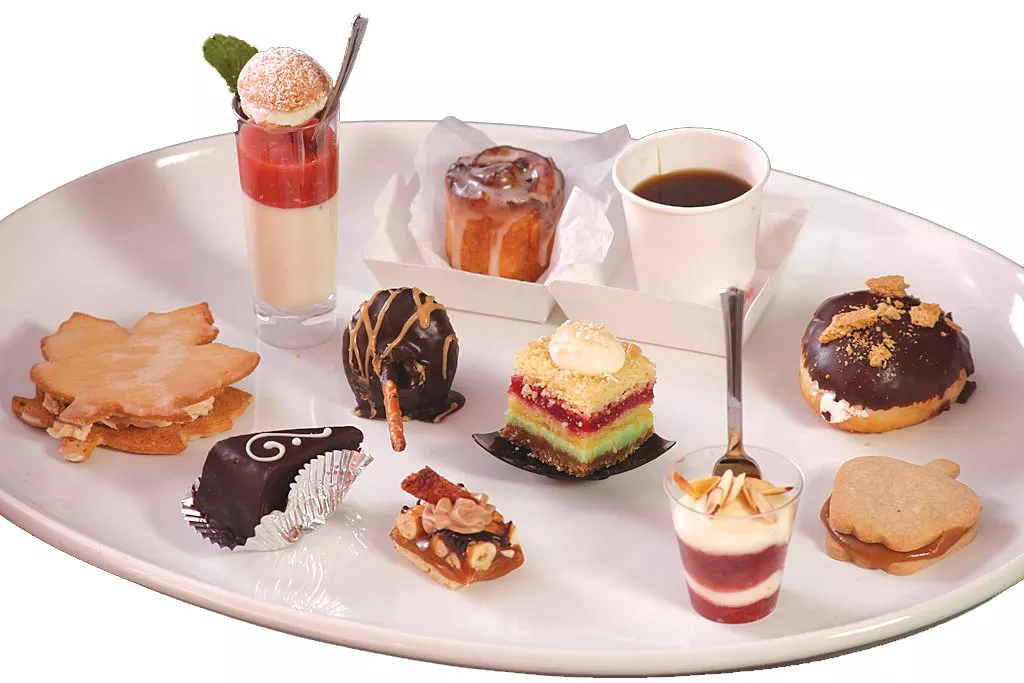 It's no secret that Vermont is a foodie's paradise. The state's thriving locavore scene draws top chefs dedicated to serving seasonal cuisine based on local ingredients. With mouthwatering options around every corner, it can be difficult to decide where to begin. Enter Vermont Restaurant Week, the state's largest culinary event, which provides the itinerary for an edible adventure. More than 90 participating eateries highlight house specialties in prix-fixe lunches and dinners.
From wood-fired pizza to grass-fed meats, three-course menus please discerning palates with appetizers, entrées and desserts that showcase innovative preparations and daring flavor profiles. And what meal would be complete without a local libation? Vermont's famed craft beers, hard ciders and spirits complement top-notch cuisine. Keep an eye out for VRW's official cocktail.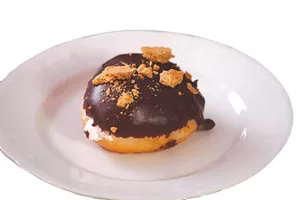 Vermont Restaurant Week is not just about sitting down to eat; it's also about networking with fellow food lovers. Have a sweet tooth that won't quit? Dessert comes first at the Sweet Start Smackdown, a sugarcoated soirée that always sells out. Attendees nosh on bite-size samples from local pastry chefs, who compete for prizes and bragging rights.
Those looking to expand their horizons can attend "The Dish," a salon of local food-and-drink experts, or tackle themed trivia at the Culinary Pub Quiz. Rounding out the foodie festivities is a cocktail competition featuring local spirits. The best part of these special events? All proceeds benefit the Vermont Foodbank.
Hungry yet? If so, it's best to make reservations early. Seats fill up fast when restaurants bring their best dishes to the table at a special price.
Friday, April 24, through Sunday, May 3, at participating restaurants statewide. Info, 864-5684. vermontrestaurantweek.com
Ce n'est un secret pour personne : le Vermont est le paradis des gourmets. Le mouvement locavore a pris d'assaut cet État et attire les meilleurs chefs cuisiniers, qui se font un point d'honneur de servir une cuisine saisonnière à base d'ingrédients locaux. Devant l'abondance de possibilités, toutes plus alléchantes les unes que les autres, difficile de décider par où commencer. Pour y remédier, rendez-vous à la Semaine des restaurants du Vermont, plus grand événement culinaire de l'État, où vous pourrez établir l'itinéraire de votre aventure gastronomique. Les quelque 90 restaurants participants vous feront découvrir leurs spécialités, au gré de menus à prix fixe, pour le dîner et le souper.
Des pizzas cuites au four à bois aux viandes d'animaux engraissés à l'herbe, les menus trois services – entrée, plat principal et dessert – raviront les palais les plus exigeants par leur côté innovateur et audacieux. Pour couronner le tout, accompagnez votre repas d'une boisson locale : les célèbres bières artisanales, cidres bruts et spiritueux du Vermont sont le complément parfait à la cuisine gastronomique. Aussi, ne manquez pas le cocktail officiel de l'événement!
Mais la Semaine des restaurants du Vermont ne se résume pas à s'asseoir et à manger : c'est également l'occasion d'échanger avec d'autres amateurs de bonne chère. Vous avez un faible pour les sucreries? Le dessert est roi à la fête Sweet Start Smackdown, une soirée toute en douceurs qui se déroule souvent à guichets fermés. Les participants peuvent y déguster des bouchées préparées par des chefs pâtissiers locaux, qui se disputent prix et honneurs.
Ceux qui cherchent à élargir leurs horizons ne manqueront pas « The Dish », un salon réunissant des spécialistes de la gastronomie locale, ni les jeux-questionnaires thématiques du Culinary Pub Quiz. Pour clore les festivités, place à une compétition de cocktails composés de spiritueux de la région. Et la cerise sur le gâteau, c'est que les sommes recueillies sont remises à la banque alimentaire du Vermont.
Ça y est, vous avez faim? Dépêchez-vous de faire vos réservations. Les places s'envolent vite quand les restaurants servent leurs meilleurs plats à prix avantageux.
Du vendredi 24 avril au dimanche 3 mai, dans les restaurants participants du Vermont. Info : 864-5684. vermontrestaurantweek.com
Pond Skimming
Every winter, Vermont's snowcapped peaks beckon skiers and riders from around the world. When rising temperatures arrive, so does spring skiing. Athletes swap goggles for sunglasses during this short window of time defined by blue skies and mild weather. To capitalize on these conditions, ski resorts often host special events, such as pond skimming — two words that seem at odds with snow-covered slopes.
Just what is pond skimming, exactly? The concept is simple: Skiers and riders don crazy costumes and gain enough speed to propel across a pond without sinking. It's easier said than done, making the wacky sport as fun for spectators as it is for the brave participants who do their best to remain dry. While the origins of this decades-old tradition are difficult to pin down, Warren's Sugarbush Resort holds the country's longest-running pond-skimming event. Dubbed the "Annual Rite of Spring," it takes place at the base of Lincoln Peak.
Bolton Valley, Killington and Smugglers' Notch host pond skimming events of their own. While each mountain offers a different twist on this wet-and-wild affair, one thing remains constant: It's guaranteed to be entertaining.
Sugarbush Resort: Saturday, March 28. Info, 800-537-8427.
Bolton Valley Resort: Saturday, March 28. Info, 877-926-5866.
Killington Resort: Saturday, April 4. Info, 422-6201.
Smugglers' Notch Resort: Saturday, April 4. Info, 332-6841.
Chaque hiver, les sommets enneigés du Vermont attirent skieurs et planchistes de partout dans le monde. Quand le mercure remonte, c'est le ski de printemps qui commence! Durant cette brève période, caractérisée par des températures douces et un beau ciel bleu, les athlètes troquent leurs lunettes de ski pour leurs lunettes de soleil. Histoire de profiter de ces conditions uniques, les stations de ski organisent souvent des événements spéciaux, comme le « pond skimming » – deux mots qui peuvent sembler incompatibles avec le couvert de neige environnant.
Mais de quoi s'agit-il exactement? Le concept est simple : skieurs et planchistes, vêtus de costumes loufoques, se donnent suffisamment d'élan pour traverser un bassin en rasant la surface de l'eau, mais sans couler! Plus facile à dire qu'à faire, mais vous verrez, ce sport farfelu est aussi amusant pour les spectateurs que pour les braves participants qui font de leur mieux pour rester au sec. Bien que les origines de cette tradition demeurent nébuleuses, c'est la station Sugarbush de Warren qui organise ce « rituel annuel du printemps » depuis le plus longtemps, au pied de Lincoln Peak.
Les stations Bolton Valley, Killington et Smugglers' Notch ne sont pas en reste. Chaque montagne offre sa propre variante de cette folle activité, mais une chose demeure constante : le divertissement est garanti!
Sugarbush Resort : le samedi 28 mars. Info : 800-537-8427.
Bolton Valley Resort : le samedi 28 mars. Info : 877-926-5866.
Killington Resort : le samedi 4 avril. Info : 422-6201.
Smugglers' Notch Resort : le samedi 4 avril. Info : 332-6841.