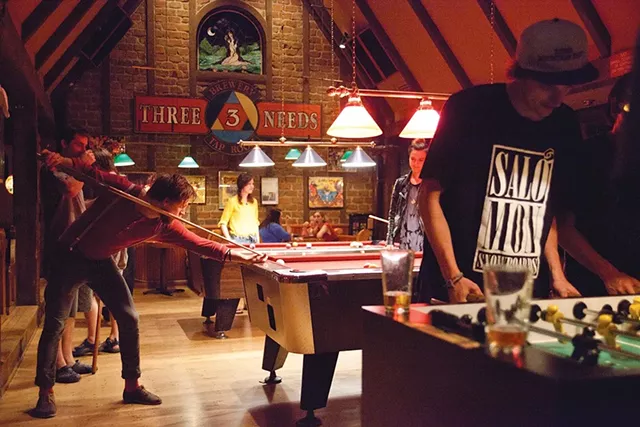 Matthew Thorsen
Three Needs Brewery & Taproom
The Needs is a cut (or two) above most college bars. It's got great beer, lively pool tables and an enormous outdoor patio. Swing by at 4 p.m. on weekdays for Duff Hour: a double dose of "The Simpsons" and dollar drafts. Pro tip: The pizza is way better than you'd think.
134 Church St., Burlington, 864-8111
This classic college-town bar — with pool, darts and sports — was your older brother's favorite when he was in school here. It might become yours, too.
An upscale beer list, live music and DJs make this longtime BTV staple a solid weekend destination. Philadelphia Eagles fans flock here Sundays during football season.
A usually low-key college hang, this corner joint is noted for a killer beer selection, good pub grub and local bands on the weekends.
Grab a beer and sit outside to watch drivers royally misunderstand Winooski's traffic circle at this Saint Michael's College haunt. The weekly drink specials are crucial.
DJs play this popular college hangout three nights a week. Pool and TVs entertain anyone who doesn't feel like dancing. 21+ on the weekend.
Matthew Thorsen
Ruben James
Lively sports bar by day, sweaty dance club by night, RJ's is especially popular on Sundays during NFL season. You'll find any game you want on one of several TVs. Try the food — there are 40-cent wings every day of the week. You'll be surprised. In a good way.