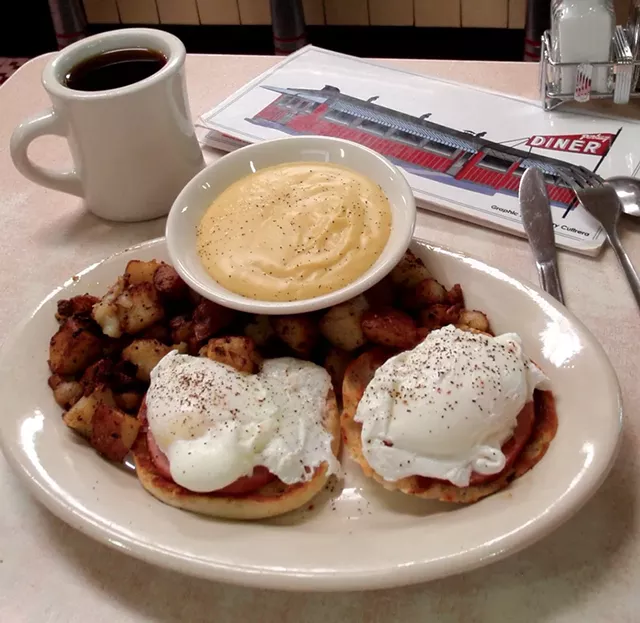 Matthew Thorsen
Parkway Diner
1696 Williston Rd., South Burlington, 652-1155
Parked on Williston Road since the 1950s, this vintage Worcester Lunch Car serves breakfast all day. While it looks like your typical greasy spoon, the specials are surprising — like the deep-fried pork tenderloin on a cheddar biscuit, topped with a runny egg and chipotle hollandaise. Is a basic two-egg plate more your steez? Add a side of crispy-on-the-outside, buttery-on-the-inside home fries. And if you're off the oeufs-and-bacon wagon, there's an open-faced turkey sandwich, smothered in velvety gravy, whispering your name. No better way to start the day.
Apple fritter or Funfetti? Boston cream or blueberry? Deciding which artisanal doughnut to order may take a while, so go early — the shop closes when the 'nuts run out.
Crowds line up for stellar sweets stacked in tiered trays and glass cases. Seeking a sit-down affair? Don't miss the popover breakfast, heaped with scrambled eggs, smoked salmon and lemon-shallot crème fraîche.
Long lines signal food that's worth the wait — and celebs such as Elijah Wood and Joe Biden have joined the café's devoted following. Try the Zydeco Breakfast — two eggs any style, black beans, corn muffins and andouille sausage.
You can get shirred eggs, burlap bacon and cinnamon-bread French toast all day long at this intimate chef-owned eatery. Not sure what all of that is? Try it; you'll like it.
Weekend brunch at Winooski's retro café is the stuff of legends, and the daily specials are always eclectic. The classic eggs Benedict is a home run.
Grab a stuffed popover or wafflini — that's a waffle sandwich — at this Western-themed bakery. The cowboy coffee is strong enough to bring you back to life.