Courtesy
Alectra Hussels enjoys butternut squash pasta with broccoli
By dinnertime on a weekday night, after work and soccer practice, everyone in Jill Hussels' house is hungry. She and her husband have to figure out what to make for themselves and their two girls, ages 5 and 7. "It's always stressful," said the Shelburne mom.
She and her husband will often turn to old standbys such as macaroni and cheese or grilled cheese sandwiches. If they get stumped or want to jazz up one of those favorites, they jump online and visit NewEnglandDairy.com for recipe ideas. The site's Mac 'n' Cheese recipe, for example, advises cooking the pasta in boiling milk instead of water — which Hussels said makes for a richer flavor — and then stirring in some veggies, such as spinach, broccoli or mushrooms, to add some extra nutrition to the meal.
Dairy-licious Recipes
---
QUICK & EASY
---
COMFORT CLASSIC
---
SOMETHING SPECIAL
In fact, dairy plays a major role in many of the Hussels' meals. For breakfast, the family likes smoothies and yogurt parfaits, and the girls always drink a glass of milk.
Hussels, a registered dietitian, is a big believer in dairy — and not just because she works for New England Dairy. As a native Vermonter, Hussels has deep ties to the state's dairy farms. Her mom grew up on one. Hussels remembers going to her grandparents' barn with her cousins, seeing the cows and playing with the other animals. "Yes, I've milked a cow," she said.
In high school, Hussels developed an interest in food and healthy eating. She studied dietetics and nutrition at the University of Vermont. After graduating, she completed an extended internship in Muncie, Ind., to qualify as a registered dietitian.
Then, Hussels returned to Vermont and worked as a state counselor in the U.S. Department of Agriculture's Special Supplemental Nutrition Program for Women, Infants, and Children, known as WIC. She helped low-income moms make healthy food choices for themselves and their kids.
"Dairy foods such as milk, yogurt and cheese provide a unique package of 13 essential nutrients, including high-quality protein, calcium, vitamin D and more, important for all ages," Hussels explained. The 2020-2025 Dietary Guidelines for Americans — the cornerstone of official government guidance on dietary recommendations across the average life span — reinforce dairy's nutritional value. These guidelines recommend three servings per day of low-fat and fat-free dairy as part of a healthy diet. Recent studies have found that dairy consumption can lower blood pressure and reduce the risks of cardiovascular disease and type 2 diabetes.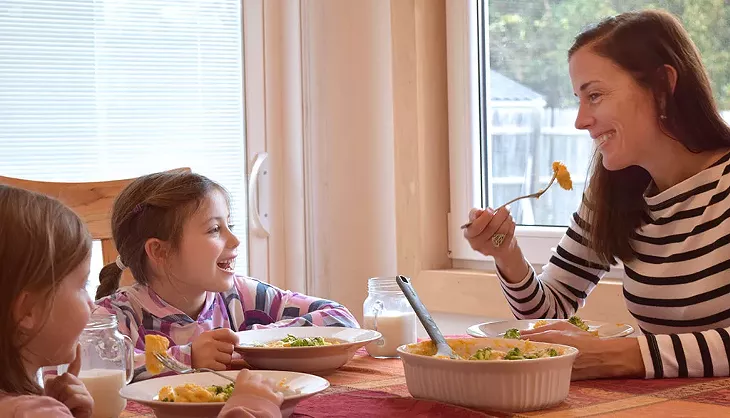 Courtesy
Makea, Alectra and Jill Hussells
For more than a century, New England Dairy has worked to spread the word. New England Dairy is a nonprofit organization that works with and on behalf of local dairy farmers, raising awareness and educating communities about the value of dairy as a sustainable and nutritious  local food. And it recently launched a recipe initiative to help busy parents by highlighting healthy foods and cooking tips.
Communications specialist Rene Thibault explained why: "Dairy is such an accessible, affordable food group and provides a lot of nutrition for the price," he said. "You don't have to put together a 150-step, six-course meal. You can make a really simple dish that provides important nutrition and takes you 10 minutes to prepare."

Courtesy
Find recipes for Gingerbread Lattes, Tilapia-Stuffed Peppers, Cranberry Apple Yogurt Parfaits and Milk-Braised Pulled Pork with Mushrooms on NewEnglandDairy.com
The recipes on NewEnglandDairy.com range from Ginger-Pumpkin Oatmeal to Milk-Braised Pulled Pork With Mushrooms. The site includes nutritional information, advice on storing and freezing milk and other dairy products, and "Quick & Easy Recipe Guides" for meal planning. The organization turned to home cooks and social media influencers for help developing the recipes and posting them online.
Hussels said she often sees people on social media expressing concern about dairy consumption and interest in nondairy alternatives made from soy, almonds and oats. She wants to make sure that people have the facts to make well-informed decisions about their families' nutritional needs. For instance, some people are confused about the potential for antibiotics and growth hormones to get into the milk supply. That doesn't happen, Hussels explained. Milk from cows treated with antibiotics or hormones is separated and discarded.
Even people with lactose intolerance don't have to give up dairy completely, she pointed out. Lactose-free milk, aged cheese and yogurt with active live cultures are all options for them.
"I feel like part of our job is trying to debunk some of these dairy misconceptions," she said.
Courtesy
Ayrshire cows
Hussels also noted that millennial moms in particular want to know more about their food. "They want to know the story behind where it comes from," she said. New England Dairy is making that easier, too — its website includes a "Meet Farm Families" section that features profiles of some of the 1,000 dairy farms across the region, including a sampling of the hundreds of dairy farms in Vermont. The site also includes videos of virtual farm tours.
Those stories are worth exploring, but busy parents looking for dinner inspiration might be more focused on finding something simple and satisfying to eat. Dairy, said Hussels, doesn't disappoint. For her, it's the foundation of comfort food — hearty, delicious dishes that her family loves.
"It kind of brings that calm and enjoyment," she said, noting that the stress of the pandemic makes that experience all the more important. "That's, in my mind, what families need right now."
Learn more about the benefits of dairy and try some simple recipes:
This article was commissioned and paid for by New England Dairy.