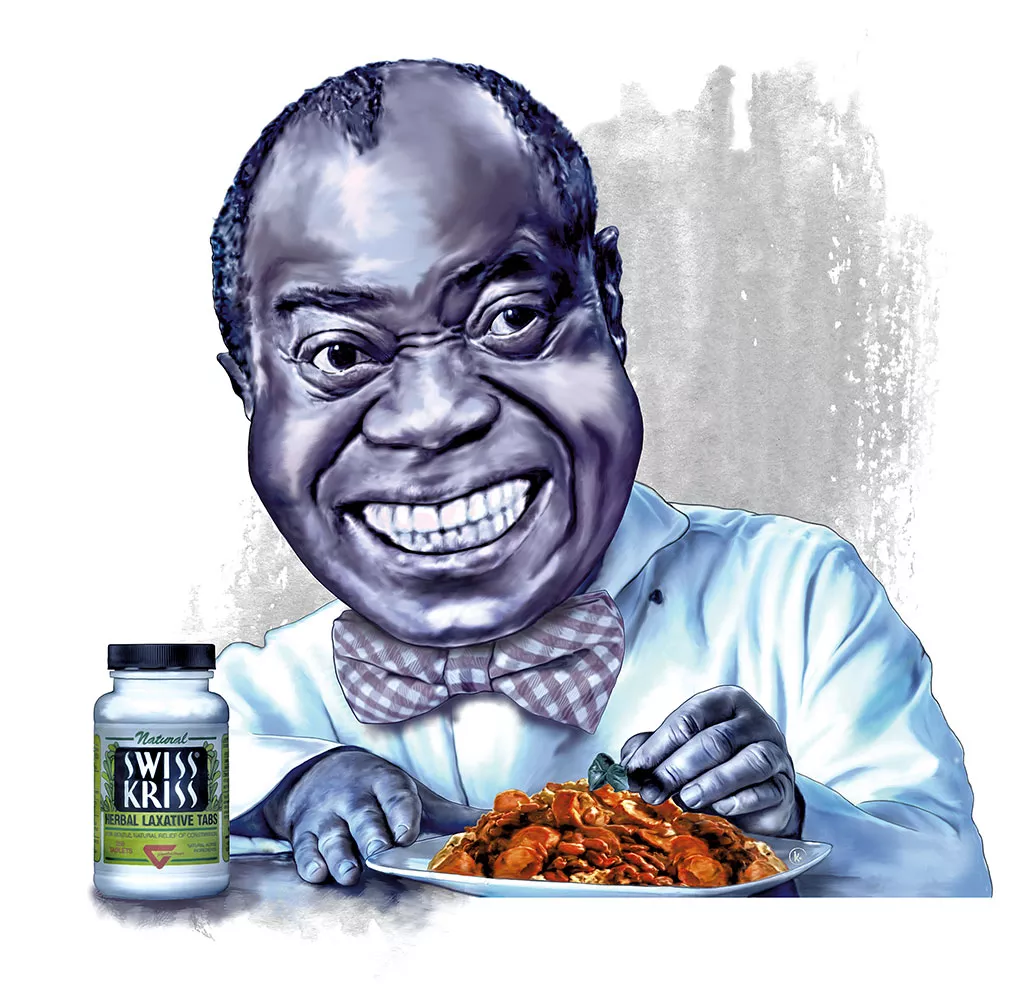 My fascination with novelty cookbooks began early. I can clearly recall a beautiful summer day at the pool when 4-year-old Alice was too busy reading DC Super Heroes Super Healthy Cookbook to have any interest in swimming.
The 1981 book was my introduction to the reality that recipes endorsed by celebrities (real or fictional) aren't always worth making. Its exceptional design blended comic book images with photos of real, disappointingly healthy versions of kid favorites — such as Super Girl's Heat Vision Chicken, coated in wheat germ and baked, according to the illustration, by the heroine's penetrating gaze. The book's contents were so roundly unappealing that my mom wouldn't even help me make Hawkman's disgusting-looking Egg Birds — dry scrambled eggs piled in the shape of a bird.
But as I got older, weirder and pickier, so did my taste in celebrity cookbooks. Reading about Nathan Lane's turkey meatballs in Paul Newman's Hole in the Wall Gang Cookbook was swell, but as an amateur culinary historian, I found I was more interested in recipes whose famous authors had left this mortal coil. What did the dead eat when they were still engaging in the daily intake and expulsion required of living beings? I wondered.
Apparently, I'm not alone. Frank DeCaro's Dead Celebrity Cookbooks have been hot sellers since the first one appeared in 2011. The appeal is similar to that of a celebrity autopsy photo, but less gruesome — and edible.
Any fan of vintage horror or old-school cookbooks will tell you that the pinnacle of my favorite dark genre is A Treasury of Great Recipes, written by Dr. Phibes himself, Vincent Price, and his wife, Mary. The elegant 1965 tome, complete with sewn-in ribbons to mark favorite pages, charts the couple's international travels using recipes found at the best restaurants from Oslo to Mexico City.
Price clearly didn't intend it, but hints of his spooky cinematic persona couldn't help but bleed into the text. In a description of New York restaurant Lüchow's steak tartar, Price claims, "One of the pleasantest ways I know of to lose weight is to go on a raw meat binge for a few days."
After a decade of watching me make a beeline for her well-loved copy of the book every time I visited, my grandmother ceremoniously presented it to me last Thanksgiving. I was verklempt by what I knew was a defining culinary moment. To honor Grandma, I've left the burgundy ribbon in the stained pages with recipes for Kaiserschmarrn and apple pancakes.
The introduction of the Prices to my personal collection only intensified my obsession with re-creating dead celebrities' feasts. For example, I now associate Bea Arthur far more with olive-oil-and-Dijon-rubbed leg of lamb than I do with her cheesecake binges on "The Golden Girls." I found that recipe, shared in her one-woman show, online.
The internet has opened up a whole new world for us culinary ghouls, helping us find both freestanding recipes and obscure books. Without a web search, I would never have discovered Can You Take the Heat? The WWF Is Cooking! It reveals that nearly 500-pound deceased wrestler Viscera got that way in part due to a favorite no-bake cookie recipe. He could mainline calories without even turning on the oven. Other recipes have come my way from friends and family.
Here, I've collected (and lightly edited for clarity) a few favorites to add flavor to your All Souls' Day celebration. Be sure to leave an extra portion for the recipes' authors. You never know who might float in.
Vermont Cheese Soup
Created by chef Albert Stockli of New York's Four Seasons, from A Treasury of Great Recipes by Mary and Vincent Price
On a formal menu like the one at the Four Seasons, this rustic dish gave Price cause to call it "offbeat" and "rather far out." But Swiss chef Stockli created a classic sure to become a staple for wintertime viewings of The Tingler.
Ingredients
3 cups chicken stock
1 leek, chopped (white part only)
1 celery stalk, chopped
1/2 medium onion, chopped
2 tablespoons cornstarch
2 tablespoons cold water
1 cup shredded sharp cheddar
1/4 teaspoon white pepper
1/8 teaspoon nutmeg
1 egg yolk
1/2 cup cream
1/4 cup dry white wine
Process
Bring stock to a boil and add vegetables. Simmer soup for 45 minutes, then strain into clean saucepan. Mix cornstarch with water, then stir into soup and cook until it is slightly thickened. Add cheese and cook, stirring, until cheese is melted. Stir in spices and salt, if necessary.
Combine egg yolk with cream. Mix together well and stir into 1/2 cup of the hot soup. Add this mixture to the soup, stirring rapidly, and cook for two minutes. Be careful that it does not boil.
Just before serving, add wine. It does wonders for the final flavor of the cheese.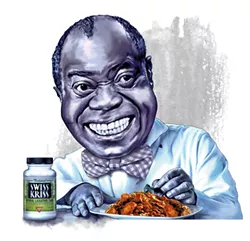 Pop's Favorite Dish
By Louis and Lucille Armstrong, from the collection of the Louis Armstrong House Museum
I picked up this recipe when I visited the Louis Armstrong House Museum in Queens last year. Rice and beans were a lifelong preoccupation for the trumpet virtuoso. He is said to have married his first wife, a teenage prostitute, because she could make the dish just like his mother did. He often signed correspondence, "Red Beans & Ricely Yours."
Armstrong ended other letters "Swiss Krissly Yours," for his favorite herbal laxative. Satchmo was addicted to the stuff, claiming that it helped him lose close to 100 pounds, despite his diet of rice, beans and Chinese American food. Armstrong even shared some Swiss Kriss with the Pope when he was granted an audience with his Holiness. Following Pop's Favorite Dish with a dose isn't required, but, according to Armstrong, its addition to the meal would be "like applause."
Ingredients
1 pound kidney beans
1/2 pound salt pork or slab bacon
2 onions, diced
1/4 green bell pepper
1 clove garlic, chopped
5 tiny or 2 medium dried peppers
Salt to taste
1 small can of tomato sauce (if desired)
6 small ham hocks or one smoked pork butt
Process
Wash beans thoroughly, then soak in a covered pot overnight in cold water. To cook, pour water off beans and add fresh water to cover. Add washed salt pork or bacon. Let come to a boil over high heat in covered pot. Bring heat to medium-low and let cook one and a half hours. Add diced onions, bell pepper, garlic, dried peppers and salt, then cook an additional three hours. Add tomato sauce and cook one and a half hours more, adding water whenever necessary. Beans and meat should always be just covered with water, never dry.
Meanwhile, prepare ham hocks or pork butt: Wash meat, add water to cover and let come to a boil in covered pot over medium heat. Cook one and a half hours.
Pour water off beans and add rest of ingredients to meat. Cook four and a half hours. Add water when necessary.
To prepare rice:
2 cups white rice
2 cups water
1 teaspoon salt
Wash rice thoroughly and bring water and salt to a boil. Cook rice until it swells and water is almost evaporated. Cover and turn flame to low. Cook until rice is grainy.
On dinner plate: Place rice, then beans, either over or beside rice, as preferred. Twenty minutes later (optional): Bisma-Rex and Swiss Kriss.
Polish Stuffed Doughnuts (Paczki)
By Liberace from Liberace Cooks! Recipes From His Seven Dining Rooms
There was always something a bit creepy about Wadziu Valentino Liberace, even before he appeared as a casket specialist in The Loved One. That hair, that smile — it all seemed to be hiding something. We know now there were plenty of secrets Behind the Candelabra, but one of the few not made for a house of horrors was Liberace's love affair with cooking.
In his 1970 cookbook, coauthored by Carol Truax, Mr. Showmanship displayed not just a taste for dishes from his Polish and Italian roots but a surprising worldliness. Paella and two different recipes for satay appear, along with dishes that would have made Price proud, such as boeuf à la mode en gelée.
But we prefer to celebrate Liberace's life with a sweet do widzenia of jam-filled doughnuts from his mother's native Poland.
Ingredients
4 cups flour
1 teaspoon salt
3 cakes moist yeast
2 cups warm milk
2/3 cup sugar
8 egg yolks
3 tablespoons melted butter or oil
2 tablespoons rum
2 cups jam (we prefer traditional rose petal)
Deep fat for frying
Superfine sugar
Process
Sift the flour and salt together. Break the yeast into the warm milk; add one tablespoon sugar and one cup of the sifted flour. Set aside in a warm place for about half an hour to double in bulk. Beat the egg yolks with remaining sugar until fluffy. Add the remaining flour, butter and rum. Add the yeast mixture and beat until smooth and satiny. Set aside again in a warm place for about an hour to double in bulk.
Punch down the dough and make plum-size balls. Place on a floured board and punch a hole in the sides. Fill with about 1 teaspoon jam, then seal.
Let rise again for half an hour and fry in 375ºF deep fat until browned. Serve coated in superfine sugar.