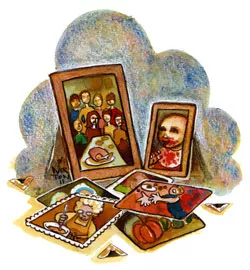 It was November 21, 1951. A distant cousin showed up in my grandparents' driveway with a big bundle under his arm. In the kitchen, he unwrapped two things: a bottle of fancy liquor with fruit growing inside and a turkey.
"Tomorrow is a big holiday," he told them.
"We didn't have any idea what Thanksgiving was," my grandmother recalls now. She'd never even tasted turkey. On that long-past Thanksgiving, she and my grandfather had only recently arrived in Newark, N.J., from Ukraine, their home country. Before that, they'd spent five years in a refugee camp in West Germany, displaced by the war. A new kind of pilgrims, they'd tried to immigrate to many countries, including Australia. But, because my grandfather had had tuberculosis, only the U.S. — where an American relative vouched for them — accepted them.
That Thanksgiving Day, my "babcia," as we call her, stuffed the turkey. She remembers serving it with "regular potatoes and some corn, and whatever vegetables we could get. We ate it and we thanked God that we came to such a bountiful country and that we could live here."
With a beginning like that, you'd be surprised by my family's current Thanksgiving food traditions, or lack thereof. Although my grandparents swiftly absorbed the spirit of giving thanks, they never adopted all the conventional American dishes. Sweet-potato pie was a bizarre and foreign concept to my grandmother, as it still is to us today, though she found cranberry jelly from a tin modern and delicious.
Two generations later, we're dealing with picky eaters and a chronic tendency to forget to write down recipes, which means that on the one night a year that's all about food, dinner makes its way to our table in a haze of guesswork. There is no turkey — most years, it's chicken; one year, I recall duck. There's always stuffing, but my mom and I invariably stand over the half-made dish, scratching our heads.
"More chicken stock?" we ask each other. "Do we usually add raisins?"
Let's just say our food traditions are still being forged.
Almost every American has an immigrant past, but we all express our traditions differently — and, on the Thanksgiving table, creative variations typically show up in the side dishes. Who's eating the mashed sweet potatoes with marshmallows, and who's experimenting? I turned to a handful of Vermont cooks for their own Thanksgiving family histories. They graciously shared side-dish recipes and the nutty and wonderful stories behind them.
Nina Lesser-Goldsmith, Learning Center director at Healthy Living Natural Foods Market, South Burlington
"I used to be a personal chef in New York City," explains Nina Lesser-Goldsmith. "I was hired by this person to prepare Thanksgiving sides for her. At the time, I was researching a lot of new recipes."
One called out to her: a recipe for vanilla mashed sweet potatoes on the popular website 101 Cookbooks. Her client loved it, and so did Lesser-Goldsmith.
"I wanted to make it for my own family's Thanksgiving," she says. "We had always, always had regular mashed sweet potatoes with marshmallows on top. My grandmother would make it. She never made enough. We would always fight over it."
The new potato dish's introduction met understandable resistance. Lesser-Goldsmith compromised by serving it alongside her grandmother's treasured one. "It was the only year I can ever remember that we had leftovers" of the marshmallow recipe, she says, noting that the new dish "trumped tradition."
Now Lesser-Goldsmith makes this dish every year. "There would be backlash from the family if I didn't," she says. "It kind of blurs the line between dinner and dessert, savory and sweet. It's the thing I always leave on my plate for last."
Vanilla Mashed Sweet Potatoes with Pecan-Streusel Topping
5 large sweet potatoes

2 cups heavy cream

1 vanilla bean

Zest and juice of 1 orange

Kosher salt

Freshly ground black pepper

1/4 cup cold unsalted butter

1/4 cup flour

1/4 cup brown sugar

1/4 cup sugar

1/2 cup chopped pecans
Preheat oven to 400°. Prick sweet potatoes with a fork and cook in the oven for one to one and a half hours, or until tender when poked with a knife.
Add cream to a small sauce pan. Split vanilla bean lengthwise and scrape seeds into the cream. Add the vanilla pod and simmer until hot but not boiling. Turn off heat and let pod steep until ready to use.
Peel sweet potatoes and place in the bowl of a food processor. (You may have to do this in two batches.) Add orange zest and juice, and about one-third of the vanilla cream. Pulse until smooth. If the mixture is not puréeing easily, add more cream. Season to taste with salt and pepper and transfer to a baking dish.
For the streusel topping: In a food processor or stand mixer, combine the butter, flour, sugars and a pinch of salt. Pulse until the ingredients are incorporated but still crumbly. Add the pecans and pulse a few more times.
Sprinkle the crumble mixture on the mashed sweet potatoes and bake in a 400° oven for about 20 minutes, or until topping is crisp and golden brown.
Patrick & Christine Grangien, Co-owners of Café Shelburne
Considering co-owner and chef Patrick Grangien has done all of the cooking at Café Shelburne since he and his wife bought the French restaurant in 1988, it may come as a surprise that he takes Thanksgiving off from the kitchen, even at home. His wife Christine makes the big meal, everything from scratch. But it wasn't like that on their first Thanksgiving.
In 1981, Grangien had newly arrived in New York City from France. He had "carte blanche for [making] very upscale to-go food" at a gourmet store attached to a Bloomingdale's, he recalls. When Thanksgiving rolled around, his boss took the Grangiens out for a holiday feast.
"We were completely overwhelmed," he says, calling the sense of ceremony and tradition "completely interesting."
These days, with the couple long settled in Vermont, Thanksgiving has become "a big celebration for us," Grangien says, representative of the place they call home. That's evident in one of Christine Grangien's annual side dishes, starring maple syrup. "Maple syrup amplifies the natural sweetness of the root vegetables," notes Patrick Grangien.
Maple-Syrup-Roasted Root Vegetables
1 large sweet potato
2 medium turnips
2 medium parsnips
2 medium carrots
3 shallots, halved
2 medium pears, cut in quarters
1/4 cup maple syrup
2 tablespoons good olive oil
Salt and pepper
Preheat the oven to 450°. Coarsely chop the root vegetables. Combine all ingredients in a large bowl, tossing to coat. Place vegetables on a coated, nonstick sheet pan. Bake for 35 minutes, or until vegetables are tender and beginning to brown, stirring every 10 minutes.
Suzanne Podhaizer, owner of Salt, Montpelier
One year, Thanksgiving went south of the border. Another, it only ventured below the Mason-Dixon Line. The cuisine is ever changing, but you can count on one thing in Suzanne Podhaizer's family: Thanksgiving comes with a theme.
Working at gourmet-food and cookware stores as a young adult, Podhaizer quickly learned to get creative in the kitchen.
"My family didn't go out to restaurants very much when I was growing up," she explains. Bringing home interesting seasonings to share with her younger siblings was "a way to bring the restaurant to them." That habit inspired her to riff on the usual Thanksgiving-dinner suspects.
Whether she's adding chorizo and olives to the stuffing for a Spanish meal or whipping up collard greens and buttermilk mashed potatoes for American Southern cuisine, Podhaizer typically starts by tweaking a few go-to dishes, such as her fail-safe stuffing recipe.
Her playful aesthetic carries over to her restaurant. In the Thanksgiving spirit, every dish on Salt's current menu is "stuffed," from shrimp-and-flounder ravioli to housemade éclairs.
Chestnut-and-Sausage Stuffing
1 pound uncased pork sausage or 1 pound ground pork

1 large shallot, minced

2 stalks celery, chopped

20 medium-size sage leaves, minced

8 cups stale bread, cubed in roughly half-inch pieces

3 cups chopped chestnuts

1 quart chicken or turkey stock (homemade is preferable; however, Imagine makes a pretty good organic chicken stock)

Salt and pepper
Preheat oven to 350º. Brown the sausage in a large saucepan over medium heat. (If using ground pork, season it with salt and pepper.) With a slotted spoon, remove the browned meat from the pan and place in a 9-by-13-inch baking dish.
Pour off all but 1 tablespoon of pork fat and add the shallot, celery and sage to the pan over medium-low heat. Sweat the vegetables until the shallots are translucent. Add the shallots, celery, bread cubes and chestnuts to the baking dish. Pour 1 cup stock over the mixture; stir. Cover with foil and place in the oven at 350°.
After 30 minutes, pull back the foil and add another cup stock. Stir, replace the foil and return to the oven for another 30 minutes. This time, remove the foil, add another cup of stock, stir and return to the oven. The goal is to get a little bit of crustiness on top while keeping the stuffing beneath moist. Add more stock if necessary. Let the stuffing cook 45 minutes more, stirring every 15. Season with salt and pepper, if needed, before serving.
Courtney Contos, chef, food educator, consultant and writer, Chittenden County
By Thanksgiving morning, chef Courtney Contos will already have spent about two weeks preparing for the meal — planning recipes, harvesting vegetables from the garden and laying out china. With nine guests on the way and a turkey throwdown in store — she'll be preparing a maple-brined bird; her partner, Jim (aka "Prince Charming"), a barbecued one — Contos calls Thanksgiving eve "the calm before the storm."
She and Prince Charming, appropriated as sous chef, always open a favorite bottle of wine as they set the table and prep the veggies. Not to be left out, their three dogs work their way into the hustle and bustle.
One year, as Contos was cleaning homegrown Brussels sprouts outside, one of the dogs snatched the stalk right out of her hand, she says. The dogs "took off." They played tug-of-war.
Now, Contos forfeits the stalks to the dogs every year. "We just let them do their thing," she says. "We laugh at the sight of these green bits all over the kitchen floor."
Needless to say, Thanksgiving always begins with a very thorough vacuuming.
Maple-walnut Brussels sprouts
3 tablespoons unsalted butter
1 1/2 pounds Brussels sprouts, ends trimmed and scored
1 1/2 teaspoons sea salt
1 teaspoon freshly ground black pepper
3 tablespoons Dijon mustard
3 tablespoons chopped walnuts
1/4 cup Vermont maple syrup
1/2 cup chicken stock or apple cider
Heat a deep skillet with a tight-fitting lid on medium until hot. Add butter; let melt. Add Brussels sprouts and sauté for about two minutes.
Add remaining ingredients and toss to coat. Reduce heat to medium-low. Cover and cook until Brussels sprouts are just tender when pierced with a knife, about six to eight minutes, depending on how you like them cooked. If the sauce has not reduced to a thick glaze, remove lid and continue to cook until reduced.