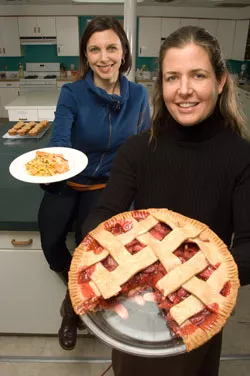 Matthew Thorsen
Nicci Micco and Jessie Price in the EatingWell Test Kitchen
Most salads don't look sexy, but this one does: Plump, glistening edamame and a tumble of steak slices recline on a bed of greens as dark as a shady forest. Rich brown on the outside and vulnerable pink in the middle, the heap of meat is surrounded by snow pea slivers and bits of red bell pepper.
While the recipe — printed on a facing page — is healthy, it's not austere: The ingredient list includes luscious touches such as honey and toasted sesame oil. Yet the whole shebang comes in at a mere 328 calories per serving. Welcome to The EatingWell Diet, first published in 2007.
Since then, the book has garnered some tasty accolades. The paperback version, released earlier this month, trumpets the volume's coveted James Beard Award on its cover. Around the same time the new edition appeared, Health magazine published an article called "America's Top 10 Healthiest Diets." The magazine's "panel of experts" evaluated 60 different weight-loss plans and winnowed them down to the 10 best. Along with old standby Weight Watchers, the EatingWell Diet made the list. "This new entry . . . has built beautifully on the latest understanding of the broad approach necessary for effective weight loss," Health's panel writes.
One thing the mag doesn't mention is that the book is a true Vermont product. It was conceived and created by the EatingWell Media Group of Charlotte — which puts out the nationally circulated, full-color glossy magazine EatingWell — and published by Woodstock's The Countryman Press. The book's dietary principles are based on the University of Vermont's VTrim Weight Management program and laid out in engaging prose by EatingWell contributing editor, Joyce Hendley of South Burlington.
Why VTrim? The program was developed by Dr. Jean Harvey-Berino, an obesity expert and the university's chair of Nutrition and Food Science. Its literature claims it has helped thousands of workshop participants lose weight and keep it off.
In a country where 66 percent of the population is overweight, diet plans are nothing new — bookstore shelves groan with tomes devoted to the latest fads, from eating like a "skinny bitch" to breakfasting on coffee and dry toast on the "Russian Air Force" diet. VTrim may not have the glamour of The Shangri-La Diet, but it does have academic cred. "It was an outgrowth of our research program," says Harvey-Berino. "We would do studies and there were always people who didn't qualify. We realized it would be nice to offer a similar intervention to the public."
Since 2004, folks eager to drop pounds have been shelling out nearly $700 to take VTrim's six-month series of classes. The deal — available in real-life and virtual formats — teams a group of 15 to 20 participants with a certified facilitator. In six months, the average participant loses 24 pounds. "It's a clinically meaningful amount of weight," Harvey-Berino attests.
She's also quick to mention that, despite the name of the book that emerged from her research, she doesn't consider VTrim a "diet." "I don't like the word 'diet,' because it implies that you're going on something for a short time and then go[ing] off it," says Harvey-Berino. "You need to be ready to make changes . . . otherwise the weight won't stay off."
The changes Harvey-Berino is referring to are based on "behavioral weight-loss principles." For example, followers of VTrim try to figure out when and why they overeat, and set themselves a daily calorie goal rather than cutting out whole food groups. "When people are on Atkins, you're telling them never to eat bread, and maybe that's their thing," she suggests. "If you . . . know how many calories you're trying to stay within inside a day, you don't pop stupid stuff in your mouth anymore, because you have to make your mouthfuls matter."
The EatingWell Diet doesn't come with a personal coach or a group with which to commiserate, but the book is affordable at $18.95 and packed with tips, user-friendly formulas and recipes. Therein, Vtrim's 24 lessons have been converted into seven easily digestible steps, which include worksheets that encourage mindfulness and good behavior.
The "Become Your Own Weight Coach" chapter offers an exercise entitled "Track Yourself," which aims to help readers identify their eating triggers by asking pointed questions: "Where do you do most of your eating?" "What other people have positive or negative effects on your eating?" Another exercise encourages folks to identify their "food strengths and challenges." And then there's info on how to bounce back from a binge.
The back of the book offers calorie information for hundreds of foods, as well as suggestions for building a "healthy pantry." That can include everything from classic "diet" foods like brown rice and reduced-fat sour cream to decadent kalamata olives and chocolate chips.
The plan recommends lower-fat dairy products and lean meats to keep calorie counts in check, and it pushes keeping blood sugar in a healthy range, filling up on high-fiber foods and engaging in regular exercise. Yet it comes with no hard and fast rules for what you should and shouldn't eat: Technically, a participant could lose weight on the EatingWell Diet while subsisting solely on bits of cheeseburger and chocolate cake. You just wouldn't be able to eat much of them.
Joyce Hendley, who began working with EatingWell in its first incarnation in the early 1990s, holds a master's degree in nutrition; she's also a lifelong Weight Watchers member and the former food editor of its magazine. With that background, she was the natural choice to write the text of the diet book. "The thing about VTrim is that you have the incredible asset of having a trained dietician come and meet with you," Hendley says. While a book can't offer personalized instruction, "EatingWell makes it really possible for you to be your own coach." The process starts with readers figuring out how many calories they already consume each day and how many they need to cut to reach their goal weight at the rate of one or two pounds per week. (Losing 'em any faster is considered less healthy.)
According to Harvey-Berino and Hendley, the most important aspect of the weight-management plan is the food journal. When people write down everything they eat and calculate the calorie content, they become accountable for each bite. "You have to do it with fidelity for a long time," says Harvey-Berino. "One of the predictors of long-term success is continuing to write things down. It's a check-in mechanism: You gain a few pounds and get right back into it for a little while."
"I'm doing it right now," Harvey-Berino adds — even the weight-loss expert isn't immune to some indulgence over the holidays. "I put myself on 1200 [calories] a day for two weeks," she says. Hendley uses the techniques, too: "The reason so many of us are overweight is that our lives are so stressed now," she suggests. "We need a new skill set to manage that. Following the program, I found it reduced a lot of other stress in my life as a side effect."
But can folks without nutrition degrees stick to the plan sans group sessions? It looks that way. In the January issue of EatingWell, Nicci Micco, senior editor of features and nutrition, profiled nine success stories, including that of Jenn Moore and Troy Hermansky, a married couple who live in Sunderland, just a few miles from Manchester.
While Moore was pregnant with their now 1-year-old son, Jude, both partners put on some pounds. "I gained the sympathy weight," Hermansky jests in a phone conversation. "I'd never really had a problem with my weight, but suddenly I found myself 30 pounds more than I wanted to be." Moore, on the other hand, has struggled with her weight "since puberty," she attests. "I have a love-hate relationship with food."
And as their wedding date approached, both of them wanted to shed the excess. "I had an Armani suit I wanted to fit into," Hermansky recalls. With Moore doing the shopping and Hermansky taking care of the cooking, the pair embarked on a three-month slimming mission.
By their wedding day, each had lost 17 pounds. For Hermansky, figuring out his calorie "threshold" — the maximum number of calories one can consume daily without gaining weight — was crucial. "If you eat consistently more than your threshold per week, you gain weight. If you eat less, you, lose weight. It's not rocket science," he explains. He also appreciated that no foods were verboten: "We never gave up ice cream, never even considered it." "I probably ate ice cream five nights out of seven," Moore says, "But I scaled back to half a cup per night."
And both are sold on journaling. "Focusing on every single thing that goes into your mouth is a big wake-up call," Moore says. Hermansky agrees. "When you're not journaling, you're not thinking about what you're eating. It's so easy to consume 500 or 600 calories without paying attention."
The twosome also found the book's recipes a big help. Moore particularly enjoys the Portabello Mushroom Cheese Chili and the Polenta and Vegetable Bake.
If you're a regular reader of EatingWell, some of the recipes in the diet book will be familiar — the mag has always offered lowfat options and calorie counts. For instance, the book's Roasted Tomato Soup — developed by local cookbook author Tracey Medeiros — first appeared in the summer 2004 issue.
Like many EatingWell publications, the diet book combines a bunch of recipes previously printed in the magazine with a handful of fresh entries: It's a savvy way to save money and build on existing content. "We start out by looking at what we already have in the database," explains Food Editor Jessie Price. "For this book, the recipes we developed were [mostly] big, satisfying salads . . . and snacks, because we don't do a lot of those."
It makes sense to recycle the recipes, considering the effort that goes into them: EatingWell's test kitchen staff in Charlotte experiments with an average of seven different permutations before arriving at a final formula. With homey white appliances and a dearth of stainless steel, the kitchen calls up memories of home ec class, featuring neatly labeled cupboards and both gas and electric ranges to ensure that every recipe works for every home cook.
And when the "diet" food is as good — and simple — as the Seared Steak Salad or the Paprika Shrimp & Green Bean Sauté featured on the book's cover, it shouldn't be hard to convince lots of Americans who've been gaining pounds on take-out and convenience foods to start cooking.