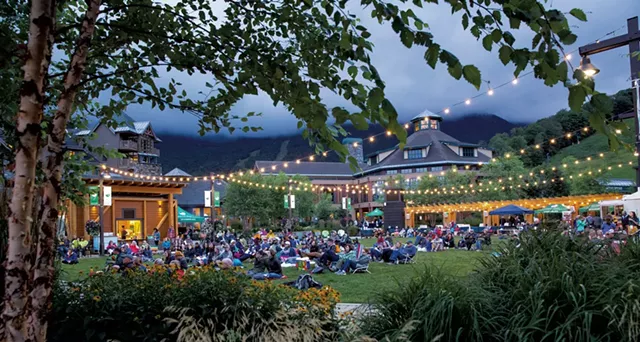 Photos Courtesy Of Sarah Peet Photography
Spruce Peak Folk Festival
Sprucing Up the Place
I think I've been doing summer wrong. While watching many friends and coworkers gallivant off to beachy locales and cosmopolitan hubs, I've pretty much just been going about my business at home. To be clear, this was my choice. I vacationed in May just before summer got going. And I'm also heading off to California to visit family in about a week, so it's not like I will have gone the whole summer without doing something vacation-y. But still, the FOMO is real.
I thought about this a bit last weekend while attending the two-day Spruce Peak Folk Festival at the Spruce Peak resort in Stowe. The complex is one of the biggest resorts in the state, with amenities out the wazoo. (Forbes magazine called it the "Aspen of the East" in a 2017 profile of the then-newly created slope-side village.) It's surrounded by nothing but families pursuing as many leisure activities as possible, cradled in the loving, panoramic embrace of Mount Mansfield to the west and Spruce Peak to the east. I made a note to take a nice, long break next summer; I'm thinking somewhere mountainous.
But enough about me! Now in its second year, the festival was held in and around Spruce Peak's spacious green at the resort's center, which can fit up to 800 people if push comes to shove. Like a summery postcard come to life, onlookers sat on picnic blankets, lawn chairs and Adirondack loungers under string lighting while bubbles floated through the air. (Foot-long bubble wands were included as part of the festival's swag. The kids were pleased — as was I.)
Each day brought only three acts to the WhistlePig Pavilion stage, starting in late afternoon and concluding just after sunset. As opposed to the rush job you usually get at festivals, which can be invigorating but also a total tease, lining up a hat trick of local and national folk artists per day gave each performer considerably more time onstage than what most festivalgoers would expect. This was a change from last year, which featured a larger mix of locals and bigger names all performing on one day. Since the festival is still a baby compared to some of the area's other multiday music marathons, its organizers are clearly still experimenting to find what works.
Burlington's Francesca Blanchard had the honor of strumming the first chord at the largely acoustic-guitar-driven event. After playing one song solo, she welcomed a full band, including locals Ryan Jory, Patrick Freeman and Ian Mack, as well as longtime collaborator Sasha Torrens-Sperry, who notably played with Blanchard on her first album cycle following the release of her debut, Deux Visions.
Oh, did I mention it was freezing and rainy? I'm talking mid-fifties while the sun was still up. I imagine other parts of the state experienced the brief cold snap, as well, but when you're practically scraping the clouds, it's all the more bitter. Unfortunately, Blanchard and co. got rained off the stage. A total bummer, since she'd yet to play her latest single, "Baby," which debuted a few weeks ago.
After the brief rain delay, everyone reconvened at the green for Chapel Hill, N.C., Americana band Mipso. After a particularly lovely, stripped-down rendition of Paul Simon's "Diamonds on the Soles of Her Shoes," the band's members joked about the song's sketchy-by-today's-standards origins. Front person Jacob Sharp facetiously cracked, "Sometimes you listen to a bunch of African music and steal all the ideas." Your move, Simon!
Photos Courtesy Of Sarah Peet Photography
The Milk Carton Kids
Headlining night one were acoustic duo the Milk Carton Kids — aka Kenneth Pattengale and Joey Ryan. The singers mentioned that they once played a show in a little Vermont town called Winooski but are always inclined to pronounce it "Why-nooski." (I'd like to go on record as taking credit for the spelling of "Why-nooski," just in case the Onion City ever creates a branding campaign that tells potential residents why they should consider living there. I'm certain I'm the first person to ever think of that pun.)
Speaking of Simon, I kept thinking to myself that Pattengale and Ryan were the second coming of Simon & Garfunkel. But later on, someone I was chatting with threw out the Everly Brothers as a comparison. I think both are correct! The psychic energy between the pair seemed impenetrable.
A turnaround from the first day, Sunday was near balmy and generally gorgeous. The second day also saw a sizable bump in attendance. Well over 400 ticket holders showed up, as opposed to the roughly 300 or so who braved the gray fall-weather "preview" the day before.
Burlington singer-songwriter Lowell Thompson opened Sunday's lineup. He noted that without a backing band he was free to play new material that his mates haven't learned yet — much of which comes from a forthcoming release. In a subsequent conversation, the country crooner hinted at the possibility of long-awaited new music at some point in the not too distant future. How's that for vague?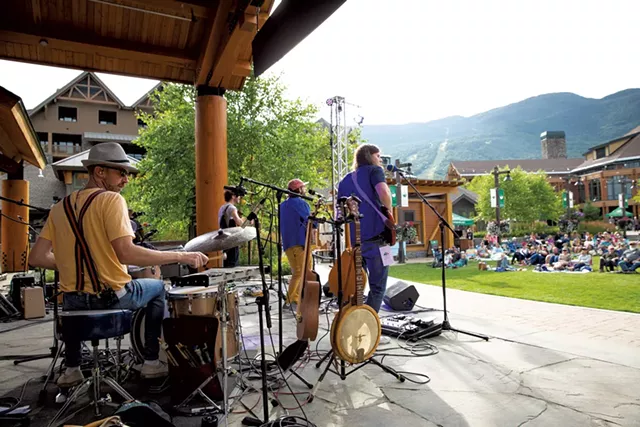 Photos Courtesy Of Sarah Peet Photography
Parsonsfield
Taking Sunday's middle slot were Somerville, Mass., ensemble Parsonsfield. With some of the same musical DNA as Mipso, Parsonsfield distinguished themselves with a more progressive approach to bluegrass and other Americana subgenres, fusing in some electronics with organic sounds. Serendipitously, while playing a new, unreleased song with the working title "River Town" — which includes lyrics about the sun breaking through the clouds — the actual sun broke through the actual clouds at the exact moment the words were sung. I wondered if I was the only one who noticed that.
Closing out the fest was a solo acoustic set from Grammy Award winner Shawn Colvin, known especially for her 1996 smash "Sunny Came Home," which, of course, she played a little way into her set. But she opened with what she referred to as her "rawhide" version of soul-pop juggernaut Gnarls Barkley's mega-hit "Crazy." Colvin's version was the epitome of dark-and-dusty outlaw country, a welcome contrast from the overplayed original version of the tune. Colvin's cover appears on her 2009 concert album, Live.
Other stray observations about the event: While certainly tuned in and gracious, the crowd was, I think, the quietest I've ever seen at a festival. You could practically hear the bubbles popping as they landed on grass. Also, if you're able to roll up to the grand Lodge at Spruce Peak and not start humming the ominous music from the opening scene from The Shining, you've probably never seen The Shining.
Next summer, if you want to hear some beautiful music in an idyllic setting, do yourself a favor and hit up the Spruce Peak Folk Festival.
Listening In
If I were a superhero, my superpower would be the ability to get songs stuck in other people's heads. Here are five songs that have been stuck in my head this week. May they also get stuck in yours. Follow sevendaysvt on Spotify for weekly playlists with tunes by artists featured in the music section.
Maxwell Musick, "Re-"
Active Child, "All Eyes on You"
Active Child, "Cruel World"
Orville Peck, "Queen of the Rodeo"
Julee Cruise, "Mysteries of Love"