7 slides
According to Gabriel Quirk, Vermont is full of fascinating people. The puppeteer and touring variety performer based in White River Junction believes that, in the Green Mountain State, "We cultivate a kind of eccentricity in each other that makes a fertile ground for all kinds of interesting people to call home."
Eleonora Stein is one of those people. "She's a very cultivated person who's had a very international life," Quirk said, "and somehow Vermont was a place she fell in love with."
Stein, 91, is a Hungarian-born dance instructor, dancer, musician and visual artist who has lived and worked in Vermont's Upper Valley for the past 35 years. As a young adult, she performed in New York City, traveled the world as a cruise ship entertainer and rubbed elbows with celebrities. After she married and had a family, she ran two dance studios in New Jersey.
Some 20 years later — Stein was divorced by then — a favorite student moved to Vermont and entreated her to come. Stein accepted, moving first to Woodstock and then to Quechee, where she opened yet another studio.
Since then, Stein has taught hundreds from Vermont and New Hampshire to dance and perform, from young, timid children whom she cajoled with treats and stories to seniors determined to achieve their dance dreams. About 20 of Stein's students have become devoted friends and caretakers, treating her as if she were family. But they still call her "Madame Stein," a respectful form of address for a ballet instructor.
Three years ago, Stein suffered a stroke that compromised her balance and memory. She closed her studio shortly thereafter, but she continues to teach by popular demand. Her students periodically rent space so they can keep studying with her.
On a recent visit to Stein's Quechee home, this reporter first met with Deb Cahill, a retired nurse and one of the students who became a friend and caretaker. Cahill was in her fifties when she began training with the ballet master.
"Once you meet her, you'll know how you can become attached to her," said Cahill, 61, of Williston. "She's really strict, but she's also lovable. Because of Madame Stein, I stand a bit taller and feel more beautiful."
The nonagenarian's voice quavers, and she no longer converses in a linear fashion. But, in an interview, her warmth and smiling face revealed a still-vibrant spirit. She was curious, playful and at times commanding. While those close to her provided the narrative of her life, Stein handled the flourishes.
Among the first things she shared were framed photographs of her ballet teacher and mentor.
"That's Professor [Semyon V.G.] Troyanoff, my darling maestro," said Stein. "I needed to have him on my wall."
When asked why he was important to her, she brought out another photo, of a younger Troyanoff in costume. "This was he at his heyday. See the tights and the beautiful hand? He always had beautiful port de bras." Grinning mischievously, Stein added, "He was gorgeous. All the girls were crazy for him."
Born in 1926 in Budapest, Stein began taking dance lessons at age 2, including ballet with Troyanoff, as she wrote in her self-published autobiography, Erika: From Hungary to America ... A Young Girl's Story. (Erika Bard was her stage name.) By 1938, Hungary was embroiled in anti-Semitism. Fearing for their lives as Jews, she and her mother immigrated to New York City to join her maternal grandfather, who had arrived years earlier.
"I stood on the top deck of the huge ship and watched the Statue of Liberty and Ellis Island slowly pass in front of me. It was ... a frightening and exciting experience for a young girl of 12," wrote Stein.
A year later, her father and brother joined them, and the family carved out a new life, first on New York's Upper East Side and then in the Bronx.
Stein developed her skill in the arts at the High School of Music & Art in Manhattan, a competitive magnet school (now part of the Fiorello H. LaGuardia High School of Music & the Performing Arts).
After high school, she became a traveling songstress and dance performer, touring state fairs and theaters on her own and with New York's Roxy Theatre, said Quirk, who has known Stein for 30 years.
"We became friends because I'm a fan of older show-business people," said Quirk, 54. "For me, there was a connection with someone from another generation who used to be on the road, and a performer, very much like I am now."
In one of Stein's photos, she wears an elegant, form-fitting white costume from a Roxy performance.
"I had a Hawaiian number, and I had two maracas in my hands," Stein recalled. "I performed in the U.S. and in Canada."
She's particularly proud of her performance on the '50s TV variety show "Arthur Godfrey and His Friends." Stein still has the recording of that episode. "I sang all of the arias as a coloratura soprano," she reminisced.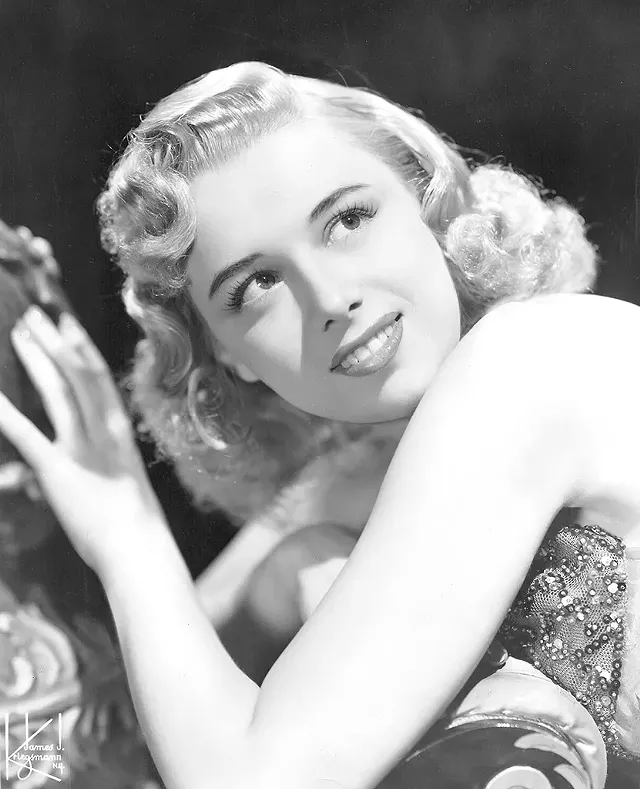 Courtesy Of Eleonora Stein
Eleonora Stein publicity photo, circa 1951
In the late 1950s, "Stein worked on cruise ships that traveled from New York to Rio de Janeiro, Montevideo and other South American cities," said Quirk. "She was very glamorous in the sparkly beaded gowns as a sort of hostess and entertainer. She had a pretty wild and liberated life."
In the early '60s, she married Harold Austin Stein, birthed two boys and ran her dance studios in New Jersey. There she employed other teachers to help her serve the hundreds of students who were enrolled at a time. About 75 percent of the classes she offered were in ballet, Quirk noted; the rest covered jazz, tap, ballroom and other types of dance.
Even while raising a family and managing her businesses, Stein remained connected to the entertainment world. Her husband's cousin was Tiny Tim, the American singer and ukulele player best known for his falsetto-voiced cover of "Tiptoe Through the Tulips."
"Whenever [he performed] in New York, we were invited," said Stein. "Tiny Tim was the nicest! I remember him before he became famous, because he came to me to ask advice — because by then I was a teacher, and I had a background in entertainment."
Of her eventual move to Vermont, Stein said, "You have to take advantage of opportunity when it's calling."
In Quechee, she established the Eleonora Stein Academy for children, teens and adults, said Melanie Moore, a retiree and longtime student, friend and caregiver of Stein's who visits regularly from her new residence in Kittery, Maine. Moore took adult ballet classes for a while at Dartmouth College, but, a few decades ago, she had her first class with Stein and was immediately drawn to her teaching.
"Madame Stein is very adamant about beautiful hands and arms," said Moore, noting that the instructor teaches the Russian style of ballet. Studying with her allowed Moore to achieve a lifelong dream: dancing en pointe, or supporting one's entire body weight on the tips of fully extended feet in pointe shoes.
"She challenges you. She wants you to do your best," Moore continued. "When you tell her, 'I can't do it. I'm 66 years old,' she'll say, 'OK, well, then just do the best you can.'"
Sophie Peyton began studying with Stein as a young child, after frustrating ballet experiences elsewhere.
Courtesy Of Eleonora Stein
Stein in her Hawaiian costume in the '50s
"I started taking classes with her, and that just changed everything and made me really love dance again," said Peyton. "It consumed my life for 18 years. I was very dedicated, and it was definitely because of her." The 24-year-old, who lives in Burlington, now considers Stein one of her closest friends; she and her family members are among Stein's caretakers.
"The people in her life that have danced with her are her family and the people that are very important to her," Peyton said.
In addition to running an academy, Stein taught at health clubs and other venues over the years, and choreographed community musicals. "She was part of the [local] theater scene," said Quirk.
Stein enthusiastically recalled that one of her favorite tasks was organizing and emceeing annual performances by her students at the Woodstock Town Hall Theatre and Briggs Opera House in White River Junction.
"I always masterminded it, the whole thing," she said. "I was in front of the curtain in a beautiful gown. Emceeing a big performance is not easy, and I loved it."
Stein would also choreograph all the dances, design all the costumes and sew some of them. "[She] even danced in a few performances not all that long ago," said Cahill.
"She was really good," added Quirk. "That was when you saw the star come out. This was not just your average dance recital. She looked fabulous ... and with her accent, it was like [Hungarian American actress and socialite] Zsa Zsa Gabor was on the stage."
It was no surprise to her friends that Stein was named Ms. Senior Vermont in 1995 at age 68. The competitor readily recalled why she won.
"I finished my routine with a cartwheel and a split!" she said.
Every August, Stein and her friends, young and old, gather in Quechee to celebrate her birthday. They often ask her to teach a ballet class beforehand, both Cahill and Moore pointed out. Seated in a chair for those classes, Stein demonstrates leg and arm movements while calling out instructions. In doing so, she's heeding the advice of her beloved Troyanoff, with whom she kept in touch after he also immigrated to the U.S.
"He said to me, 'Never stop teaching.' And he didn't [just] mean ballet," explained Stein, hitting a table with her palm for emphasis. "He meant everything. These students, they don't know anything until you teach them. And I taught. I've been teaching for 50 years — so far."