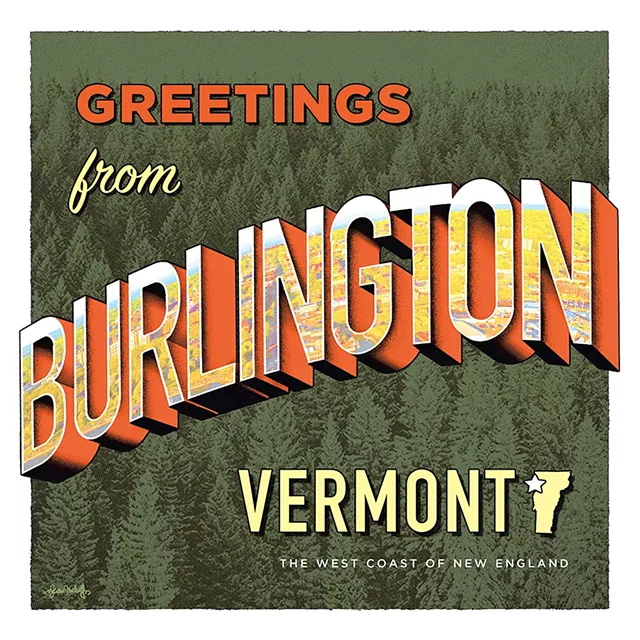 When you think about Burlington, what comes to mind? Maybe it's the stunning sunsets on Lake Champlain, people-watching on Church Street or the so-called World's Tallest Filing Cabinet on Flynn Avenue, a true claim to fame. Maybe you think of Ben & Jerry's, the vibrant arts scene or that unmistakable vibe that seems to separate Burlington from the rest of Vermont. You know: the left-leaning, buy-local, keep-it-weird, college-town feeling that makes Burlington, well, special.
A group of hotel owners and the Lake Champlain Regional Chamber of Commerce want to capture that sense of place for a new tourism campaign. Burlington needs a "brand," they say, not simply a logo or tagline. They want to distill the city's people, places and perceptions into a story, one that compels visitors to open their hearts and wallets to the Queen City and surrounding area.
The initiative is called Hello Burlington, and residents can help out. On August 7, Hello Burlington will post a survey link on its Facebook and Instagram pages to ask how residents feel about their city, said Jeff Lawson, the group's executive director and the chamber's vice president for tourism.
"Vermont has a really strong brand ... Burlington's is a lot less clear," Lawson said, noting that Burlington is behind cities such as Portland, Maine; Portsmouth, N.H.; and Saratoga Springs, N.Y.
"[They've] been doing this for a while and reaping the benefits," Lawson added.
It's hard to measure the return on investments in municipal rebranding. While there are plenty of tourism-attracting success stories — with "I Love New York" as the reigning champ for 42 years — many more civic rebranding efforts fall flat. In 2016, Rhode Island ditched its "Cooler and Warmer" tagline after residents agreed that the slogan just plain sucked. Ten years earlier, Washington State abandoned its "Say WA" slogan for the same reason, according to Forbes.
Such failures have not deterred Vermont communities. Just last week, two groups in Brattleboro issued a call for proposals to rebrand the southern Vermont town. And work continues on South Burlington's 2014 identity project. With community input and the help of a South Carolina firm, the city adopted the nickname "SoBu," a moniker some residents recently derided in letters to the editor of the Other Paper, the community's weekly newspaper.
Like South Burlington, Hello Burlington has hired an out-of-state outfit, MMGY, a travel and tourism branding agency based in Kansas City, Mo. The company will collect data and research target markets, while a Vermont firm will be chosen to develop any "creative assets" such as a logo or slogan, Lawson said.
Unlike its southern neighbor, the City of Burlington isn't paying for the branding campaign, nor has it ever run its own, according to Olivia LaVecchia, the city's communications and special projects coordinator.
Lawson said that's unusual for a city of Burlington's size. He suggested that city hall may have thought Burlington's reputation didn't need selling, but LaVecchia said the real reason is that there are only so many tax dollars to go around.
"It seems to make sense that a group of people invested in the tourism aspect of our local economy would come together to look for ways to strengthen that," she said.
Indeed, the effort is funded by a dozen area hotels — or, rather, by their guests. For the last couple of years, visitors have been asked to chip in a nightly $1-per-room "marketing and assessment fee," which is turned over to the chamber every month. About 60 percent of guests have paid the fee at Westport Hospitality hotels, which include Hotel Vermont and the Courtyard Burlington Harbor Marriott downtown and TownePlace Suites in Williston, according to Joe Carton, the company's chief operating officer.
All told, participating hotels in Burlington, South Burlington, Williston, Colchester and Essex have banked more than $300,000 to develop the brand and market it going forward.
"It's a good way to continue to seed it and have it strong rather than have a bake sale every year," Carton said. "In a world of advertising, that's still not much money, but it's more than we've ever had."
He's right: The chamber and the Burlington Business Association had just $35,000 when they hired a Massachusetts-based firm to develop a brand more than a decade ago.
That 2007 rebranding adventure ended with a rebooted slogan from the 1980s which dubbed Burlington "The West Coast of New England." The motto beat out "Vermont's Crown Jewel," "Relax, You're in Burlington," and "What Happens in Burlington Stays With You," Seven Days reported at the time.
Needless to say, the brand didn't exactly stick and wasn't universally loved. Vermont comedian Rusty "The Logger" DeWees used it as fodder for a newspaper column in which he lambasted the chamber for hiring an out-of-state firm and mocked the motto for comparing Burlington to someplace else.
"It's funny to think of some West Coast sun-and-sand worshippers hearing about Burlington being West Coast-like, then coming here to tan on North Beach in their thong swimsuits," DeWees wrote. "Maybe a better motto would be, 'Burlington, 2.8 Miles of Beach – Come Stand on It.'"
DeWees told Seven Days this week that the chamber should recruit him to dream up a slogan this time around.
"Simple is best, and that's why they should hire me: I'm simple," he quipped.
Tim Shea, the chamber's vice president from 2000 to 2012, admitted the West Coast label has fallen out of use — though it still appears on a Vermont Department of Forests, Parks and Recreation website and, of all places, on the web page for the surf-themed restaurant the Spot. Shea thinks the Burlington brand could use a fresh look.
"The message to the market is constantly changing," Shea said. "What's the story you're telling? Is it the right story? I think that's what brings these discussions."
Jim Lockridge, executive director of local music promoter Big Heavy World, wondered if an out-of-state firm could truly capture an authentic Burlington feel. He supports the branding exercise but encouraged the chamber and hotel owners to reach out to people "outside of their industry."
"I'm always hopeful that somebody will be savvy enough to identify an encompassing identity rather than a simple one," Lockridge said. "There's a really good chance that it's exclusive when it doesn't need to be."
BTV Ignite project manager Adam Roof said it's great that hotels have stepped up to run this project. And Vermonters need to "get over ourselves" when it comes to contracting firms run by flatlanders, he added. Roof is an independent Burlington city councilor from Ward 8.
The city needs something "to just kind of let people know that we're here," said Kelly Devine, executive director of the Burlington Business Association. "We're not cows and country — we're a very different kind of place than you see in the rest of the state."
Devine suggested that Hello Burlington model its campaign after Portland, Maine's, which developed a website for its downtown. The site features a map with color-coded districts, points of interest, parking garages, public restrooms and ATMs. She thinks something similar could work in Burlington, even if a firm from Missouri, a place with its own successful nickname, "The Show Me State," comes up with it.
"Now we want them to show us," Devine said.
Burlingtonians can take the survey until the last week of August, after which MMGY will compile that data and other market research into a "brand bible" this fall. In the meantime, Hello Burlington will seek a local agency to start shaping the campaign. But unlike 12 years ago, the focus won't be on making a marketing tool kit or designing a flashy pamphlet that quickly is forgotten. It's writing that story, Lawson said.
If it's a good one, it will convince tourists that Burlington is not just a drive-by city between Montréal and Boston but a place to put down roots, Devine said.
In the end, Lawson said, messages aimed at attracting tourists and new residents are pretty much the same. "They're all different paths up the same mountain," he said — "just presenting Burlington as a really great place to be."