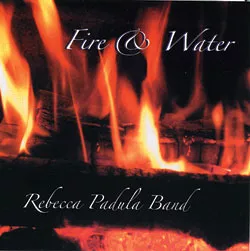 (Self-released, CD)
Hinesburg songwriter Rebecca Padula is one of the hardest-working and highly respected musicians in Vermont's sprawling folk scene. A darling of the coffeehouse circuit, she has shared the stage with numerous big-name acts such as Patty Larkin, Vance Gilbert and the late Rachel Bissex. Padula graduated from St. Michael's College with a double major in music and journalism, and her pursuit of those seemingly disparate disciplines likely goes a long way toward informing the musical polish and wealth of thematic material found on her latest release, Fire & Water. But the fruit of scholastic labor can be a double-edged sword. While her jazz and classical vocal training and journalistic sensibilities provide a fertile songwriting foundation, Padula's performances, while technically immaculate, trend towards rigidity and frequently come off as, well, academic.
As the title of her third disc implies, balance and contrast are central themes throughout the recording. Padula possesses a journalist's keen eye, which serves her well when tackling topics such as the plight of Vermont's disappearing farms on "Less," and war on "What's Going On?" But her observations are more reportage than poetry and largely lack the lyrical immediacy to truly move the listener. The feel-good, white-bread funk of the latter tune does little to alleviate the issue.
However, Padula does offer moments of subtle narrative intimacy, as on "The Neighbors" (CLICK HERE TO LISTEN). The song deals with an ugly, and likely ongoing, domestic feud, deftly capturing the helplessness one can't help but feel witnessing such an event. "I can't imagine, they were ever sincere / she wakes the kids with seatbelts tight / they'll all be back tomorrow night," she sings.
Padula peppers her own compositions with tunes by other notable Vermont songwriters, such as Susannah Blachly, Carol Abair and Bissex, who co-wrote the aforementioned "Less." Surrounding herself with a crack backing band composed of some of the area's finest musicians — mandolin marvel Jamie Masefield, blues guitarist Dave Keller and banjo guru Rik Palieri, among others — Padula's tunes are impeccably played. But the price of technical precision often manifests itself as a seeming stiffness. And here we stumble upon Fire & Water's most unfortunate flaw.
As previously mentioned, Padula was vocally trained in both classical and jazz and is an obvious talent. Though not for lack of effort or heart, here she simply sounds like a classically trained singer trying to sound like a folkie. The result is too clean. Too perfect. Too . . . studied.
The Rebecca Padula Band releases its latest this Saturday at the Hinesburg Town Hall.