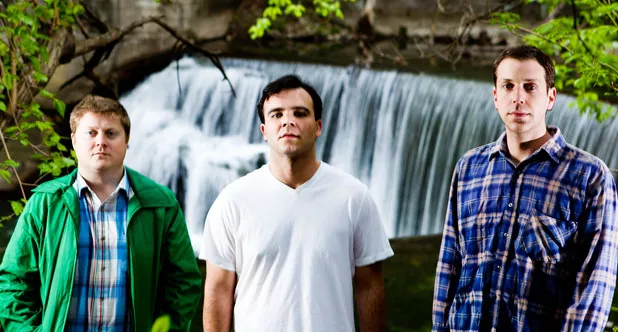 Well, race fans, it's that time of year once again, when we roll up our sleeves, unbutton our collar, flex our jazz hands and, well, ignore the Burlington Discover Jazz Festival.
I'm kidding, of course. We're hardly ignoring the BDJF. We've been spotlighting shows in these pages for the past month. There's a big story about Friday's Miles Davis-inspired blowout with Bitches Brew Revisited, and a nifty little piece about a local band, Seny Daffe & Wontonara, playing a Jazz Fest gig leading this very section of the paper. And I'll be on the teevee every day next week talking up Jazz Fest stuff with the nice folks at WPTZ. Hell, I might even break my own Jazz Free Zone Soundbites rule later in the column. Scandalous, I know.
BDJF has become so ubiquitous that, for these next 10 days, you can't leave your house without tripping over a saxophone. Which is why I traditionally reserve this column as a refuge for the jazzed-out masses. Because, believe it or not, a bunch of stuff is happening these next two weeks that has absolutely nothing to do with jazz. For example, the Waking Windows Festival at the Monkey House.
WWF is a 10-day throwdown curated by Angioplasty Media's Nick Mavodones and Paddy Reagan. It features a fascinating mix of local, regional and national talent pretty much running the genre gamut from mellow indie-folk and singer-songwriter fare, to hard-charging rock and roll and unwieldy, experimental noise. Or, in other words, pretty much everything we've come to love about AM, condensed into one epic little fest.
It all kicks off this Thursday with the welcome return of Burlington's Cave Bees. CB's Rebekah Whitehurst and Steve Tremblay spent the winter in Texas rocking and/or rolling and also preparing for the birth of their first child, a daughter, due in a couple of weeks. Rockers Blue Button, who I'm told are mere weeks away from releasing their hotly anticipated debut album, open the show.
Day 2 should be a comparatively mellow affair. Friday's showcase features Reagan's band Paper Castles, art-rock royalty Swale, Hello Shark and Ben MacIntyre.
Day 3, Saturday, follows suit with still more low-key fare, including Lady Lioness, Kath Bloom, This Frontier Needs Heroes, Lowell Thompson & Crown Pilot — more on him in a sec — and headliner Maryse Smith & the Rosesmiths.
Day 4 is a double dip featuring early sets from primitive guitar guru Glenn Jones and "dark folk" songwriter Sharon Krauss. Burlington's experimental music scene takes over later in the evening with performances by k. lynam, Even the Dew Is Porous, Wirefall, the le duo and Nuda Veritas. By the way, if you haven't checked out NV's new album, Verses of Versus, put this paper down right now and rectify that. Seriously, go.
Everyone else can keep reading as we get to the WWF's marquee showcase, Future Islands with Joey Pizza Slice and Plucky Walker this Monday. Future Islands call their moody electro-pop "post-wave" and are among the most promising indie-rock acts around at the moment. For this show they'll be taking a quick breather from touring with Okkervil River and Titus Andronicus in support of their latest release for Thrill Jockey Records, Undressed — which totally rocks, by the way. The guess here is that the next time Future Islands swing through town, they'll play a much larger venue than the cozy Monkey House.
BiteTorrent
Welcome home, Lowell Thompson! The prodigal alt-country troubadour spent the winter in Austin, where he's been playing regular gigs around town, working on a new record and "trying to drink all the tequila in stumbling distance." Attaboy. Thompson is back for a few days this week and has a few homecoming shows lined up with his band, Crown Pilot: Thursday at Club Metronome, Friday at Radio Bean and Saturday at the Monkey House.
Speaking of Thursday at Metronome, Thompson is part of what Lendway's Matt Hagen describes as a "super bill." In addition to Thompson, the lineup includes three of the best local indie-rock acts going right now: Lendway, Villanelles and the Fifth Business. Word is Lendway are about to start mixing their new record and hope to have it finished by early September. I'm also told Ghosts of Pasha didn't write any of the songs on the record this time. (Kidding, boys!)
In other Hagen-related news, Metal Mondays, the pet-project residency he hosts at Nectar's with his band Nefarious Frenzy and WRUV's Metal Matt Longo, was just extended through July, and for good reason. It fucking rawks. Metal and hardcore are often overlooked genres in the Queen City, so it's nice to see heavy music get a little respect.
While we're on the subject of rockin' wikkid hahd, the industrious lads from local indie booking co-op the Black Lodge have a fairly ass-kicking show lined up on Wednesday, June 8, at 242 Main. The gig is a tour kickoff for local postrock two-piece Cloudeyes, and also features a couple of regional heavy hitters, New York's Tidal Arms and Boston's Drummers. The latter band is a posthardcore outfit featuring a couple of the guys from Pretty & Nice, which can only be a good thing. Local indie rockers — and In Memory of Pluto offshoot — Spirit Animal open the show.
Band Name of the Week: Not-So-Superhero Nola All Stars. What happens in New Orleans stays in New Orleans. Usually. Formed during Mardi Gras in New Orleans in 2009, the All Stars, are, fortunately, the exception to the rule. Self-described as "freaky jazz-dance," the trio features drummer Simon Lott and laptop extraordinaire Justin Peake — both of N'awlins — and guitarist Mike Gamble from NYC. If that last name sounds familiar, it should. Gamble has been a regular visitor to the Queen City with a number of different acts, including an indie-rock band, Seequill, a jazz trio called the Inbetweens and as a solo act dubbed Scrambler. Gamble's humbly titled trio plays a slew of BDJF gigs this week, including Saturday at Radio Bean, Sunday on the Church Street Marketplace and later at Parima Main Stage, and again, as Scrambler, on Wednesday, June 8, at the Monkey House.
Most folks know Craig Mitchell as a world-renowned DJ, an elder statesman of the local house-music scene, a honcho at Slanted Black Records and an all-around supremely nice guy. What you may not know is that he's also one of the most talented vocalists in town. No joke. Anyone who has seen him perform as Prince with his tribute outfit Operation: Prince will likely back me up on that. Anyway, dude is writing songs for and fronting a new band called Motor City — a reference to his hometown of Detroit — which he describes as "if Prince, Jamiroquai and the Black Keys had a baby." Sold. Catch them at Nectar's this Saturday with Myra Flynn and Soul Patrol.
The jazz and funk community lost a good one when Melvin Sparks passed away in March. But the barbecue-funk originator's legacy lives on in a new group, Sparkplug, spearheaded by two members of Sparks' last working band: organist Beau Sasser and drummer Bill Carbone. The band is a tribute to Sparks, but rather than try to find a new guitarist to fill his sizable shoes, they invite a rotating cast of players to, well, spark it up and pay homage to their fallen friend. This Sunday at Club Metronome, the band is inviting Boston's Johnny Trama, who also plays with the likes of Jesse Dee, John Brown's Body and Entrain. Beantown's Otis Grove opens.
Last but not least, farewell Rachael Rice and Dan Haley. The Montpelier-based couple is off to the left coast next week, but not before one last epic blowout this Saturday at — where else? — Charlie O's, with Rice's band Rusty Romance. Take care, you crazy kids.
Dept. of Corrections
Last week's roundup of upcoming summer music contained an unfortunate error, namely that the July 29 Concerts on the Green show with Bright Eyes and the Mountain Goats at the Shelburne Museum is sold out. It's not. Tickets are still available and can be purchased at highergroundmusic.com. Our apologies for the goof.
Listening In
Once again, this week's totally self-indulgent column segment, in which I share a random sampling of what was on my iPod, turntable, CD player, 8-track player, etc., this week.