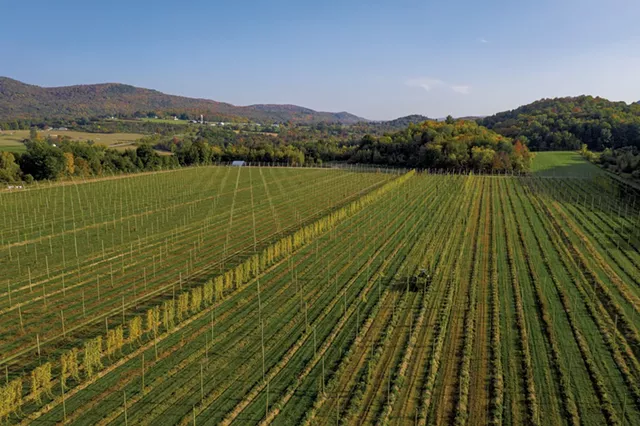 James Buck
Late-season hops harvest at Champlain Valley Hops
At Foam Brewers in Burlington, drinkers ask one question so frequently that the staff has turned it into a running joke: "Is that the hops?"
The inquiry typically comes between sips of IPA as customers observe the end of the brewing process in the taproom's seven-barrel brewhouse. The brewers patiently explain that what they're actually seeing is not hops but spent grain left after the wort goes into a fermenter across the room.
On a Wednesday afternoon in mid-September, though, the mystery material filling the mash tun, or mixing vessel, actually was the hops.
"We make that joke so often that one of the bar staff came over today and said, 'Oh, is that the hops?' thinking he was being funny," brewer Josh Bayer said with a laugh. "In reality, that's what it was."
To be exact, it was 200 pounds of fresh Chinook cones from Champlain Valley Hops in Starksboro, which was founded in 2018 and is now Vermont's largest hop farm.
In the past, Foam has had fresh Citra and Mosaic hops express-shipped from farms in the Pacific Northwest. These hops, by contrast, were harvested just a few hours earlier and driven 21 miles to the brewery by Max Licker, Champlain Valley Hops' sales and marketing manager.
The speed mattered because Bayer and head brewer Bob Grim were brewing a wet-hopped double IPA, a fleeting seasonal style only possible during the annual hop harvest. It's optimal to use the hops on the day they're picked to get the full impact of their fresh flavor and aroma.
"There's a very small time frame in the year when you can brew wet-hop beers, and it's right now," Grim said. "That's what makes them so exciting. The hops come to us right out of the field and go straight into the brew."
The delivery of fresh hops is just a small part of Foam's working relationship with Champlain Valley Hops, offering a sense of the impact that the hop farm's cofounders, Peter Briggs and Julian Post, hope to have on the state's beer industry.
Briggs and Post purchased their 240-acre former dairy farm in Starksboro in April 2018. Sitting on hay bales in a barn on the property last week, the two recounted cold April days spent punching holes in the ice to build trellises. That May, they planted their initial 18 acres of hop rhizomes, but they would need to wait another year for the first harvest to give the newly planted hops time to establish root systems.
The pair had faced resistance from neighbors during their first attempt to start a hop yard, or commercial hop farm, in Charlotte, when the business was called Mt. Philo Hops. But the Starksboro farm — a flat, sandy terrace with good drainage and access to water for irrigation from Lewis Creek — had everything hops need to flourish.
"In many ways, we got lucky that we got a second chance to make that search [for land], because we really found the ideal property here," Post said.
That first year in Starksboro, Briggs and Post shared the farm with the dairy farmer who sold it to them. They were eager to plant, since hops take three years to reach maturity, and the dairy farmer thought he'd get a better price for his cows at the end of the year, Post said.
"It was really fun, because we got to ask him questions about the farm for a year and learn everything that he knew about the property — and we borrowed his equipment, because he had a much bigger tractor than we do," he said.
The farm now has 27 acres in production and 10 more trellised and ready for planting. As harvest approached this fall, bines of Cascade, Chinook, Centennial, Crystal, Magnum, Nugget and Willamette spiraled skyward on the 18-foot trellises, along with newly planted Triumph.
James Buck
Hops at Champlain Valley Hops
"We picked those varieties of hops through a combination of their popularity with brewers and their agronomic viability," said Post, who is also the farm manager. "Each of them is going to have unique characteristics based on Vermont's terroir."
Learning how Vermont hops compare with those grown in other major hop-producing regions is one exciting aspect of reintroducing this historic crop to the state. In the 19th century, Vermont and upstate New York were the center of hop production in the U.S. Vermont's latitude, topography and climate resemble those of some of the top hop-producing areas in the world, including Germany and the Czech Republic, where Briggs lived when he first became interested in the crop.
"I wondered why we didn't grow them back here," Briggs said. "It's been a century since Vermont has had a hops yield on a significant scale."
Before joining Briggs to start their commercial operation, Post worked for University of Vermont Extension professor Heather Darby as a crop technician and manager of the hops research yard. Darby's research conducted there has been crucial to the redevelopment of hop farming in the state, determining which varieties to plant and how to ensure that they thrive in Vermont's growing conditions.
This year's second harvest at Champlain Valley Hops offered a sign of the farm's success.
Beginning on August 17, the harvest spanned roughly 40 days, with a team of 12 employees working from 7 a.m. until 11 p.m. They picked and processed 23,000 pounds of hops, a more than fivefold increase over 2019.
"We expect that to double next year, and then it should go up even further without having planted another plant," Briggs said. "At that scale, we should be a mature, sustainable operation."
A key part of that operation — and of Champlain Valley Hops' business plan — is post-harvest processing. "If you grow hops, at the end of the season, you have a cone with a very short usable life," Briggs said.
Brewers get excited about wet-hopped beers during harvest, but they need hops the rest of the year, too. To provide a consistent supply, farmers must dry hops immediately after harvest and process them into a stable, pelletized state.
Building a commercial processing facility required sizable investments in specialized machinery, but for Briggs and Post, the cost was worth the risk.
"Somebody had to be the first to build a commercial-scale processing operation," Briggs said.
When the farm's production and processing reach full capacity, at some point in the next few years, Post estimates that Champlain Valley Hops will be able to supply 5 to 10 percent of the total hops used by Vermont's breweries.
Briggs and Post also hope to offer processing to other farms, which would help lower the cost of entry for those looking to make the leap into hop farming on a smaller scale.
"Part of our ambition here is to act as a catalyst for a community of farms," Briggs said. "Making the Champlain Valley the Napa Valley of hops would be a nice thing to do — and very consistent with the incredible job that's been done in the brewing industry in Vermont."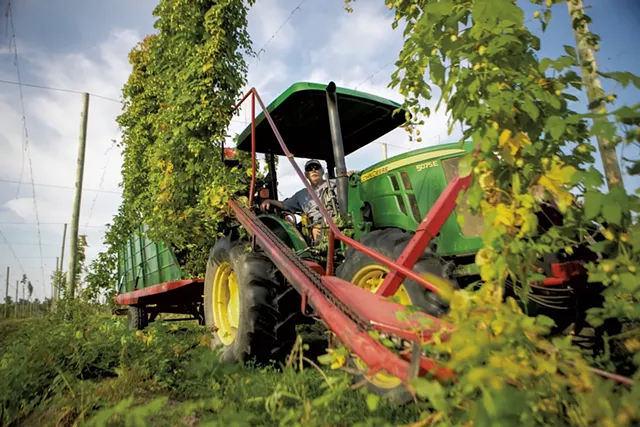 James Buck
Harvesting hops at Champlain Valley Hops
In the meantime, the goal is to get their hops into the hands of brewers across the state.
"We want a lot of different brewers to play with the hops," Briggs said. "It's taken us several years to get to this point, and it'll take a couple more years of feedback from the brewers to figure out what really works and what consumers are interested in."
For that reason, experimentation-prone breweries like Foam are ideal early adopters. So far this fall, the brewery has purchased 300 pounds of fresh Centennial hops for its canned Local Dork release; 100 pounds of wet Cascade for a House of Fermentology oak-barrel-aged beer; and deliveries of Cascade, Chinook, Nugget and Crystal for wet-hopped beers that will be on draft in Burlington.
"Foam has such a great combination of brewing experience and creativity, and they're really excited about incorporating what we have to offer," Post said. "We've learned so much from them in terms of how we can work together to produce an interesting, unique beer."
"In addition to having their production brewery right down the road from us [in Hinesburg], their taproom in downtown Burlington is a great way for us to connect with the public," Licker added. "They're so ingrained in the community, and they really care about communicating with the public and educating them about where the hops come from."
Working with local ingredients is a big part of the ethos at Foam, but the Champlain Valley Hops team is aware that just offering a locally grown product isn't enough — it has to be a product that's worthy of the brewery's reputation.
As Bayer unloaded the 200 pounds of fresh Chinook cones into the mash tun in Foam's taproom, Grim gave it his stamp of approval.
"We have amazing hops at our fingertips, right here," Grim said. "We get to have face-to-face feedback, and I think it's mutually beneficial for both parties."
The aroma of the hops filled the air, hinting at the green freshness they'd soon impart to the flavor of the beer.
"It's almost hard to describe," Grim said. "It's like when you walk out into a flowery field in the middle of summer — fruity, floral, maybe a little grassy. You're basically trying to capture that hop in that moment, and that's why it's such an exciting time of year."
When the finished beer, Chinook Revue, hits the draft list in the last week of September, it'll capture this moment in Vermont's reemerging hops industry as an exciting harbinger of collaborations to come.