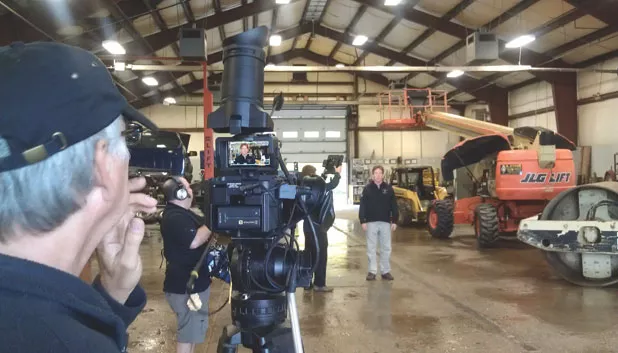 A GMC and Ford automobile dealership in sleepy Middlebury is the unlikely star of a new reality television series, slated to air this January on GSN (formerly the Game Show Network).
What prompted Los Angeles-based GSN to fly in producers, cameramen and a full crew for six weeks this fall? That would be Gardner Stone, the straight-talking patriarch of the G. Stone Motors dealership, who takes an unorthodox approach to selling cars: He'll take just about anything in trade.
It's no gimmick put on for the TV cameras; since opening his own dealership in 1974, Stone has made a practice of accepting virtually anything he thinks he can resell. Earlier this month, it was a Hereford cow. Ask him about unusual trades he's made, and he'll rattle off a laundry list: land in Florida and New York, "elk on the hoof," tractors, sawmills. "Everything has a value," says Stone.
That penchant for bartering won Stone and his family business a new show called "Family Trade." Promotional materials for the show play up the "simmering stew of family drama" that supposedly accompanies Stone's freewheeling trades: His son and daughter, Todd and Darcy Stone, have "the unenviable task of reselling whatever their father has bought," one press release reads.
Todd Stone runs the main dealership at G. Stone, Darcy runs the commercial branch of the company — "and I run my mouth and the cellphone," Gardner jokes. He admits that he'll "take a shot on anything," and that his children sometimes doubt the value of his trade. But Stone says that, at the end of the day, the dealership is doing just fine: They've been in business for nearly 40 years, after all.
"We win more than we lose," he says, and quickly adds, "Our customers are winners, too."
G. Stone's first brush with fame happened a year ago, when Todd got a call from Eli Frankel, an executive with Lionsgate Television Group. Frankel had heard, secondhand, about G. Stone's unusual way of conducting business. Would the family be up for hosting a film crew for a few days? The Stones were in.
After pulling together a short clip, Lionsgate shopped the idea around to a few networks. GSN took the bait, and sent a crew back to film a pilot episode. They apparently liked what they saw, and the network announced in August that it was ordering eight episodes of "Family Trade."
That's how a film crew came to descend on the Route 7 dealership in early September. They're wrapping up the six-week shoot this month. Meanwhile, the Stones are trying to go about business as usual — even if "business" now means three or four cameras in the negotiating room. The Stones say they've had a bit of extra foot traffic this month as curious potential customers trickle in to check out the cameras. But, Gardner Stone points out, "a lot of people are camera shy," so not everyone is opting into the shoot.
He is adamant that this isn't your average "reality" show: The deals all take place on camera, and the crew isn't ramping up drama for the sake of good TV, despite some early efforts to spice things up. "I got a handle on that real quick," Stone says. "We've had a couple of knock-down, drag-outs."
In the end, Stone praises the crew members for their professionalism and their willingness to document true reality, not manufactured drama.
Cynthea Wight Hausman, the owner of Cynthea's Spa on Church Street in Burlington, can attest to the show's realness. She initially heard about "Family Trade" when a producer contacted her about doing makeup for the production. But when the Lionsgate employees learned of Hausman's line of Vermont-made body scrubs, they asked if she'd be interested in bartering bath products for a new (to her) car.
"I'm not one of those people that will do anything to be on television," Hausman says. But she also knew that the opportunity to talk about her business and her body scrubs was great exposure — and, as it happened, she had been considering trading in her Toyota for a vehicle with more cargo space. She took a look at G. Stone's inventory online, made sure the dealership had a few options in her price range, and then packed up some of her body scrubs and spa gift certificates and headed south to Middlebury.
"Gosh, these guys had no idea what to do with these body scrubs," she says with a laugh. "What do they know about the spa industry?" But Hausman got what she felt was a fair exchange. She admits that negotiating for a new car can be stressful, but says the cameras didn't add extra pressure.
"I knew that their reputation was on the line, also," Hausman says of G. Stone. "We were just trying to come to a fair deal for all of us … They do not want to come off as sleazy car guys."
In the end, she walked away with a 2008 GMC Acadia — and the prospect of appearing on a national reality-television show. Hausman also got a look behind the scenes of the production earlier this month, when she came in to help with makeup before a day of promotional shoots. The authenticity of the shoot stood out for her. "They're not taking shortcuts, and they're not fudging things," Hausman says.