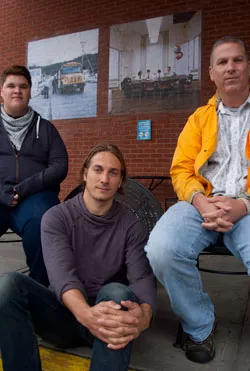 Ned Castle wants to make sure that this article isn't all about him. Sure, the 27-year-old Vermonter is the visionary behind several multimedia photography projects that have been exhibited extensively in the state; they include "In Their Own Words," a collection of personal histories by refugees living in Vermont; "Indigenous Expressions," portraits of Native Americans living in the Lake Champlain Basin of Vermont and New York; and his most recent, "HIGHLOW Project," photos and audio narrations of high and low points in the lives of at-risk Vermont youth. But Castle couldn't have done any of them alone.
Which is why Castle is not the only one spending this week in Washington, D.C., for a weeklong exhibit of the "HIGHLOW Project" at the Russell Senate Office Building Rotunda. He's accompanied by Kelsey Ballard, the assistant director of the Vermont Coalition of Runaway & Homeless Youth Programs, which sponsored the project; and Mackenzie Lewis, one of the 11 participants.
The "HIGHLOW Project" was exhibited in galleries around the state for the first part of this year, and large-scale versions of its images currently appear on exterior walls in downtown Burlington, Rutland and Montpelier. But it began as a more traditional marketing project for VCRHYP's 13 agencies around the state. Castle was contracted to create audio-visual profiles of these agencies, "just to help people in Vermont know who they were," he says.
As he got to know some of the youth involved in the programs, Castle felt compelled to let them tell their stories in an unusual way. "There's good reporting around a call to action, and great storytelling around success," says Castle of typical media stories concerning "troubled teens." But rarely, he suggests, do you learn about those young people's individual desperate — or celebratory — moments.
And anybody can empathize with the moments depicted in the "HIGHLOW" photographs. Though the circumstances differ, the emotions are universal: Excitement over success — such as graduation or getting a job — and finding a community dominate the highs; instances of isolation, helplessness and frustration fill the "low" section.
"We worked to stay on the right side of this line that separates empowerment from exploitation," Castle says.
Mackenzie Lewis, 20, had been living at the Spectrum youth shelter in Burlington for less than a month when Castle first arrived to pitch his project idea. Lewis and a friend agreed, "We're going to kick ourselves if we don't do it," he recalls in a recent interview. Ultimately, their decision was easy. "[The project] was so different," Lewis says. "I just had to be a part of it."
Not everyone felt that way. "People didn't want to be seen as vulnerable," Lewis surmises.
When Castle sat down with participants to talk about their high and low moments, he made it clear they could stop at any time; they could pull their stories from the project, even after it debuted, if they felt too exposed. "You know when you're 16 and you get a tattoo of your girlfriend's name on your arm?" Castle says. "We wanted to make sure the project didn't become someone's tattoo."
He familiarized his young participants with the work of Gregory Crewdson — a New York-based photographer known for his staged scenes of American neighborhoods — and made sure they felt comfortable returning to locations where they'd had negative experiences for their shoots. Lewis' "low" involved standing in front of a brightly lit bathroom mirror, his arm bleeding from self-inflicted cuts. He didn't feel comfortable returning to his mother's bathroom, so they shot it in Castle's.
Asked if it was challenging to re-create these scenes, Lewis shakes his head. Castle compares the photo shoot to the somewhat emotionless atmosphere of a movie set: There's a lot of stopping and starting, adjusting lighting, and, in Lewis' case, applying ketchup to his forearm in place of blood. "It pulls you out of the situation," says Castle.
For another shoot, though, a participant named Steve parked his car where he had lived in it during a low time. With the sun almost set, it was dark enough that he couldn't quite see the photographer out there with the camera, and, says Castle, "It took him back."
Early in the project, Lewis worried about what people would think of him. At the opening, he says, "I wanted to take a big white sheet and throw it over the low." In his narration, he worried that he would be perceived as blaming his mother. "I never meant it to be that way," Lewis says. As it turned out, people responded well and thanked him for sharing his story.
The "HIGHLOW Project" was a learning experience for everybody involved, including Castle. For eight months, it was his No. 1 priority, he says. For the participants, the project sometimes took a backseat to jobs, school and life in general. "All of a sudden something would happen: They'd relapse, their car would break down, and this project slides from their list of priorities," says Castle. "That was hard for me."
Kelsey Ballard says the project worked because of Castle's persistence. "The relationship that Ned has been able to develop with each of [the youth], meeting them and traveling the state for them," she says. Even now, Ballard says, he's always asking, "What's next?"
What is next? In November, Castle and Ballard are taking the exhibit to the annual National Runaway and Homeless Youth conference in Portland, Ore., and they've applied for more funding for the street project in Vermont. The "HIGHLOW Project" is far from over, Castle says.
And for Lewis, who has never regretted being a part of the project, its message is enduring. "It brings a reality check to people," he says.