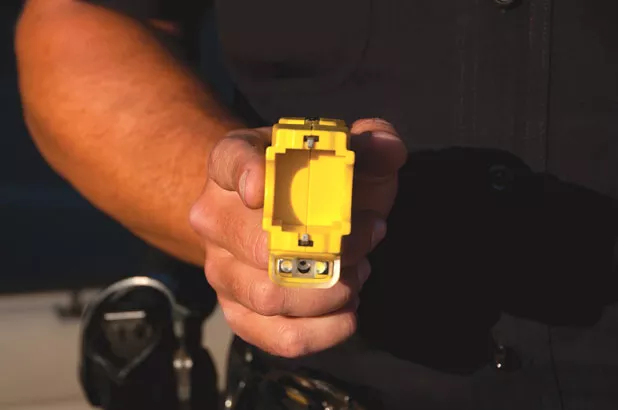 If you've been watching the Olympics (and who hasn't?), you've seen the promo for "Stars Earn Stripes" almost as often as you've seen gymnast Aly Raisman's butt. The new NBC reality show, which premiered Monday, takes eight B-list celebrities — including Todd Palin and Nick Lachey, the boy bandster perhaps best known as Jessica Simpson's ex — dresses them in combat gear, teams them up with Navy SEALs and Green Berets, and supplies helicopters, Humvees and lots of mud, smoke and noise. And then — here's the cool part — the show arms the contestants with real explosives and live ammo, and sends them to war.
But not actual war, of course. Nobody gets killed.
In the perverse way that reality TV resembles reality, the expurgation of "Stars Earn Stripes" exemplifies an American delusion that may define the summer of 2012. That is: Guns don't kill people. And "nonlethal" weapons don't hurt people … that much.
Here in Vermont, on June 20, State Trooper David Shaffer shot Macadam Mason in the chest with a Taser — even though three other officers were at the scene, Mason was unarmed and he had his hands in the air in a gesture of surrender.
The 39-year-old Thetford artist, who was recovering from a disorienting epileptic seizure, fell down and died.
Dismissing the need for a moratorium on Taser use, Gov. Shumlin told the press, "Anything can kill someone. It depends how you use it. The point is, Tasers are less likely to kill you than a bullet, which is why we use them."
The first part of that last sentence may be true, but it is beside the point. Cops use guns when civilians have guns. They use Tasers when there is no gun. VTDigger's Taylor Dobbs, who analyzed 80 Vermont State Police use-of-force reports involving Tasers, told me that, although narratives are missing in about half the reports, he could "not remember any incident where the officer said the person was holding a gun." Dobbs also noted that troopers are cautioned against zapping a person with a knife, as he might accidentally stab himself when the Taser delivers its 50,000 volts of electricity and disables his neuromuscular system.
In a New York state study of Taser use, 85 percent of those Tasered were unarmed. That study, along with others in Arizona and Texas, showed that arming police with Tasers does not decrease the use of lethal force.
Taser International calls its devices "less than lethal." More boldly, the U.S. Department of Defense puts them in the category of "nonlethal weapons," or NLW, defined in its 2011 Joint Non-Lethal Weapons Directorate as munitions designed "to incapacitate … immediately, while minimizing fatalities [and] permanent injury." But good intentions go only so far: "NLW shall not be required to have a zero probability of producing fatalities or permanent injuries." In other words, they can be lethal.
And sometimes they are. Amnesty International counted more than 500 Taser-related deaths from 2001 to 2008. The numbers since then indicate the rates are accelerating. Research published in May in the American Heart Association journal Circulation finds more evidence of lethality: Taser shocks can cause deadly heart attacks.
And the deaths keep coming. After the February 13 fatal Tasing of Johnnie Kamahi Warren, 43, in Dothan, Ala., Amnesty called for stricter regulations on Taser use.
Macadam Mason is the next person on the casualty list.
Will his autopsy implicate the Taser? Not if Taser International prevails. The company has sued medical examiners who have named the zapper as a cause of death, and MEs in Ohio and elsewhere have been persuaded to redact their autopsy reports. According to a 2008 Arizona Republic investigation, medical examiners are increasingly employing an alternative explanation provided by TI-funded researchers: "excited delirium" — a fatal state of agitation from intoxicants or panic. This is not recognized in any medical text.
A Taser is less likely to kill you than a bullet. It is also less likely to kill you than a drone missile. (The sheriff's department in Montgomery County, Texas, is boosting its odds with the recent purchase of a $300,000 Vanguard Shadowhawk drone that it intends to arm with Tasers, tear gas and rubber bullets — which, incidentally, also have killed people in Northern Ireland, Israel and Kosovo. When the drone crashed in a test flight, Vanguard's CEO said: "The beauty of having something unmanned is you're not putting any humans in harm's way.")
But a Taser is not less likely to kill you than four state troopers wrestling you to the ground. Which, if Mason was indeed agitated, would seem an appropriate and effective action.
Another less-than-lethal technology cops are enthusiastic about these days is the "sting ball grenade." Vermonters became familiar with these little cuties when — as numerous videos attest — Burlington city police fired them at protesters blocking a bus of arriving diners outside the conference of New England governors and Eastern Canadian premiers at the Hilton Burlington last month.
The Defense Department recommends a "minimum safe distance" of five meters, or more than 16 feet, for deploying sting pellets. A Navy Bureau of Medicine training manual notes that "for those close to the site of detonation," skin penetration is "common." In a Spike TV video of guards firing a barrage of pellet grenades into a prison cafeteria melee, corrections officer Chuck Helton states that being hit by a sting ball feels "similar to a baseball pitcher hitting you with a 90-mile-an-hour fastball." An inmate who had been hit is asked to hold up his arm. It looks shredded, as if by shrapnel.
In Burlington, the demonstrators dispersed quickly. The bus went on its way. Then, inexplicably, the cops charged. From a distance of less than 10 feet, one officer brandished his launcher at a cluster of people. Then he fired directly at Marni Salerno, 23.
Without having witnessed these events, Burlington Mayor Miro Weinberger said he was sure the cops "worked hard to get it right." Shumlin concurred that they "did a great job." The police department will conduct a standard-procedure "after-action review" of the clash. But the inquest is unlikely to consider whether Vermont police need to use sting pellets on peaceful protesters — or anyone.
Beyond the Green Mountains, as we endure America's Weekly Massacres (another reality series?), the technology of death continues to get an easy ride. The handful of elected officials who've dared suggest a connection between the carnage and the availability of assault weapons are widely considered to be holding guns to their own political careers.
The Democratic presidential candidate — er, president — has handled the topic gingerly as well. After the massacre in Aurora, Colo., Obama floated the idea that new laws might prevent "mentally unstable individuals" from buying guns. That's as distinguished from the mentally stable individuals who collect weapons whose sole purpose is to mow down as many people as possible as fast as possible. The sane, in other words, should be allowed to play with AK-47s.
Post-2001, things are so dangerous that to prevent the bad guys from doing what they just might do, you have to shoot something. As Shumlin put it: "Not using Tasers in Vermont would result in police officers having to use bullets."
Yes, they'd be forced to gun down epileptics, drunks and civil-disobedient demonstrators chained to barrels.
Aside from "Stars Earn Stripes," this season's reality-TV lineup features a number of true-crime-and-punishment adventure shows characterized by the omission of at least one crucial piece of reality. There's TNT's "The Great Escape," in which competitors try to get out of maximum-security prisons and POW camps. I assume that no guards will be around to fire sting balls — or bullets — as the escapees clip the razor wire and climb over the wall.
On ABC's "Final Witness," reenactments of grisly murders are narrated by the dear departed him- or herself. Homicide victims do not really die. They come back as angels — and television hosts.
But, every so often, reality does approach. On one reality-show-casting website — along with hundreds of calls for messy people, people with messy husbands, fat people, people with fat teenagers, people obsessed with being fat and rednecks (this year's fad) — TV producers are seeking veterans suffering from PTSD. If that's too much of a downer, perhaps they will look for some celebrity synergy. If they're lucky, the war games on "Stars Earn Stripes" will turn out to be more traumatizing than anticipated — and Todd Palin will be a candidate.
That casting website, by the way, is called realitywanted.com.
Poli Psy is a monthly column by Judith Levine. Got a comment on this story? Contact levine@sevendaysvt.com.