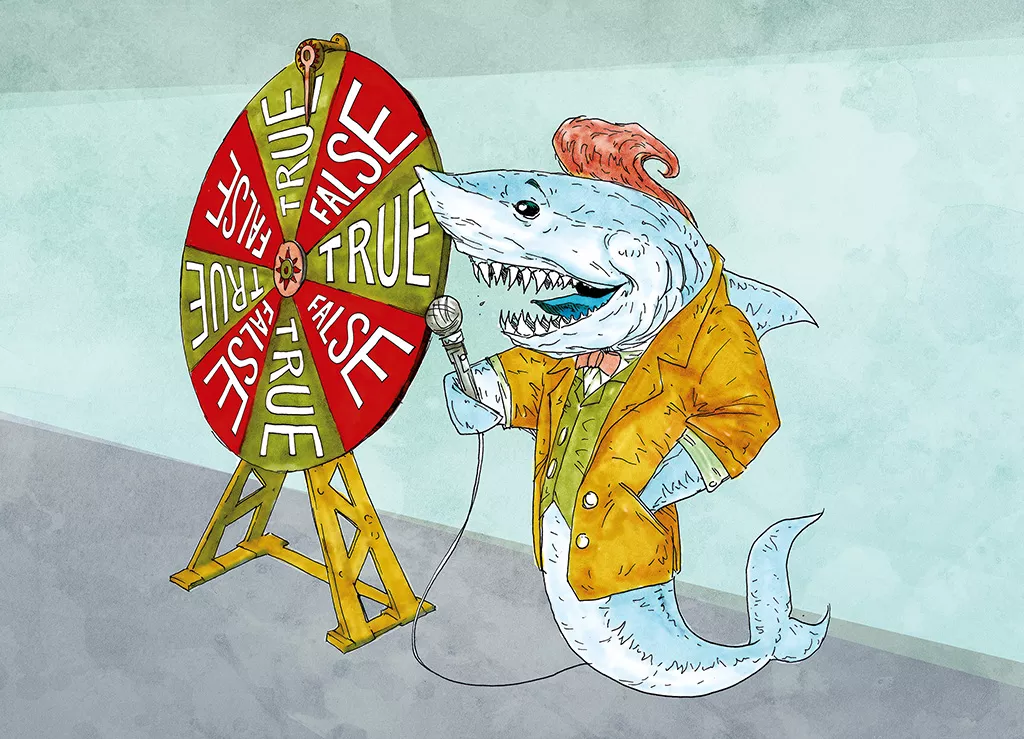 When Hurricane Harvey hit Houston in the summer of 2017, photos of the damage circulated immediately on social media. One showed a shark swimming in water that appeared to be covering a highway.
Jason Michael McCann posted it on Twitter. "Believe it or not," he wrote, "this is a shark on the freeway in Houston, Texas." Tens of thousands of people did believe it, sharing McCann's tweet and amplifying his message. Fox News mentioned it in a broadcast.
But McCann wasn't in Houston; he was living in Ireland at the time. After his tweet went viral, he told a BuzzFeed reporter that he had seen the shark image online and thought his 1,300 Twitter followers would think it was funny.
"Of course I knew it was fake. It was part of the reason I shared the bloomin' thing," he said.
This incident illustrates a growing problem: Digital tools and social media have made it ridiculously easy for anyone anywhere to create and share false and misleading content. Suzannah Gonzales, associate director of education at the nonprofit Washington, D.C.-based News Literacy Project, is among those sounding the alarm. "There has never been as much misinformation as there is right now," she says.
Gonzales, a former journalist, is one of a small army of reporters, academics and activists fighting to stop the spread of misleading information by helping people learn to spot it. The project creates tools for middle and high school teachers. So does the Center for News Literacy at the Stony Brook University School of Journalism in New York. Both entities aim to help students better understand journalism and develop critical thinking skills.
They agree on the most important lesson: Be skeptical. "If you see a piece of information that you're not sure about, google it," says Gonzales. "Check it out a little and try to verify it. Try to find the original source."
That advice would have helped anyone who came across the shark-in-the-street tweet. The fact-checking website Snopes debunked that photo in 2011 in an article that would have turned up quickly in a search. According to Snopes, the great white shark is real, but it never swam down a street. A photographer captured an image of it following a kayaker in 2005, and it was pasted into a shot of a flooded street.
That Photoshopped image first appeared during Hurricane Irene in 2011, and the tired shark made the rounds again after storms in 2012, 2015 and 2016.
Other media outlets quickly debunked the photo, including BuzzFeed, the New York Times and the Washington Post. In an article headlined "No, the shark picture isn't real: A running list of Harvey's viral hoaxes," the Post also shot down several other items, including a bogus report about an alligator in a Houston neighborhood, which former television host Katie Couric shared on Twitter.
Gonzales notes that as video and audio editing technology advances, the problem is getting worse. In May, a video of U.S. House Speaker Nancy Pelosi was altered to make her appear drunk. Multiple media outlets exposed it as a phony, and Facebook eventually took it down, but not before Fox News and President Donald Trump's lawyer Rudy Giuliani shared it.
Gonzales calls this emerging reality "pretty frightening." It gives her a sense of urgency about training the next generation of news consumers.
But what about the adults out there? "We do hear that all the time," she says. "'Do you do this for adults?' There is a great need all around."
In that spirit, and in honor of the 2019 Media Issue, Seven Days has created a news literacy quiz. We hope it will help you think critically about information you encounter online. Feel free to send it to that relative who's always sharing hoax memes on Facebook. You're welcome.
Questions 7 and 15 come from the News Literacy Project's "How News-Literate Are You" quiz, and were used with permission.
Look for more news literacy activities for young Vermonters in the second edition of Kids VT's Good Citizen Challenge, coming this October to goodcitizenvt.com.