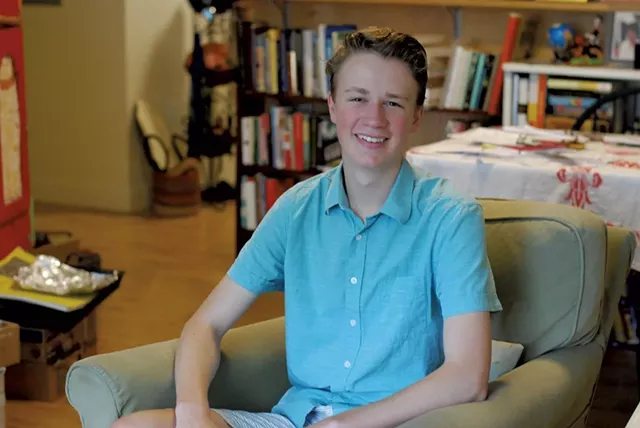 Sara Tabin
Milo Cress
Name: Milo Cress
Age: 17
Town: Shelburne
What should the government's role be in regulating artificial intelligence technologies? Should self-driving cars prioritize protecting the lives of their passengers at the risk of pedestrians? What is artificial intelligence, really?
These are tough questions, and 17-year-old Milo Cress is helping to find the answers. The Champlain Valley Union High School senior is a member of the state's new Artificial Intelligence Task Force. Appointed by Gov. Phil Scott in July, Cress will spend the next six months working with technology experts and social justice advocates to define artificial intelligence and provide guidance on how the state should regulate the emerging technology.
"If you asked 10 different artificial intelligence researchers or experts in the field [for a definition], they'll give you 10 different answers," said Milo. "When you are trying to regulate a field as broad and complex as this, it is important that everyone have a common definition of artificial intelligence."
AI, he said, encompasses concepts ranging from simple machines learning algorithms to the futuristic robots of Terminator.
Rep. Brian Cina (P-Burlington) sponsored the bill that created the AI advisory group last year. Cress read about the proposal in the news, and emailed Cina to learn more. When lawmakers added a student position to the committee, Cina wrote a letter to the governor recommending Milo.
The task force met for the first time last month and is expected to deliver an initial report to the governor by mid-February.
Cress, who spent part of his summer reading scientific and philosophical papers about AI, said he wants to help Vermont stay ahead of the curve when it comes to AI policies. He cited cellphones as an example of technology outpacing policy.
"A lot of laws for cellphone use — for example, texting while driving — were made after the fact, in response to a bunch of tragedies where people died because of their phone use," he said. AI regulations should be considered before the technology becomes mainstream.
Cress doesn't just read up on AI. He has already developed his own AI program to encrypt data, and is working on a new program to create hyper-realistic images using two AI systems. One will create pictures that look as much like a photograph as possible, while the other is designed to distinguish real images from fake ones.
Milo is adept at explaining technology to reporters, and he's had plenty of practice. At age 7, he spoke confidently to the Bennington Banner after his solar-powered popcorn maker stole the show at a Live Green fair.
But tech isn't the only thing for which Milo has made headlines. He spent part of the summer fielding interview requests from National Public Radio and the New York Times for his role in inspiring a worldwide movement against plastic straws.
When he was 9 years old, Milo noticed that many restaurants automatically gave diners straws with their drinks, which seemed like a waste to him. He began asking local businesses to stop. Some restaurants, like Tiny Thai in Winooski, agreed to ask customers first.
Now, the cities of Burlington, Denver and Manly, a suburb of Sydney, Australia, have formally adopted Milo's "offer-first" policy as a recommended best practice for restaurants. His Be Straw Free campaign gained traction this year when Starbucks promised to end it's use of plastic straws, and major cities, including Seattle and San Francisco, sought to ban them. Cress has never campaigned for an outright ban on straws, maintaining that it is more powerful when people make their own choices about whether to use them.
He drew a national spotlight this summer when it was discovered that a widely cited statistic for the number of straws Americans use daily — 500 million — originated with 9-year-old Milo. He had come up with the figure by calling straw manufacturers and asking them for market estimates.
In his free time, Milo enjoys exploring local hiking and biking trails, playing ultimate Frisbee, and following the Red Sox. He also enjoys kicking back with a glass of cranberry-lime seltzer and watching the "The Big Bang Theory."
Fame has not gone to his head, according to Bay Foley-Cox, who befriended Milo at the start of their sophomore year and describes him as curious, low-key and universally liked. The two are on CVU's Scholars' Bowl team and spend time together coding and playing video games.
"There's always a new artificial intelligence thing or a cool application of a technology he's excited about," said Bay. "Just today, he was texting me about some future of a programming language he thought was interesting."
Milo is thinking about his own future, too. He recently started to prepare his college applications. Not surprisingly, he plans to study science and artificial intelligence.
A version of this story appeared in the August 1 issue of Seven Days.