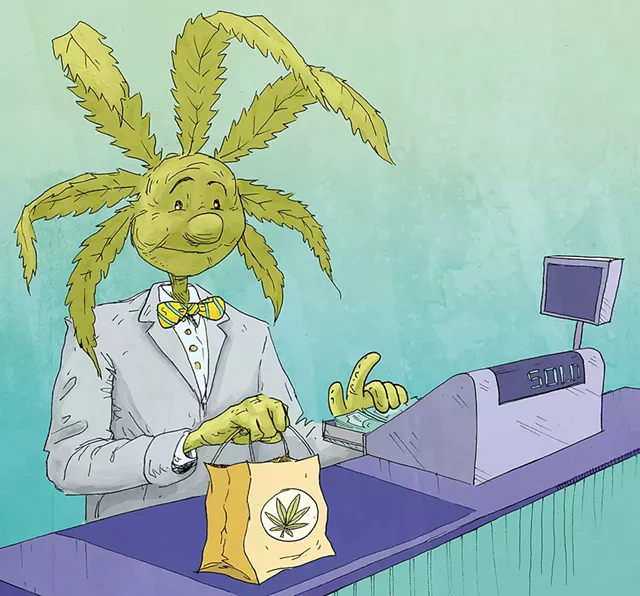 The smoke has barely cleared after the elections, but pot proponents are already optimistic that the new Vermont legislature will legalize the sale of marijuana — a win that would give them a second victory in as many years.
Middlebury attorney and drug reform advocate Dave Silberman spent the 2018 campaign season poring over news articles, watching candidate forums and emailing House hopefuls to learn their pot politics.
"I can tell you with certainty that, for the first time, there is going to be a strong majority in the House of Representatives for a tax-and-regulate model for marijuana in Vermont," Silberman said after the election.
Support in the Vermont Senate has been robust for several years. Now, by Silberman's count, 92 of the 150 incoming members of the Vermont House have publicly expressed support for retail sales of weed; only 23 have said they are firmly opposed. The remaining 35 members either haven't commented or do not fit firmly into "for" or "against," according to Silberman. Ninety-two votes are plenty to pass a bill, though they don't constitute the two-thirds majority that would be needed to override a veto by Gov. Phil Scott, who has balked at full legalization.
After a lengthy campaign by advocates, legislators last session made it legal to grow, possess and use small amounts of cannabis as of July 1. They declined to allow sale of the drug.
Advocates were unsatisfied. They have long supported the regulated sale of marijuana, arguing that it would legitimize the cannabis industry. Many say the new law falls short by putting weed sales in a "gray market."
Supporters want Vermont to create a system that allows for a legal weed economy, including state-licensed cultivation and retail operations. They say taxes on those sales could raise enough money to pay for the licensing system, at least.
Some advocates say the state could develop its own brand in the wider cannabis economy, much as Vermont's breweries have tapped into national demand for craft libations. As it stands, Vermonters can eat all the magic brownies they'd like, but no one is allowed to turn their cannabis confections into a business.
Passage of some form of a tax-and-regulate bill in the Senate seems likely: The 30-member chamber passed legislation in 2016 and 2017 that would have legalized marijuana and established a regulated retail system. Neither bill made it through the House, but Senate President Pro Tempore Tim Ashe (D/P-Chittenden) said that won't deter his colleagues.
"There isn't a great appetite to go through a months-and-months-long committee process on bills that we've already passed repeatedly," Ashe said. "We want to move fairly quickly on the Senate side in order to send something to the House so that the first half of the [legislative] session doesn't become bogged down," Ashe said.
With a newfound supermajority of Democrats and Progressives in the House, the chamber could override a gubernatorial veto with support from 100 of its 150 members. But in Montpelier, the cannabis issue doesn't split along purely partisan lines. Some House Republicans are in step with Rep. Sam Young (D-Glover), who wants to regulate weed as soon as possible. On the other hand, some Democrats — including House Speaker Mitzi Johnson (D-South Hero) — have reservations.
"We have a lot of questions to answer on this," Johnson said. "I mean, we have actual questions that need to be really thought through."
For starters, Johnson said, legislators need to better understand the effects of Vermont's new possession law.
"What has that done to safe roads, to youth usage, to all sorts of criminal justice, to being able to focus on opiates?" Johnson asked.
With 40 newly elected House members headed to Montpelier in January, Johnson said, it's hard to know what the consensus will be. The speaker said she will likely have a better sense of Democrats' legislative priorities after the first postelection caucus on December 1.
New members aren't the only unknown, she added. Returning members' voting records on legalization might not be a good predictor of their support for a tax-and-regulate system.
"There are some people who were vehemently opposed to legalization and are now saying, 'Well, I still don't like legalization, but if it's going to be legal, it has to be highly regulated, for issues of safety and control and to generate revenue to deal with some costs,'" Johnson said.
On the flip side, Johnson isn't counting on every pro-legalization rep to support a tax-and-regulate system.
"The landscape shifted [this year] because there were some folks who voted to legalize because they only wanted to codify what was already happening in Vermont," she said.
Rep. Tom Burditt (R-West Rutland) is part of that group. He supported the possession law but said government should not go further. He acknowledged there's an illegal pot market in the state but said the current policy allows Vermonters to make some money, and government regulation would only complicate things.
"I have no idea how many people in Vermont are growing weed and selling it, but I'm willing to bet it's a fair number of them," Burditt said. "So are they going to continue to do it, or are they going to be pushed out of business with tax-and-regulate? Are they going to go along with all the regulation that comes along with it?"
Despite his concerns, Burditt isn't expecting to stop the proposal. He said he plans to work with pro-pot lawmakers on the legislation with the hope that some of his concerns will be addressed. Burditt wants to ensure that at least 50 percent of any tax revenue would be returned to Vermonters as a tax rebate, but he admits it won't do much good to be an obstructionist.
"There's no stopping it, in my opinion," he said. "It's gonna happen."
But that doesn't mean it will happen fast. In the House, lawmakers spent much of 2017 bogged down in discussions about the possibilities of a roadside test for marijuana impairment. Detractors say there aren't any tests available that provide consistently accurate results, while some lawmakers maintain that it would be irresponsible to expand access to cannabis without such a test in place.
"That's where I see the most likely sticking point," Rep. Young said.
Rep. Maxine Grad (D-Moretown) served as chair of the House Judiciary Committee during its central role in the legalization debate early this year. She said she is "very, very interested in working on a tax-and-regulate system" in Vermont but deferred to Johnson, who must shepherd the bill through the House and find compromise with the Senate.
Young, too, says he'll have to be flexible in order to get a new law passed.
"A bill that everybody can agree on is not going to have everything I like in it or everything the Senate likes," he said. "And then, surely, the governor will have things that we don't like."
Gov. Scott's specific policy demands, however, aren't yet clear. Pols on every side of the issue are awaiting a December 15 report from the Governor's Marijuana Advisory Commission. Scott created the panel of lawmakers and cabinet officials in September 2017 and charged it with developing recommendations for taxing and regulating cannabis, as well as exploring roadway safety and youth prevention.
The commission recently released draft recommendations that call for a 26 percent tax on retail cannabis sales. Towns, too, could cash in by levying a 1 percent local option tax. The proposed licensing system would advantage local, small-scale cannabis growers.
Ahead of the final report's release, the commission announced a statewide "listening tour." It heard from community members in Rutland on Monday, and commission members will be in Williston on Wednesday, November 28.
Scott declined to comment for this story, but spokesperson Rebecca Kelley said his stance hasn't changed since a Channel 17 candidate forum in July.
"We're not ready, I don't believe, for a tax-and-regulate system at this point in time," Scott said then.
When he was askeda follow-up question about when he thinks Vermont will be ready, he replied: "As soon as we address more education, as soon as we address some of our mental health issues, as soon as we address impairment on our highways. We can talk then about a tax-and-regulate system." He went on to say that he would veto a tax-and-regulate bill that doesn't satisfy his concerns.
Young and other lawmakers have said they hope to win Scott's approval by rolling some of his commission's recommendations on those issues into next year's bill.
As tax-and-regulate supporters take stock of the new legislature, they've also found some new allies in the GOP. Some of the House Republicans who worked hard in 2018 to stop the possession law reassessed their positions after it passed.
"At this point, marijuana is a legal substance for those over 21, and so I think that we really have to set up a system that'll tax and regulate it," said Rep. Scott Beck (R-St. Johnsbury).
Beck said a regulated market has become a matter of consumer protection.
"If we're going to tell people that they can use it, shouldn't they be able to be sure that they're using something that's safe?" he asked.
Beck acknowledged that some of his Republican colleagues still think pot should be banned. But he's part of a growing contingent of lawmakers across the political spectrum who want to ensure that Vermonters who do toke up are getting good, safe product. "I think, really, it should move this year," Beck said.
There's also the financial side of things. Vermonters who see economic promise in the cannabis industry say the state will lose out if businesses in other states have years to establish their brands before local entrepreneurs can get to work.
"With Massachusetts and Québec and Maine all coming online [with legal weed sales], I think people realize that Vermont is now kind of an island," said David Mickenberg, a Montpelier lobbyist working for the Marijuana Policy Project.
Mickenberg, too, has been analyzing the election results to figure out the implications for a tax-and-regulate system.
"I'm encouraged," he said. "I feel hopeful."
Disclosure: Tim Ashe is the domestic partner of Seven Days publisher and coeditor Paula Routly. Find our conflict-of-interest policy here: sevendaysvt.com/disclosure.