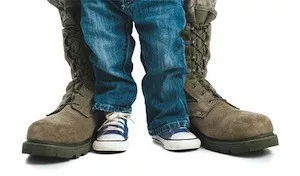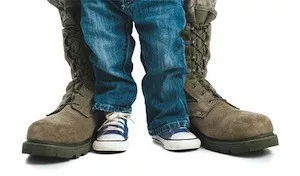 Try to envision the preparation that goes into military deployment. What do you picture? Soldiers at target practice? Maybe even strategic war games, like we see on TV?
When I think of military readiness and training, I think about the families. This is my job as the lead volunteer of the Family Readiness Group for my husband's squadron.
You see, just as members of the military are being trained to be ready at all times, so are the families. We must have backup plans in place so their responsibilities are covered in their absence. We must keep emergency contact numbers on hand at all times. We must prepare ourselves for when our loved ones leave us. With the National Guard, that can be for either a local or state emergency, or an extended deployment overseas.
Every branch of the military has a family-support system in place. For us, it's the Family Readiness Group. Each unit or squadron has its own FRG, overseen by volunteers like myself and supported by full-time Family Readiness employees.
Several months ago, when we were given the official word to start preparing for my husband Matt's deployment, his squadron's FRG was also in need of a lead volunteer. Matt thought, "My wife would be great at that!" and readily gave my name for the role. He's always thinking of me!
When the squadron commander asked if I would help, I said yes. With Matt's deployment approaching, I was more than willing to take my turn in supporting our squadron's families.
Before I could fully take on this big responsibility, I attended Family Readiness trainings with fellow volunteers. We learned about maintaining privacy and confidentiality. We were given overviews of the programs available to families. There were sessions on sending out newsletters and planning group activities. We were told what to do in emergency situations. How do you handle a distressed caller? What do you do when someone needs support ASAP? We role-played different scenarios that are common during deployment — such as what to do when a rumor about deployment casualties starts circulating.
Boy, did that one get me thinking.
Being new to the military made this quite a big leap for me. "I don't know what they are talking about!," I texted my husband during my first training. "What have you done to me?!"
I was overwhelmed, but with a little extra studying at home, I quickly caught on. The military acronyms that once tripped me up started coming naturally. One day before Matt left, I used several of them in a row.
"I don't even know what some of those stand for," he said, visibly impressed. Victory! I could do this.
My main job as FRG lead volunteer right now is to keep track of how all of the family members are doing during the deployment. With the help of the Family Readiness office, I set up a phone tree and recruited fellow military spouses to volunteer alongside me. We make check-in phone calls and assist family members the best we can with the problems they are facing.
It seems I am not the only one who has had a bout with the deployment curse. Some of our families have also dealt with illness and loss while their husbands are away. Our volunteers listen and provide a shoulder to cry on when needed. There is a vast support system beyond just me — thank God! — but sometimes all you need is to hear a voice at the other end of the phone saying, "I know exactly how you feel."
I try to bring the families together about once a month by planning some sort of group outing. Last month, we had Operation: Military Kids organize a fun afternoon for the children. They learned how to draw comics and talked about everyday superheroes like their moms and dads — and themselves. This month, all of the military spouses look forward to a free massage.
Getting together with the families is my favorite part of this role. There is nothing more comforting than spending time with people who understand exactly what you're going through. We trade dramatic replays of what has broken lately and nod our heads in vigorous agreement while discussing how badly we miss our loved ones. These gatherings give us something to look forward to, and can be just plain fun when not much else is.
There is so much more to the military than meets the eye. Behind the scenes are family members who give hours upon hours of time and attention to a cause that is so dear to our hearts. Those who are left at home fight a different kind of fight than our loved ones overseas. The FRG has provided me with a wonderful sense of purpose. I am honored to share my time and support with these families — and to receive theirs, as well.

Tasha Lehman is a mother of three boys living in Vermont. Her husband, Matt, is a first lieutenant in the Vermont Air National Guard who recently headed overseas for his first deployment. The "Home Front: Diaries from a Vermont military family" series chronicles their journey. Read more about their story in February's "Use Your Words" essay.