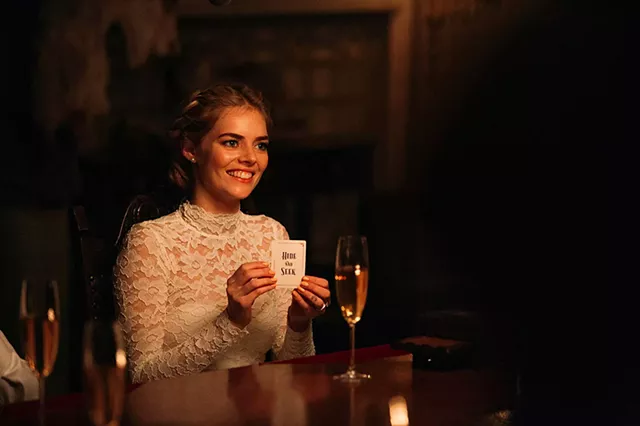 GAME NIGHT Early reviews suggested Weaving might have snagged herbreakout role, but it wasn't in the cards
Nationally, half of marriages end in divorce. In the monied Le Domas clan, a notable percentage ends in blood sport. Such is the case for Grace, a young bride played by Samara Weaving in Ready or Not. Having hours earlier married into the board-game dynasty, and believing the time for consummation has arrived, she's informed by her groom, Alex (Mark O'Brien), that one final ritual requires their presence downstairs.
Family tradition, Alex explains, obliges any new addition to play a round of a randomly selected game on the night of their nuptials. Attempting to make a positive impression on her in-laws — a collection of truly tiresome cartoons — Grace picks a card. It says "Hide and Seek." How all this has anything to do with board games is never addressed.
Still attired in her wedding dress, Grace good-naturedly flits about the creaky mansion in search of a place to sequester herself. A further detail Alex neglected to mention: The family won't simply be searching for Grace; they'll be hunting her, and they'll be armed with wacky weapons such as an executioner's ax, antique derringers and a crossbow. Again, what any of this has to do with board games...
Whatever. Grace realizes the stakes are higher than her hubby let on when a member of the wedding party shoots a maid in the face by mistake, and the matter is taken as seriously as a spilled cordial. For the balance of the film's 95 minutes, codirectors Matt Bettinelli-Olpin and Tyler Gillett (Devil's Due) wobble between jokes and jump scares in search of a suitable tone. Unfortunately for the viewer, their quest is less fruitful than that of the Le Domas crew.
Among that crew are Henry Czerny as Alex's father, Andie MacDowell squandered as his mother, Adam Brody as his tipsy brother and Nicky Guadagni as some sort of ill-tempered gnome aunt. Assorted butlers, cousins and family friends round out the murderous mix, but all are uniformly dull and one-dimensional. Which can happen when your screenwriting team (Guy Busick and Ryan Murphy) has never written a feature screenplay before.
The movie manages a chuckle or three, and Weaving does what she can with her rote "final girl" role. The film's fatal flaw is that its creators clearly wanted to duplicate the formula behind the game-changing success of Get Out but lacked adequate imagination. The filmmakers pull off the suggestion of a social satire. Despite a story that involves rich people preying on members of a less privileged class, however, this is a picture with nothing more on its mind than giggles and gore.
Get Out had the inspired "sunken place." Ready or Not has something called the goat pit, a sort of human hamper into which bodies are dumped and left to rot. That's the difference between the two in a nutshell.
Earlier this month, Universal Pictures canceled the September 27 release of The Hunt, a Blumhouse-produced thriller in which rich people track and kill less well-heeled folks for sport. The studio expressed concern that the release would be in poor taste so soon after the shootings in El Paso, Texas; Gilroy, Calif.; and Dayton, Ohio. Fox Searchlight Pictures might have been well advised to take a page from that playbook, given this picture's thematic similarities. But it went for a quick August buck.
And lost a fortune. Too soon. And too dumb. Understandably, when it comes to comedies about shooting innocent people, much of the moviegoing public isn't in any mood to play.