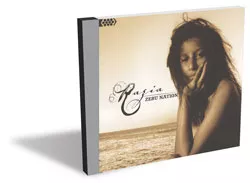 (Cumbancha, CD)
With all apologies to Ben Franklin, there are three certainties in life: death, taxes and Cumbancha. The first two are more famous, certainly. The last is a relatively new phenomenon, and a much more enjoyable one. And the Charlotte-based world-music imprint's latest release, Zebu Nation by Razia, reiterates that everything label founder Jacob Edgar touches turns to gold. So, if it's on Cumbancha, it's certain to be well worth your time.
Razia Said is originally from Madagascar, and the album is something of a love letter to her native land. The singer left the country as a child, returning three years ago to discover her homeland ravaged by slash-and burn agriculture. In response, Said created Zebu Nation, writing songs primarily in Malagasy, her native tongue, and enlisting many of the country's finest musical talents to contribute.
The disc opens on "Babonao." Dozzy Njava's lilting acoustic guitar is met by throbbing bass and percussion. Fluttering just above the surface, Rabesiaka Jean Medicis' accordion flits breezily amid the Indian Ocean groove. Abena Koomson and David Rajaonary handle the vocal heavy lifting here, and through the album's first four tracks.
We actually don't hear from Said herself until the fifth song, "Ny Alantsika." Once again, accordion takes the lead melodically — this time courtesy of Regis Gizavo. The instrument lends the tune, as much of the album, a distinctive European flair, providing a fascinating contrast alongside the traditional tsapiky and salegy influence at the album's heart.
"Slash and Burn," which comes next, is the only song written in English. It's also the most direct condemnation of the brutal deforestation in Madagascar. While other tunes essentially decry the tactic by celebrating local culture, here Said's anger is intense and explicit. Initially, the song feels a little out of place, the switch to English jarring. But viewed in the context of the recording as a whole, Said's message becomes all the more profound when spoken plainly.
But the disc's quieter, less fiery moments are its finest, and ultimately its most touching. Through songs such as "Omama," which recalls growing up in a small vanilla town, or "Tiako Ro," a heart-to-heart chat with the Sun, Said lays bare the soul of her culture. And, language barrier or not, her humble musings represent a universal truth even Ben Franklin couldn't deny: Home is where the heart is.
Zebu Nation by Razia is available at Cumbancha.com and major online music retailers.