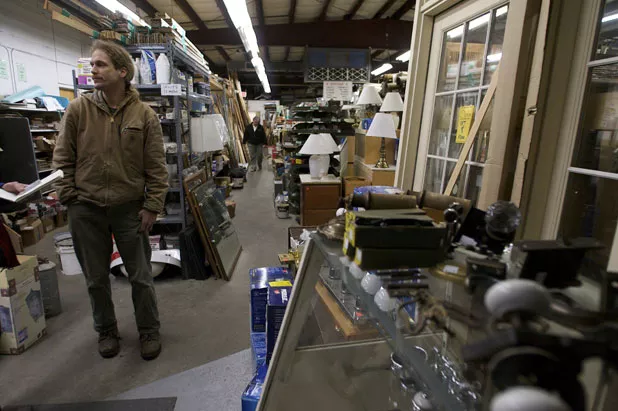 Putney Road in Brattleboro is a busy, traffic-choked, multi-lane highway that runs parallel to the tranquil Connecticut River. It's the kind of strip where you'd expect to find a Home Depot - and for the next seven weeks you wouldn't be disappointed. After that, the hardware behemoth is shutting down. It's one of 15 Home Depots around the country that, for one reason or another, didn't make the financial grade. Meanwhile, a half-mile down the road, ReNew Building Materials and Salvage, Inc. is expanding - doubling in size, actually - to include about 20,000 square feet of recycled building supplies and a smattering of new job-lot goods. ReNew's success didn't cause Home Depot's downfall, but it certainly didn't help.
ReNew is one of two nonprofit corporations in Vermont that specializes in deconstruction - that is, the careful disassembly of buildings to salvage their reusable materials. It also operates a reused-building-supply store. The other one, Recycle North, is on Pine Street in Burlington. For the most part, both businesses follow the same modus operandi: A deconstruction crew comes to a structure that the owner wants to be rid of, takes it down piece by piece, saves the reusable stuff, and disposes of the rest. The property owner makes a tax-deductible donation of the materials to the nonprofit, which in turn sells the salvage to the public at its retail store. Generally speaking, the goals are waste reduction, resource renewal and poverty relief.
Erich Kruger, 39, is the executive director of ReNew, which he started about three years ago after a career in carpentry. He's tall and lanky, with long, wavy, light-brown hair that he pulls back into a ponytail. Kruger does a lot of planning and paper pushing nowadays, but on a recent weekday, he's at a job site off a dirt road in Putney. The mission: to deconstruct a mother-in-law apartment and woodshop that's attached to a home. The weather is cold and rainy, so Kruger's four-man crew (the fifth one is out sick) is looting the building of its windows and doing whatever they can to stay out of the elements. If not for the rain, the roof and the rafters would already be off.
The two-story place is dark and drafty inside and looks almost like it's in the process of being constructed rather than taken down: The framing needs some sheetrock; the windows appear roughed-in and ready for finishing; rolls of insulation are bagged neatly on the concrete floor. But the high-pitched scream of a Sawzall - "the tool," Kruger says, "that people most commonly associate with demolition" - wielded by a crewmember who's wrestling with a stubborn sash, is a reminder that in a few days this apartment will be nothing more than a pile of sticks.
The sheetrock and plaster will have gone to the dump, while the windows, doors, dimensional lumber, nails, screws, bathtub, plumbing - often, up to 85 percent of the structure - will have been inventoried and carted to the reuse store. What can have a new life, will: Asphalt roofing is reused for hot-mix paving; cement and masonry is turned into landscaping and road fill; metal is sold for scrap; and clean wood too small to be resold is either burned in the customer's wood stove or, in the case of Recycle North, taken to the McNeil Generating Plant.
This is not how demolition usually works. More often than not, when a person wants to remove a building from his property, he calls a demolition specialist, who gets the job done with an excavator and a dumpster. In industry parlance, this is called "crunch and dump." What does it look like to see a building demolished this way? "It's very painful," Kruger says. "It's a large piece of equipment that goes like this," he offers, making a biting motion with his hand. "They chomp it and they break it into the smallest pieces possible, and then they load that into a truck and leave." Visibly disgusted by the thought, Kruger says run-of-the-mill demolition pains him, "because there's a potential for so much more opportunity."
Construction and demolition waste (C&D) represents a large portion - 20 percent, or 90,000 tons - of the solid waste interred in Vermont's landfills. In Chittenden County, it's 30 percent. At $135 per ton, the cost of landfill disposal in Vermont is the only financial disincentive to simply dumping C&D waste. Deconstruction, while easier on the conscience, is usually harder on the wallet. Kruger estimates that deconstruction's extra labor costs about 25 percent more than demolition and disposal.
Tom Grocki, the director of the Building Materials Center at Recycle North, says that in some cases, if the tax deduction is high enough, deconstruction can end up costing about the same as demolition. In any event, the more delicate method is touted as a boon to the local economy, because it adds five or six jobs to the workforce for every one job that an excavator can do. Depending on your sensibilities, the process is either terribly inefficient and cost-ineffective, or it's a shining example of locally fueled sustainability.
For now, the deconstruction industry relies on people like Phil Banister, 58, the owner of the house in Putney. Though he admits that being an architect has exposed him to a lot of green-building ideas, he says it just "makes sense to recycle the stuff that's here." Furthermore, Kruger explains that Banister's nicely landscaped lot, with a large conifer looming near the deconstruction site, would be tricky to negotiate with an excavator and dumpster. Similar problems arise in smaller lots in cities or next to lakes.
The deconstruction of this particular building is fitting, because most of it was made from salvaged materials in the first place. "I had no money years ago," Banister explains, "so I used a lot of recycled stuff - not because it was green but because it was an affordable option."
The homeowners, contractors and landlords who shop at Recycle North and ReNew feel the same way. Inside ReNew's building-supply store are shelves of kitchen and bathroom sinks, used toilets, armoires, lighting fixtures, rolls of carpet, stacks of new paint cans, moldings, mirrors, duct-work, stove pipes and hot-water heaters. You can't exactly build an entire house with the materials here, but you can come close.
Plywood, says ReNew employee Sandy Moore, 50, is only $8 for a 4-by-8-foot sheet; the same sheet new is about $20. Outside, bathtubs of numerous colors - including avocado - collect the day's rain. A gentleman named Gene Leonard, from Keene, New Hampshire, is looking for items that will help him rehab 16 apartments that Keene State College students will be vacating in a few weeks. "I come in here and I can buy doors, windows, things that get broken," Leonard says. "It definitely makes your security-deposit dollar go further."
Ed Payne, 64, is building much of his house in Bridport out of materials from Recycle North. The house, which he describes as "very non-conventional," uses as its foundation two 8-by-40-foot steel shipping containers. He was going to make the entire structure out of the metal boxes, but his wife Rosemary demurred. Instead, they topped the containers with modular house components built by students at Middlebury Union High School.
The remainder of the material - interior and exterior doors, light fixtures, lumber, electrical boxes, floor tile, a shower stall, door knobs, insulation, linoleum - is from Recycle North. Payne figures the dimensional lumber is about a quarter of the cost it would be at a lumberyard. Also, he says he was able to buy solid-core doors because they were the same price as the less desirable but more affordable hollow-core counterparts.
Asked why he went the reuse route, Payne says, "I'm sort of oriented that way. I believe in recycling." Payne notes that he's on the board of the Addison County Solid Waste District, so he's familiar with the court-of-last-resort that a landfill ought to be. "And, obviously," he adds, "25 cents on the dollar is awful good."
Recycle North's deconstruction service is booked until the middle of July, so the bounty that Payne has enjoyed will continue to flow. In addition, the outfit is starting Waste Not woodshop, where an Ameri-Corps/VISTA worker will use salvaged material to make new products, such as picture frames, benches and tables. "There's a time in the future," Grocki predicts, "when it's going to become cost-effective to deconstruct everything."