Courtesy
Ray McNeill early in his brewing career
Ned LaFortune, a cofounder of Wachusett Brewing in Massachusetts, remembers the long-ago day when he walked into a Brattleboro pub owned by Ray McNeill (April 26, 1960-December 2, 2022) and drank his first pint of hand-pumped ale.
"It tasted like fresh bread," LaFortune marveled. "It was the most amazing beer I'd ever had in my life."
LaFortune shared his story during a memorial tribute for McNeill, 62, the owner and brewmaster of McNeill's Brewery, who died on December 2 during a fire in the second-floor apartment above the bar. The cause of death is presumed to be smoke inhalation, but the state has not yet released an official death certificate.
The building, a former firehouse built in the mid-1800s, had been closed since the beginning of the pandemic and in 2021 had been deemed structurally unsafe to reopen to the public. It was undergoing repairs, but according to several news reports and a Facebook post by Eve Nyrhinen, one of McNeill's two children, McNeill was advised in June that because of the building's instability, the fire department would not be able to safely send in a crew if a fire were to break out. The building was so damaged in the fire that the Brattleboro Fire Department ordered it demolished the next day to ensure the safety of passersby and neighboring buildings.
The double loss left McNeill's patrons shocked, sad, and eager to honor the man and the place that, for more than three decades, had quenched their collective thirst in so many ways.
"Ray Day," as the December 17 tribute event was called, featured music, dancing, beer and an open mic. One after another, people took the stage at the Stone Church in Brattleboro to remember what they experienced when they visited McNeill's cozy Elliot Street barroom, sat at one of the long wooden tables, drank a house-brewed Dead Horse IPA or Dark Angel Imperial Stout, and chatted with the irascible proprietor in the tie-dyed T-shirt.
LaFortune, for one, got inspired. "I didn't know that I was going to start a brewery," he said. "But I did, and it was because of Ray and his beer."
Clyde Reagin "Ray" McNeill occupied a singular place in Vermont's craft brewing industry. He was a small-town entrepreneur with a sweeping reputation, a classically trained cellist with a pre-med background, an exacting craftsman and historical purist who emulated certain English and German beer styles yet also strove to be experimental.
"I dislike that 'recipe' word," he said in the 2014 book FarmPlate Vermont Beer: Behind the Scenes With Vermont's Craft Brewers.
"What I loved about Ray and his beer was that there was always a sense of deep creativity to what he was doing," said Paul Sayler, the founder and brewmaster of Zero Gravity in Burlington and a longtime board member of the Vermont Brewers Association. Sayler met McNeill around 1990, when they were both launching brewing careers.
"Ray led the way when it came to creating a truly unique experience, not just with the beers he was making, but with the environment where he was pouring them," Sayler said.
Courtesy
Ray McNeill and his daughter, Eve
McNeill entered the beer business in the 1980s as a bar owner, running Three Dollar Deweys in Brattleboro with his then-wife, Holiday Eames. They moved the business to Elliot Street in 1990 so McNeill could have space to brew his own beer, which he did, drawing on his pre-med training in organic chemistry and biology. An apprenticeship at Catamount Brewing helped him hone his technique, and McNeill began to draw attention when his Duck's Breath Bitter was named the best beer of the 1993 Boston Brewers Festival and his Alle Tage Alt, a German-style ale, won awards at the 1995 Great American Beer Festival and the 1996 World Beer Cup.
"For a fair number of people, their first experience of Vermont craft beer was at McNeill's," Sayler said. "The place was a gateway, right at the base of Vermont, with a major interstate coming through it. I still come across people who have really strong, visceral memories of going to Ray's pub and drinking his beers years ago."
David Hiler, a cofounder of Whetstone Beer in Brattleboro, remembers traveling to Sonoma County, Calif., when he was working as a hospitality consultant, and stopping in at Bear Republic Brewing for a beer and a bite to eat.
"I mentioned to the bartender that I was from Brattleboro, Vt., and the brewer came out and said, 'Ray McNeill! I love his beer! He's the guy who made me want to be a brewer!'" Hiler recalled. "I was 3,000 miles from Ray's tiny pub, and I realized the impact that he had and what a pioneer he was in this industry."
In 1988, around the time that McNeill was beginning to brew — in five-gallon pickle buckets, initially — the Vermont legislature changed a Prohibition-era law to allow the purchase and consumption of alcohol where it was made, opening the door for the brewpubs and taprooms that have made the state a beer mecca.
"He was right there at the beginning," Eames said, "and he helped so many other small breweries get started."
It was a huge shift "away from Budweiser and toward rejuvenating and developing beer as a craft," added Nyrhinen. "Now there's a microbrewery on every corner, and brewpubs are not uncommon." But back then, she said, "it was something the beer world hadn't experienced yet."
McNeill's penchant for distinctive beers, even before he started brewing his own, "expanded people's beer horizons," according to longtime beer journalist and Newfane resident Tom Bedell, who began writing about the craft beer movement in the early 1980s, as he traveled around the country and observed "people getting tired of the same old fizzy yellow water." There was, Bedell said, a "willingness to be innovative and super-creative that was part of what gave Vermont its identity, and when people thought of craft brewing in Vermont, McNeill's would always pop up."
That was partly because while McNeill was reading about beer history, poring over scientific journals, tweaking his brewing processes and equipment, and hiring assistants to help him increase production, his bar became a social hub. Marlboro College students and faculty gathered there; parents brought their kids on Friday afternoons; musicians held monthly jam sessions and sing-alongs; and beer lovers flocked there to taste whatever McNeill was brewing.
"Ray knew how to make a space where community could thrive," Amanda Witman, who started a regular pub sing at McNeill's, said at the memorial tribute.
James Branagan grew up in Brattleboro and is now a brewer at Hermit Thrush Brewery, and he remembers walking by McNeill's as a kid. It wasn't until he started brewing his own beer after college that he grasped what was happening behind the pub's big plate glass window that faced the street.
"I admired the publican aspect of what Ray was doing," he explained. "What drew me to beer was the culture around it, the English-style pub, the Irish-style pub, the community vibe. Ray McNeill was really the cornerstone down south [in Vermont] for creating that kind of place."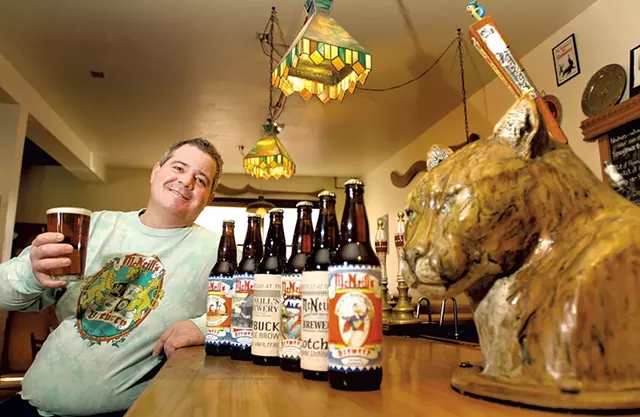 File: Caleb Kenna
Ray McNeill in 2005
McNeill's had communal tables, which encouraged people to talk to strangers. For years, there was no TV. The bar was constructed in such a way that the bartenders were at eye level with customers. "Ray brought that sort of intentional commitment to doing things," Sayler noted. "He would look to tradition and history and then put his own stamp on it."
McNeill's stamp — besides his popular bar and award-winning beers — also encompassed a blunt, sometimes bristly persona. "Ray was a genuine character, often beloved — but still not always an easy one," Bedell wrote in an essay published in the Commons the week after McNeill died. "He was known to sample his own wares to a degree exceeding good health. His attitude could be as volatile as an over-primed beer."
Among all the loving stories recounted at the memorial was the self-described "turd in the punch bowl" reflection from Matt Jacobson, who introduced himself as an alcoholic — he's been sober 22 years — and recalled a time in the 1980s and '90s when he spent more nights at McNeill's two bars than not.
"Ray's passion, his commitment, his enthusiasm and love for the craft were inspiring and unmatched," Jacobson said. "Even after years of receiving medals and esteem, he approached each new project like a 7-year-old trying to make explosives with their first chemistry set."
But while the bar and the beer "were gifts to all of us," Jacobson continued, "they were very expensive gifts for those who loved Ray, and for him, too."
Nyrhinen simply described her father as "single-minded" and "a brilliant man." Eames added, "He never did anything in moderation. He had a risky all-or-nothing gusto."
In the days following McNeill's death, as people reached out to Nyrhinen to tell her how much her father and his brewpub had meant to them, she began to gain a new perspective on his legacy. She had been trying, in recent years, to persuade McNeill to retire to Mexico, to be closer to Nevada, where she lives with her husband and kids. But after having to shut down the bar, her father was determined to reopen; "he really wanted to build it back and make it better," she said. And after the fire, she realized that he had another family in Vermont — a community of brewers, beer geeks and revelers of all kinds.
"That bar was his church," Nyrhinen said. "He poured his life into it. I don't think he was ever going to leave."