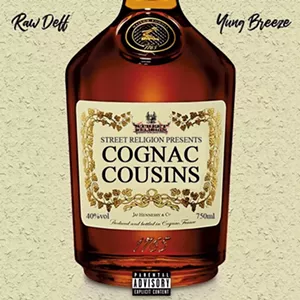 Raw Deff x Yung Breeze, Cognac Cousins
(Street Religion, digital download)
Raw Deff and Yung Breeze are members of the Street Religion crew, a diverse band of hip-hop artists from southern Vermont and New Hampshire who have been expanding their reach and fan base in recent years. The duo's debut, Cognac Cousins, is rock-solid work, showcasing two standout talents at the absolute top of their game — at least for now.
Raw Deff is a charismatic spitter from the Lebanon, N.H., area who has been building a strong catalog of '90s-style boom bap. His deliberate flow makes a perfect counterpoint for Yung Breeze, a Brattleboro rapper/producer currently operating out of Manchester, N.H. Breeze is blessed with one of the best rap voices in New England, an elastic, dynamic instrument that often sounds like it comes from a cartoon character.
What the two have in common, aside from aesthetics, is a gift for penning murderously cold bars. Both have an acrobatic way with words, coupled with an encyclopedic knowledge of the rap music that came before them. Their chemistry and friendly competition here make for a mixtape that grabs you by the neck and doesn't let go.
Cognac Cousins is a nicely balanced mix of original beats and "borrowed" material. The braggadocio is top-notch — "Another Body" and "Look at Me Now" are both pure shots of adrenaline. But there's also a lot of range on display here.
"Might Just," a lush love song produced by Burlington beatsmith Flip Physics, is a flawless victory, all the way down to the catchy hook. Deff and Breeze reverse that formula nicely on "Black Roses," a dark, brooding breakup track. Then there's "Fuck the Landlord," which is ... well, exactly what you think, only funkier and funnier. The cut is as much about proving the duo's versatility as it is about proving their rap skills.
There are also several remixes throughout. Now, the remix is a staple of mixtape culture: Take the instrumentals from current hits or durable classics, and make that track your own. Of course, in practice, most rappers have no business doing this. Their remixes not only fail to improve upon the original song, they don't even manage to measure up to it. That is absolutely not the case on Cognac Cousins.
What really sets the duo apart — and indeed, what justifies reviewing a mixtape as though it were a proper album — is the engineering, mixing and mastering work of Breeze. He has been honing his chops in recent years, but this project represents a quantum leap from much of his earlier material. This is a polished, professional product, ready for the spotlight.
The record is also a prelude to more Street Religion material, of course. Breeze has been hard at work wrapping up his solo debut, Sofia Grace, and Deff's next album, The Impeccable Nobody, will drop on August 23. Street Religion are one of the most respected crews in these Green Mountains — and they're only getting started.
Cognac Cousins is available at cognaccousins.bandcamp.com.