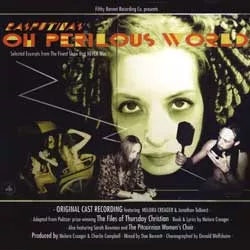 (Filthy Bonnet Co, CD)
What do Mary Shelley, Osama bin Laden and the Bounty mutineers have in common? Nothing. Unless you're Brooklyn's Rasputina. The chamber-rock mavericks that made cello cool again bring these (and other) disparate characters together in the guise of their 19th-century concept album, Oh Perilous World. One listen will convince anyone that lead vocalist/cellist Melora Creager is the Frida Kahlo of freak-folk: obscenely talented and just mad enough to pull it off.
On the auspicious prologue "1816," Rasputina announces its dizzying intentions with Goth-Victorian storytelling. Oh Perilous World then unravels into a gypsy acid trip of historical fiction. Mary Todd Lincoln fighting Thursday Christian's insurrection on Pitcairn Island? Yeesh. The only uprising here is Creager's mutiny against the classical community. The corseted Kansas native undoubtedly makes Yo Yo Ma blush, but she isn't as adversarial as her tone might portend. Instead, Creager struggles to make sense of the world. And the deeper one dives, the clearer those waters become.
She sketches modern malaise in a fever dream of vivid, lyrical imagery. Like the explosive "Choose Me for Champion" — a translation of bin Laden's speech as imagined by the Pitcairn mutineers — with its dark vibrato, and bombastic nods to Queen. Or the fearsome lockstep of "Draconian Crackdown," buried in distorted cello that would please even the Apocalyptica crowd. Second chair Sarah Bowman provides depth to these lush arrangements, while Jonathon TeBeest's driving beats propel each piece.
"Incident in a Medical Clinic" finds a Bjork-like Creager trapped between tumbling piano and a Sergeant Pepper circus. She teases willfully, then retreats, all the while insisting, "I want someone to be sweet to me!"
At their best, Creager and Bowman are downright seductive. The sirens move in breathy, psychedelic turns throughout "In Old Yellowcake." Even when the lyrics are oblique, the music is too narcotic to ignore — imagine Kate Bush and Grace Slick sharing a bottle of absinthe. Not to be undone, Jonathan TeBeest's stormy percussion turns the epic "Retinue of Moons" into an exhilarating jam that is tempered only by Creager's vocal shudder. When she returns to enslave the symphony, it's bewitching.
The popularity of acts such as Gogol Bordello and Rasputina proves that cabaret is cool again. These are decadent spectacles in which to lose oneself. Is all of this some socio-political treatise, or just a sonic plaything? Who knows? Such is the price, and profit, of genius. One thing is for certain: Rasputina kicks ass.
Oh Perilous World bills itself as "The Finest Show that NEVER was." See for yourself at this Thursday's radical recital in the Higher Ground Showcase Lounge . . . parasols and all.