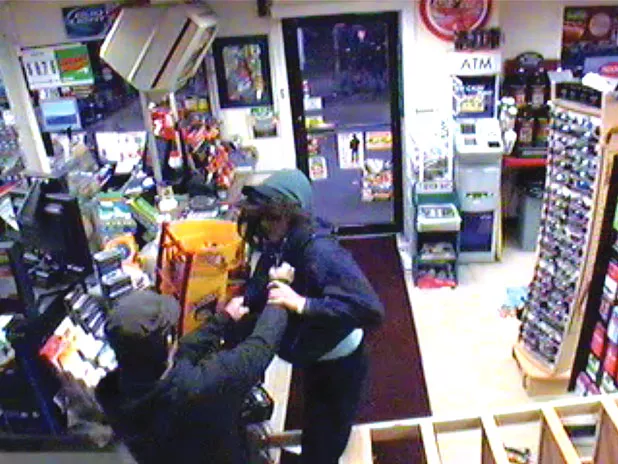 Surveillance footage of a robbery at Rotary Mart on September 4
Burlington consistently makes the list of "safest cities in America" for its relatively low crime rate. But a sudden and dramatic increase in robberies this year is unnerving neighbors and putting the police department on high alert.
For the last several years, the Queen City has averaged about a dozen reports of robbery, a violent crime that differs from burglary and theft because the victim is physically assaulted by the criminal, who is often armed. In 2010, there were 11 robberies; last year, that number inched up to 13.
But so far this year, Burlington police have responded to 28 robberies — a more than twofold increase over 2011. Between August 14 and Halloween, there were 17 robberies, the worst of which was a brazen mugging and shooting in the Old North End on October 12 that left a 25-year-old librarian with a bullet in his back.
"This is a very serious crime," a stone-faced Police Chief Michael Schirling said during an interview at police headquarters last week. "It is, for us, at the level of murder, attempted murder, serious aggravated assault, sexual assault. They're all at that top tier."
There were three robberies over a 72-hour period in late September, including a man robbed at knifepoint at 11 p.m. at the intersection of Main and South Union streets downtown. The robberies aren't confined to one city neighborhood — they've occurred in every neighborhood from the South to New North ends — and the perps don't fit a single description.
The person who robbed Northern Lights on Main Street last April was a lone white male wearing a ski mask and a black T-shirt emblazoned with "Got Ammo!" The victim of an October 21 robbery at North Street and Elmwood Avenue described his attackers as two black males. And the suspects in the September 4 robbery of a Rotary Mart on Shelburne Road were two women who held up the convenience store with a fake gun.
From the 17 robberies since August 14, police have made seven arrests. "That's not bad," Schirling commented, then added, "We'd like to have 17 arrests and stop this from occurring."
To that end, Burlington police are turning to federal law enforcement for assistance. Schirling would not discuss details of the collaboration for fear of tipping off the "bad guys," but he said the BPD has renewed its partnerships with the U.S. Attorney's Office, the federal Drug Enforcement Agency, and the federal Bureau of Alcohol, Tobacco and Firearms to help combat violent street crime.
Nationwide, robberies fell by 4 percent between 2010 and 2011, according to FBI crime figures. In Vermont, robberies were up last year in some communities, such as Barre and Colchester, and substantially down in others such as Brattleboro, where robberies dropped from 16 in 2010 to nine last year.
Chittenden County State's Attorney T.J. Donovan said his office actually prosecuted fewer robberies between May and November than during that same period last year — even as the number reported to police in places like Burlington increased. In other words, more robberies are being reported but fewer cases are getting solved.
Donovan attributed that to a criminal justice system that is "overwhelmed" and also "under pressure" from Montpelier to reduce the number of pre-trial detainees. Donovan suggested it makes no sense to arbitrarily cap the number of detainees prisons can hold, as the state has done. The result can be criminals being released who should be held for trial.
"You have pressures from Montpelier because of budget concerns, rightfully so, that trickle down to the courtroom, that trickle down to the street," Donovan said.
The causes for the robberies, too, are all over the map. Unlike the rash of break-ins plaguing Burlington this year — largely attributed to drug-addicted criminals — there's no single demographic that describes the robbery suspects, Schirling said.
One thing that's not a factor, according to police, is the bad economy.
"Typically you see the same people involved in crime," Schirling said. "You tend to see recidivism run across generational lines."
Sitting across a wooden conference table in Schirling's office, Deputy Chief Andi Higbee chimed in, "And it's not to put food on the table for their families. That's not what's going on."
"Some may be related to the drug trade, but it would be a vast overstatement to say that's what's driving all these," the chief said.
In one case, a 24-year-old Somali immigrant was robbed and stabbed by his alleged accomplices over their share of the loot from a series of thefts. On August 19, Ahmed Hirmoge stumbled into the Champlain Farms at South Winooski Avenue and Main Street at 4:20 a.m., bloodied from stab wounds. He told the clerk someone had "jumped" him behind the convenience store and took his cellphone, bicycle, leather jacket and $130 in cash.
According to police, Hirmoge said he knew the guys who robbed him: They were all breaking into cars the weekend before and scattered when a Burlington police cruiser rolled by. Hirmoge told police he went to the gas station to "get a drink" and ran into his cohorts there, who collected their share of the "proceeds" by force.
Within hours, police had arrested two teenagers for assault and robbery: Connor Fitzgerald, a 17-year-old high school senior from South Burlington with a tattoo on his neck that reads "wild boy"; and Tam Mai, a 16-year-old with a criminal record that began when he was just 10.
In another case, two men posing as police officers robbed a 36-year-old man just after midnight on the Burlington Bike Path. Shane O'Roark was walking near Little Eagle Bay early on August 14 when a man jumped out of the bushes and tackled him to the ground. He wasn't wearing a uniform, but the mugger acted like a cop, O'Roark told police, patting him down and removing $200 cash from his wallet.
The alleged robbers lifted O'Roark off the ground and were frog-marching him toward a nearby apartment complex when a passing cyclist interrupted the assault. The muggers fled, but not before the cyclist wrote down the license plate of their getaway vehicle — a crucial piece of evidence that eventually led police to arrest 25-year-old Joseph Gilbert for assault and robbery.
According to police, Gilbert later told officers he and his accomplice, Steven Ballard, had split a 30-pack of beer and neither remembers much about the crime.
Information such as the license plate number — and a witness willing to report it — is often the key to solving robberies, Schirling said. Often, the people with information refuse to share it with cops because they fear reprisals from suspects who could soon be back out on the street.
Even with big cash rewards for information leading to an arrest, people aren't always volunteering what they know. That can leave police with only the sketchiest details about some suspects — such as the "lanky" black male with a "soul patch" who robbed a cab driver in the New North End on September 23, or the "two males wearing ski masks" who held up a Domino's pizza-delivery driver at gunpoint in the Old North End two days earlier.
Schirling says authorities are thinking about stepping up the pressure by prosecuting uncooperative witnesses who have exposure for other criminal offenses. He believes Burlington should have zero tolerance for "people who have information about violent crime" and choose not to share it.
Robberies are rattling nerves in the neighborhoods, too. Old North End resident Tiki Archambeau recently subdued a man he found breaking into his car. His vigilantism drew cheers from some neighbors.
Although the burglar managed to break free, Archambeau gave the cops the perp's bike, his backpack, even a can of Arizona Iced tea he'd been drinking to dust for fingerprints. But no arrest has been made.
"I'm not impressed with the response we are getting from the police department," said Archambeau, who chairs Burlington's Progressive Party. "I hear from a lot of people it just doesn't feel safe. Even if really nothing has changed, people are a little more concerned about being jumped when they get between street lights."
City Councilor Rachel Siegel (P-Ward 3) is worried about street crime, too, and has asked Schirling to attend neighborhood planning assembly meetings in Wards 2 and 3 this week. Siegel said there are extra plain-clothes cops in her Old North End neighborhood, but she wants uniformed officers in addition — to help build trust with residents.
"We really want a police presence in the neighborhood and want it with people we can identify as officers and build a relationship with," she said.
At the moment, BPD is short five officers, but Schirling and Mayor Miro Weinberger both insisted that's not slowing police response. "There are a number of vacancies right now, but we compensate for that through other measures," Weinberger said. "I don't believe there's a serious resource need, and that's why, overall, Burlington remains one of the safest cities its