hannah Palmer egan
Spicy ramen
Jay Peak looms nearly 3,000 feet over its namesake town. The mountain's average annual snowfall tops 350 inches, besting most other local resorts by 100 inches or more. As ski areas go, Jay is modest — most of its 78 trails convene at a single base area with a few outfitters and restaurants. But, acre for acre, the resort features some of the best terrain in the East. And on the tiny town's main drag, you can also find authentic, real-deal ramen bowls. And the two aren't entirely as unrelated as they may seem.
Jordan and Momoko "Momo" Antonucci met five years ago while working as rafting guides in Japan. For years, the devoted travelers had lived out of backpacks and worked seasonal jobs: Momo usually made sushi in resort towns; Jordan taught skiing or worked in food service. When rafting season ended, they decided their next adventure would be together.
The couple spent the next few years on several continents. Over three winters in Hokkaido, Japan, they indulged in their mutual love for après-ski ramen bowls served by mountainside food trucks. They daydreamed about squirrelling away enough cash to fund one of their own.
In 2014, Jordan returned to his native Adirondacks to help a friend with a restaurant project. Momo stayed in Japan and apprenticed at a ramen shop near Tokyo. When she flew to New York later that summer, Jordan proposed. Shortly thereafter, a restaurant patron asked the groom-to-be about his life plans.
"Well, I don't have any money," Jordan replied, "but I have this idea."
As it happened, that patron was a snowbird who trailered a sports car between seasonal homes in upstate New York and Florida. He said he'd been hoping to sell a particular trailer for $3,000.
"I was like, Holy cow, I can afford that trailer!" Jordan recalls, thinking of a recent tax return. The couple soon married and spent the rest of the summer transforming the 18-foot cargo trailer into a mobile kitchen they named Miso Hungry. They decided to winter in the Northeast Kingdom and sell noodles near Jay Peak, where they knew the skiing would be great.
The newlyweds rolled into Jay in late November, after the season's first big snow. Momo stocked the truck with her 12-hour bone broth and fresh ramen from New Jersey's Sun Noodle. They parked outside the Snow Job ski shop and quickly sold 25 noodle bowls on day one, each swirling with miso, braised pork belly, marinated soft-boiled egg and fresh veggies.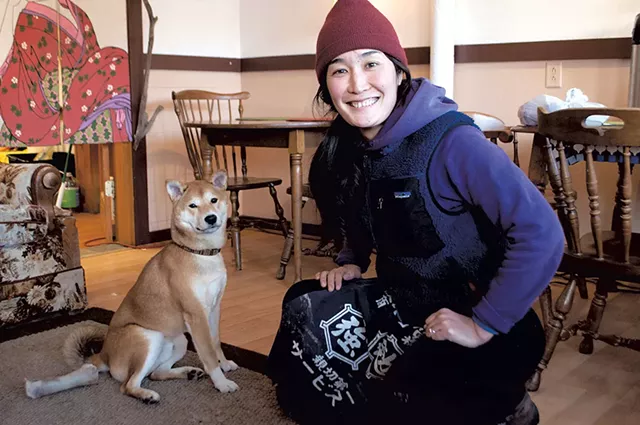 hannah Palmer egan
Momoko "Momo" Antonucci and her dog, Miso
Before long, Miso Hungry had quadrupled its daily orders — the winter's generous snowfall kept things busy. When the snow melted, the Antonuccis toured the state, serving hundreds of noodle bowls at festivals including Wanderlust, the Frendly Gathering and Eat by Northeast. They started sourcing noodles from Vermont Fresh Pasta and increased their staff, fitting up to six in the 40-square-foot space. The truck stopped at Shelburne Museum, Shelburne Orchards and the Kent Museum in Calais, and it parked for a six-week residency at Hill Farmstead Brewery in Greensboro.
For winter 2015-16, the Antonuccis are back in Jay. Last Wednesday, when this reporter went calling, gray clouds smudged the mountaintop, and the resort's trails were white with snow. But the town was deserted, aside from a couple of workers from an auto shop behind the ramen truck.
An "Order Here" sign directed visitors to the back of the trailer. Another arrow pointed to a row of windows along the side. I ascended a shallow ramp to a platform to place my order.
Momo, beaming beneath her blue hat, opened the window. A chalkboard to the right offered four ramen bowls: miso, "legendary" spicy miso, shoyu and vegetarian.
I ordered the spicy miso, leaning in to inhale the scent inside the truck. It was warm, savory and a little porky, but mostly humid. I imagined steam billowing from the window on a colder day.
Momo smiled again. "We have an indoor space," she said. "You want to eat in there?"
For its second season, Miso Hungry has rented part of a building behind the truck. Inside, the Antonuccis' 10-month-old Shiba Inu — a pointy-eared fuzz ball named Miso — was curled up and snoozing on a velveteen couch. This "warming hut" has a couple of tables, counters and stools, a restroom, and access to Jay's free town Wi-Fi.
Momo delivered my noodles. Pea shoots floated atop the sesame-soaked bone broth, which was rich, creamy with miso and had just a touch of chile. The pork belly melted on my tongue, and the noodles were chewy, as ramen should be.
When Momo returned to check in, I asked her about the broth.
"Oh," she said with a laugh, "that's a 12-hour process."
Actually, the stock takes longer than that, flowing from Monday into Tuesday when the truck is closed. Momo said she cleans and par-cooks the bones — chicken feet and backs and pork shinbones from local farms — then loads them into a 15-gallon stockpot with veggies, where they simmer for 12 hours. One batch is enough for 200 bowls and can service the whole week, but if the mountain gets a surprise storm and Momo runs out of broth, well, "then I'm gonna make it again," she said. For two weeks at the holidays, she made broth every other day.
The Antonuccis' sojourn in Vermont represents their longest stint in one place since before they met. Later, via phone, Jordan said he sees the truck as "a culmination of everything we love about life, which is food and skiing and mobility." The idea fits with their lifestyle and allows them to work for themselves, support local farms and producers, feed their community, and feel good about all of the above.
So far, it's working out. Even with this year's paltry snowfall, a steady stream of locals has provided ample business at Miso Hungry. The holidays brought many 100-bowl days. "We're not rich, but we can live OK," Momo said.
Jordan said he's looking forward to festival season, but he seems satisfied with staying put for now. "We don't know what's going to happen next," he said, "but we're not going anywhere.
"We've never had a job over five months," Jordan continued. "So for us to be looking at 14 months and still be really excited to get up and make ramen in the morning — and feel like we're inching toward making a life plan — it's really fun."
---
Taking Stock of Vermont's Ramen Specials
Miso Hungry may be Vermont's sole outpost devoted to ramen, but several area restaurants also serve Japan's favorite noodle bowl in one form or another.
"Ramen has gone super crazy," Vermont Fresh Pasta co-owner Tricia Jarecki told Seven Days via phone. "We never expected this."
Some restaurants, such as Burlington's Asiana Noodle Shop, Ludlow's Mojo Café and Vergennes' Bar Antidote, feature the dish on their regular menu. And some of Vermont's most exciting restaurants offer it on particular days as a running special. Here's the lowdown on where and when to get your fix.
Burlington
Matthew Thorsen
Butch + Babe's
Chef Narin Phanthakhot learned to make ramen in Japan and thought Vermonters might dig it. He started turning out noodles and broth at Worthy Kitchen in Woodstock. When Phanthakhot moved to Butch + Babe's in 2014, he began offering the dish as a weekly special.
Broth: A clear, six-hour collagen broth made with pork trotter, chicken bones, aromatics (charred onion, garlic, ginger), seaweed and bonito flakes. Amendments might include miso or braising liquid from something on the regular menu.
Noodles: Traditional flat ramen, rolled in-house
Other: Braised lamb, roasted pork loin and five-spice broth with crispy pork patties. Other accoutrements include slow-poached egg, napa cabbage, scallion, and Japanese seasonings such as tare, mirin and burnt garlic oil.
Availability: Thursdays, 5 to 10 p.m.
Price: $17.50
Waterbury
The Pig's brewery serves a mostly Latin-inspired menu anchored by tacos, pozole and other bean-and-corn delights. But, three days a week, chef Michael Werneke tosses porky Japanese noodles into the mix.
Broth: Heady, lingering bone broth with shiitake brine, simmered for hours and emulsified with pork, chicken and bacon fats
Noodles: Wavy, Tokyo-style ramen from Sun Noodle
Other: House-smoked meats, soft-boiled egg, nori, scallions, chiles, and sweet-and-sour pickled shiitake mushrooms
Availability: Tuesdays through Thursdays, 11:30 a.m. to close, through end of ski season
Price: $14
Montpelier
Hannah palmer Egan
Three Penny Taproom
Montpelier's downtown beer bar has been serving a daily ramen for some time. This week, head chef David Parson Capaccioli switched to a plant-based broth in order to satisfy everyone — including herbivores.
Broth: Slow-simmered vegetable broth with miso and shiitake mushrooms
Noodles: Wavy, Tokyo-style ramen from Sun Noodle; rice noodles for gluten-free diners
Other: Fresh veggies, soft-yolk, soy-marinated egg, and crisp, juicy vegetables such as kimchi, julienned daikon or carrots. Carnivores can add choice of meat.
Availability: Weekdays, 11 a.m. to close
Price: $16
Burlington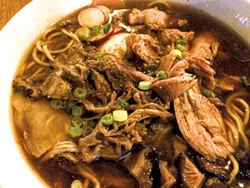 Hannah Palmer Egan
Bluebird Barbecue
In November, Bluebird owner Sue Bette and chef Matt Thomas launched Ramen Tuesday with pork buns, Korean wings and oodles of noodles with house-smoked meats.
Broth: Thomas' 12-hour soup involves from-scratch dashi, house-smoked shiitake mushrooms, stock veggies, bacon and chicken backs, roasted pork bones, and trotters. The broth rests for two days before serving.
Noodles: Fresh, straight ramen from Vermont Fresh Pasta
Other: House-smoked meat, soft-boiled egg, pickled, smoked shiitake, and carrot or daikon
Availability: Tuesdays, 4:30 p.m. until gone
Price: $15