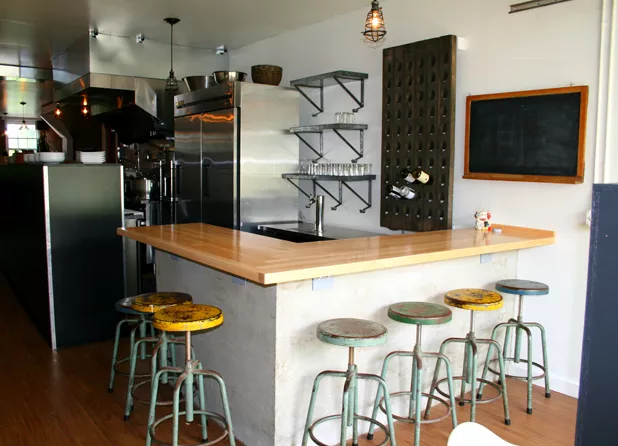 Last Saturday, Ramen opened at 131 Main Street in Burlington. Co-owner and chef Chris Russo, also of San Sai Japanese Restaurant, says the concise menu includes pork-based miso ramen, chicken-based shoyu ramen and unctuous, pork-marrow-laden tonkotsu ramen. Vegans have the option of cold noodles with lots of vegetables.
Those craving something other than soup can take advantage of an extensive sake list and a few appetizers, including homemade dumplings, edamame and seaweed or soba salads. Russo says to look for his and Kazutoshi Maeda's third Vermont restaurant, Bento, to open on College Street later in August.
*****
This Thursday, all-vegetarian Revolution Kitchen opens at 9 Center Street in Burlington. Hours will be daily from 5 to 10 p.m. "until we figure out what day we want to take off," says co-owner Debra Maisel. Expect vegan, raw and gluten-free foods along with less strict vegetarian fare. Maisel says she's especially excited to serve a number of Asian dishes with homemade sauces that contain no fish.
*****
The march of time claims an unexpected victim. Q Tee's, the former Dairy Queen on Burlington's North Winooski Avenue, will close for good this October after 67 years in business.
— A.L.
*****
Stowe eaters who were bummed about this spring's closure of Norma's at Topnotch Resort should take heart. Two weeks ago, the resort unveiled Flannel, a rustic-modern farm-to-table spot, in its place.
Chef Steve Sicinski and chef de cuisine Cortney Quinn have rolled out their twists on American classics: Flannel's dishes include crispy oyster BLTs; gnocchi with burrata and pistachio pesto; and a burger topped with crispy pork belly and onions glazed in Heady Topper.
New casual restaurant the Roost is a sleek-but-woodsy lounge with a design that flows from the indoor bar to the outside patio. There, Sicinski has taken the term "comfort food" literally: Diners will find frito pie; pork-belly tacos; and fried avocados with gingered seaweed and cashew sauce, with wines, local beers and craft cocktails to wash it all down.
— C.H.