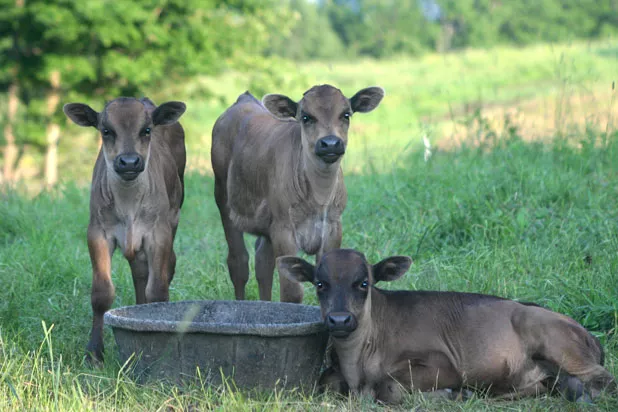 To most of us, a steak is just a steak. To Dr. Sheila Patinkin, it's a genetic experiment, a sociological study and, most importantly, a tasty commodity.
A Vermont native, the pediatrician left Chicago to return to her hometown and purchased the old Fletcher Farm on the border of Springfield and Rockingham in 2006. Today, Spring-Rock Farm's fields are home to 18 Jersey-Simmental crosses. In their wombs grow 18 purebred black wagyu calves. "They're not genetically theirs," says Patinkin of the pregnant bovines. "But they don't seem to mind."
What is wagyu? The Japanese word breaks down into "wa" ("Japanese") and "gyu" ("beef"). Japan's farmers have claimed the broad-headed cattle breed for a reason. The beef, often referred to as Kobe in the states, is most commonly raised in that prefecture, where the animals are considered a national treasure.
Popular lore has it they're fed beer and massaged all day long. While that may happen on some farms in Japan, it's unnecessary for above-prime beef and far from the norm. Wagyus are so greatly prized, however, that exporting them is illegal. Several embryos were smuggled into the U.S. in the mid-'90s, but, since then, all new wagyu stock has come from Australia.
And the prices farmers charge reflect the animal's rarity. Bought in bulk at Costco, a wagyu beef patty from D'Artagnan meat company runs nearly $9. Like much American wagyu, D'Artagnan offers no hint as to the purity of its stock. The American Wagyu Association allows farmers to sell beef with as little as 25 percent pure-blood under the coveted name.
Patinkin will have none of that. The first of her calves are due to be born later this summer; they won't be slaughtered for at least 18 months. Each of them will be not only 100 percent wagyu — with a pedigree dating back decades — but black. Most American Kobe-style steaks come from red cows, but gourmets who value intense marbling and taste prefer black.
Great steak isn't Patinkin's only goal in her work with wagyu cattle. Though she says the breed is already known to be docile with humans and nurturing to its calves, the pediatrician in her wants to improve on that. She specifically selected frozen embryos from cows and bulls noted for those traits, but thinks nurture matters as well as nature: "We work hard on instilling good manners," Patinkin says.
The Spring-Rock wagyu won't be the first in Vermont. Dartmouth neurosurgeon Henry Schmidek raised the cattle at Brigadoon Farm in Peacham from 2003 until his death in 2008, when his widow, Mary, was forced to sell off the herd.
And Patinkin draws on practical assistance from another wagyu breeder in the making: Mary Beth Fischer, the longtime owner of Springfield's Fischer Farm. Fischer, whom Patinkin calls her "cow whisperer," expects to slaughter her own first few 50 percent wagyu calves this August. Featured in Vermont photographer-writer Peter Miller's book Vermont Farm Women, Fischer has a predictably homespun response when asked how she'll know when to slaughter the herd: "I'm not going to kill anybody too soon. You can't take 'em back once you kill 'em. I've gotten pretty antsy — I wanna taste some of that!"
So do many Vermont chefs. That's why last month Spring-Rock Farm hosted an evening to introduce about 30 of them to the wonders of wagyu. Most of the cooks hailed from southern Vermont. Amy Chamberlain of Manchester's The Perfect Wife Restaurant was there. So were Graham Gill of the Relais & Chateaux Windham Hill Inn and Ted Fondulas of Hemingway's Restaurant & Tavern in Killington. Michael Kloeti, chef-owner of Michael's on the Hill, came all the way from Waterbury for a free taste.
Since no local wagyu is available yet, Patinkin had to feed her guests beef from Texas. Like many members of the American Wagyu Association, the farm from which she bought the meat could not prove the percentage of wagyu in its stock. Based on the marbling of the meat, Patinkin estimated the cows were at least 50 percent wagyu. It showed in every bite.
Chef John Marston of Leslie's: The Tavern at Rockingham, prepared a showcase of Kobe-style cuts. While Patinkin delivered an introduction, guests were handed sliders on dark green Spring-Rock Farm napkins. The patties were cooked medium well, not usually ideal for a juicy burger. Before anyone bit in, the napkins were wet. Once meat met teeth, the deluge began. But the moisture wasn't greasy; it was a clear, meaty juice that felt ... healthy?
According to Patinkin, the fats in grass-fed wagyu are the good kind. The delicious, intramuscular fat is rich in conjugated linoleic acid (CLA), a compound startlingly similar to the EPAs and DHAs found in salmon and other fatty fish. Studies at Memorial Sloan-Kettering Cancer Center have found that CLAs can reduce tumor proliferation and risk for cardiovascular disease. One guest at the dinner, a former pharmaceutical executive, went so far as to say that Vermont-grown wagyu would be not just a localvore product but a "healthy-vore" one.
The not-so-subtle indoctrination was unnecessary. The roast beef was ready. Served medium rare, the gigantic wad of meat was sliced thin and piled on plates. Like the burgers, it had delicate juices that gushed flavor. Marston prepared picnic-style sides, including minty chickpea salad, campanelle pasta with feta and artichoke hearts, and a vivid slaw of cabbage and multicolored peppers. They paired nicely with the Texas-style brisket, though the always decadently fatty meat couldn't compare with the other offerings.
Finally, steaks came off the grill. The flames had been licking the marbled flesh, sending enticing smells all over the farmhouse's patio. A wagyu New York strip needs no sauce. Served rare with a fine crust of char, it got no seasoning but salt and pepper. Somehow, though, it tasted like it had been dipped in Béarnaise sauce.
Still feeling her way into the new business, Patinkin asked the chefs about their preferences for various means of slaughter and processing, and invited them to view diagrams of her herd's family trees. (When retailers, chefs and others buy the beef, they'll receive a certificate specifying the animal's birthday and pedigree.) Patinkin is also experimenting with grain- and grass-feeding her animals — some get one, some the other. Because of all these variables, she hasn't yet decided on a price for her meat.
"It will be more reasonable than people think," she assures. But with flavor like that, does it really matter?