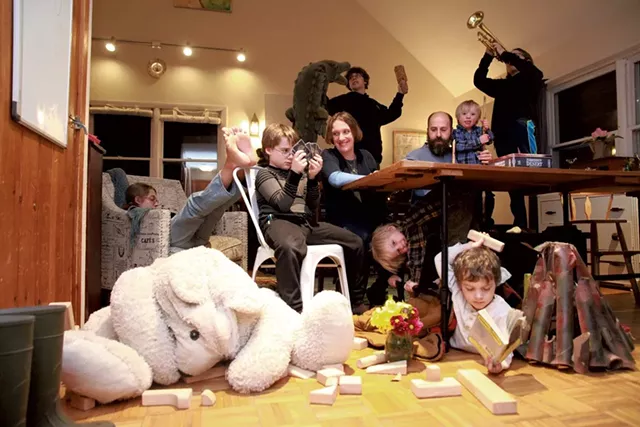 Matthew Thorsen
Dad: Kevin Laverty, 42, technology, engineering and design teacher at Christ the King School, Burlington
Mom: Lisa Laverty, 46, full-time caregiver and blogger at makingitinvermont.com
Sons: Val, 16, Kris, 14, Carl, 11, Roland, 9, Ollie, 6, Gus, 5, Paul, 3
Her dishwasher has been broken for a year and a half; still, Lisa Laverty seems cheerful about doing dishes and keeping her small, three-bedroom house in order for her family of nine. A devoted caregiver, Lisa's contentment is rooted in her Catholic faith. She and her husband, Kevin, are actively involved in their local parish, St. Pius X, and in their Essex community. Both parents teach religious education at their church several days a week, and Kevin is the Cub Scout master for Essex-based Pack 635.
The centerpiece of the Lavertys' home is a large farm table — big enough to seat the whole family and a guest or two. Last summer, Kevin and Lisa made the sturdy piece of furniture, with the help of their sons, from wood milled from cherry trees on their property. They eked out small chunks of time in their day to plane, chisel and sand the table, finishing it with legs made from black-iron plumbing pipes. The end result is a lovely, smooth surface for the family to gather around at mealtime.
On the standard morning routine:
Lisa: I typically get up around 5 or 5:30. I usually pray. I say the rosary for about 15 minutes or half an hour, and that gets me ready for the day. Then, I might do some dishes if I haven't done them the night before. Then I get people up. The older boys, I wake up around 6:10 — Kris and Carl and Roland sometimes. They get up and get themselves breakfast; Carl will make himself lunch. Val, the oldest, gets up about 15 minutes before it's time to leave. That's a struggle!
Kevin: That's being generous. I am actually kind of excited there is snow outside because that gets him motivated to get up — knowing I can get a snowball and bring it inside his room!
Lisa: I don't remember which baby it was, maybe it was after baby number five, I told Kevin I couldn't do lunches anymore, that he had to do it. It was just too much! Then he transferred power to the children, and I was like,"OK!"
On feeding seven boys:
Kevin: We've kind of gone back and forth for a while. I was doing a lot of the grocery shopping at night after the kids went to bed. The last few years, Lisa has been doing it.
Lisa: Sometimes I am really good about meal planning and then shopping, and other times not. Kevin likes baking, so we do a lot of that — for example, pizza on Friday night. Kevin likes to cook more than I do, but he has less time, so I learned to cook because I fought it for a lot of years! When he met me, I lived by myself, and when he looked in my fridge, I had Spanish olives and ice cream!
Kevin: You had maraschino cherries, too.
Lisa: I was all set! I would much rather make art and just do things than cook, you know? But I learned, by necessity, and it really nurtures the kids. So that inspires me to cook more.
On finding father-son time:
Kevin: We make maple syrup, and we have a sugarhouse that I made a bit bigger so that the boys could be out there with me. This past spring, we had a little table in there, and we played cards. And I had a dartboard out there, and there were a few nights when Val stayed up extra late with me, and we got some one-on-one time together. It might be a male thing, but you end up talking more when you focus on another activity besides the talk, so if there's a lull, there's not an awkward silence because you are doing something.
On being the sole woman:
Lisa: It's such a different world. I get some time with the mothers' groups I am part of, and I have a lot of girlfriends. But it is funny because I am just immersed. I went over to the middle school today and the secretary said, "Oh, you cut your hair!" And I was like, "Oh! Someone noticed!" And it's so funny to me every time it happens because we women are so much more aware of that stuff and say it, and I just don't get it in my everyday life at all.
On having a child with Down syndrome:
Lisa: Number one, he is healthy. Like with any of the kids, you are just trying to meet their needs. So I don't see him as different. We all have special needs.
Kevin: The biggest difference with Gus is that he is not as verbal as the other guys. He may need a little more of this, but the other ones need a little more of that, so it all comes out in the wash.
Lisa: I don't use the label "Down syndrome" in our family. They know, and we've talked about it, but I don't define Gus that way. That's not who he is. I never wanted him to be defined in their eyes that way. He is their brother, he's another human being, and that's that.
On the intersection of religion and parenting:
Lisa: I would say, for me, my faith has helped me most with parenting. I don't know what I would do without it.
Kevin: It gives me greater perspective, and it gives me patience and helps me maintain my cool. It helps me love the kids for who they are.
Lisa: And reminds us to be kind, to the children and to each other.
On creativity and the gift of giving:
Lisa: I used to be an art teacher, and I find little creative projects to do around the house. Today, I just reworked an old painting. And recently, I learned how to print on fabric. Val is really into chemistry and I thought, Oh, I can take the periodic table of elements and print it on fabric and sew it together. Yesterday, I just went at it and now (above the piano) is the framed periodic table of elements! It cracked me up that this is what I want to hang in the house now. It's not a painting, but the boys love it! They are into that kind of thing. It's not my thing, but I wanted to do it for them, which is so funny and wonderful at the same time. And that's, like, parenthood, right? It's not about me. And I think that's what I've learned most about parenting — is to give of myself. When you give, that's the gift.