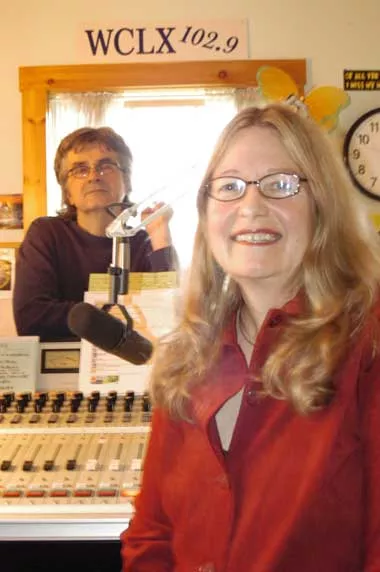 In 1978, a young British songwriter named Elvis Costello predicted the decline of FM radio with eerie accuracy in his then-controversial tune, "Radio, Radio." In it, the post-punk firebrand claimed "radio is in the hands of such a lot of fools tryin' to anesthetize the way that you feel." The song's sentiment still rings true today. Switch between Vermont's rock stations and you're likely to hear tunes spun only hours before, punctuated by invasive ads and grating station IDs. It's enough to make you wonder: With so much music from the '70s alone, why are we hearing the same Styx song all day long?
It wasn't always this way. FM originated as a rebellion against the tight formatting of AM stations. Forward-thinking DJs and more powerful signals ushered in an era of programming that felt as proud and free as the music itself. In stark contrast to radio's singles-driven past, these enterprising broadcasters dug deep into each album, playing tunes that didn't fit into the 3-minute mold. As FM matured, however, stations hired consultants to identify demographics and maximize profits. By the time the Feds deregulated the dial in 1996, radio's individuality seemed lost. Even in smaller markets such as the Green Mountains, the effect has been felt. These days, listening to radio in Burlington, Vermont, is probably not all that different than it is in Burlington, Washington.
Addison's husband-and-wife broadcasters Russ Kinsley and Diane Desmond remember FM's glory days fondly. Instead of sitting around and complaining about the lack of diversity on the dial, however, they launched 102.9 WCLX "The Album Station." One of the last free-form rock stations in the country, it has offered listeners in the Champlain Valley corridor an alternative to market-researched corporate radio since 1999. Twenty-four hours a day, seven days a week, WCLX serves up deep cuts from an impressive variety of albums and artists.
Kinsley, 52, and Desmond, 55, operate the 6000-watt station out of their cozy Addison home. "Contrary to popular rumors, it's not run out of our bedroom," Desmond says jokingly. A diminutive woman with blonde hair and a ready smile, she is the public face of the station. Desmond wears a lot of hats, from bookkeeper to ad rep. As music director, Desmond is also in charge of supplementing the station's catalogue. WCLX relies on around 35 local advertisers -- mostly small, independent companies who prefer a subtler form of salesmanship. The ads are all voiced by either Desmond or Kinsley, and only two air per hour, back to back.
Kinsley, a brainy-looking fellow with glasses and salt-and-pepper hair, is program director and engineer. In addition to repairing tweaks and adjustments, he maintains the station's 5000-tune playlist via computer server. Both are DJs.
Although firmly rooted in the classic-rock era, WCLX has a broader playlist than similarly themed stations. Instead of "Light My Fire" by The Doors, that band's little-heard "Wishful Sinful" is spun. A wider variety of artists is represented, as well: Where other broadcasters play bearded bluesmen ZZ Top, WCLX is likely to spin British rockers Spooky Tooth. The album-station honchos certainly know their classic rock. Desmond recently took a Burlington Free Press music critic to task in a letter to the editor for innaccuracies in his live review of the Allman Brothers.
Kinsley believes that tight formatting is driving listeners away from conventional radio. "Many broadcasters make big assumptions about what the audience wants," he says. "They also presume that the audience is stupid. Well, if people were so happy with what's out there, they wouldn't be paying for [satellite] radio, which they've gotten for free for 75 years."
While cookie-cutter formats get under Desmond's skin, it's not the only thing that annoys her about modern radio. "It's the quality of the DJs," she says. "Most of them don't ever talk about the music. They're told what to say and what to play, and it takes the soul right out of it. One thing that I think people pick up from us is our enthusiasm."
Kinsley and Desmond have a long history in broadcasting. Kinsley cut his teeth in the '70s at the University of Vermont's WRUV. The scrappy station served as a proving ground for many of Vermont's radio titans, including WIZN's "Dean of Rock" Artie LaVigne and Vermont Public Radio's Bob Kinzel. "A lot of us are still on the air -- in this market and in others," Kinsley notes. "We all came out of that era."
Kinsley's first pro gig was at a St. Albans Top 40 AM station. "The switch from noncommercial was an eye-opener," he recalls. "We were running something like 18 minutes of ads an hour. One day I segued two songs back-to-back, and the program director yelled at me and said, 'What are you doing? You could've played five commercials in that time."
For many of Kinsley's generation, commercial radio -- particularly the variety common on AM -- amounted to a waste of airspace. "For one, they were only playing 40 songs and repeating them every hour," he says. "Two, there were way too many commercials; and three, you had somebody screaming at you between every song. Well, it's come full circle -- a lot of FM stations sound just like that now."
Desmond, an Ohio native, was attending college at Kent State University when she caught the broadcasting bug. A DJ friend invited her to swing by during one of his shifts. "I saw all the promos in the mailboxes and thought, 'Now, this is a very cool job.'" She moved to Vermont in the '70s to take a gig teaching first grade and kindergarten, which she did for nearly a decade. In 1983, Desmond heard about a fledgling rock station broadcasting from Vergennes. "I tuned in and they were playing my record collection," she says. "That station was WIZN."
Desmond has two sons from a previous marriage. When the boys entered school, she decided to attend a DJ workshop at Goddard College. Soon she was working afternoons at Goddard and evenings at WRMC, Middlebury's college radio station.
Unbeknownst to Desmond, her future husband was a major player at WIZN. As a co-owner and DJ, Kinsley was instrumental in bringing album-oriented rock -- AOR for short -- to the Green Mountains. He also gave the station its distinctive nickname, "The Wizard." By the mid '80s, as the station became more tightly formatted, he decided to move on. (The Wizard, at 106.7 FM, is now based in Burlington.)
Kinsley and Desmond's paths didn't cross until 1987. Desmond was invited to sit in during a friend's show on WKLZ, which Kinsley had purchased a couple of years earlier. "That's not when we got together, though," she clarifies. "After we met, he gave me a call because he needed part-time employees." Kinsley sold the station not long after.
The genesis of WCLX coincides with the beginning of their romantic relationship. "The way that we ended up becoming a couple was through working together at WEXP, a free-form classic rock station in downtown Burlington," Desmond explains. That station went live in 1994 but was bought out by the Denver, Colorado-based KOOL 105 the following year. By the time the doors closed, Kinsley and Desmond had fallen in love with each other, and with the rock-album format. "We both said to each other, we want to get something like that on the air again," she recalls.
After marrying in 1996, the two began shopping for a home on the dial. "We kept the feelers open," Kinsley says of their search. "In our business, you can't just find a storefront that's opened up. You need the right frequency, allocated to a certain community, all sorts of stuff. It's a complicated process."
Dennis Jackson of Connecticut is the permit holder for 102.9. "He had no interest in moving up here and building a station, and we were interested in getting it on the air, but we didn't have anyplace to put it," Kinsley explains. So far, the arrangement seems to be working. "We own the ideas and concepts -- that's all our property," Kinsley explains. "It's like having a great idea for a restaurant but needing a building to put it in."
WCLX broadcasts out of a medium-sized room on the second floor of their home. The microphone and mixing board sit directly in front of a large window, which lets in plenty of light. Reproduc-tions of vintage rock posters adorn the walls: The [Silver] Beatles at the Cavern in Liverpool, The Doors with Step-penwolf. There's even the famous shot of Elvis Presley receiving his DEA badge from President Nixon.
A computer lets Kinsley load up as many songs in advance as needed but allows for plenty of improvisation, which he demonstrates by making on-the-fly adjustments to the pre-programmed playlist. Overall, the studio is an interesting mix of homey and high-tech. So how does the WCLX gear stack up to big-budget broadcasters? "It's similar to most other stations, technology-wise," Kinsley explains. "But you couldn't do something on this scale even 10 years ago. Are we the loudest thing on the dial? Probably not. Are we the cleanest? Yes."
Listeners seem to be responding positively to WCLX's rocking diversity, and not all of 'em are baby boomers. "We have young folks calling us up and asking us, 'Is this new?'" Desmond says. "I love it, because they've never heard this stuff."
Are there any musicians from the classic-rock era WCLX won't spin? "I don't like to dis artists," she confides. "But you probably won't hear any Meatloaf."