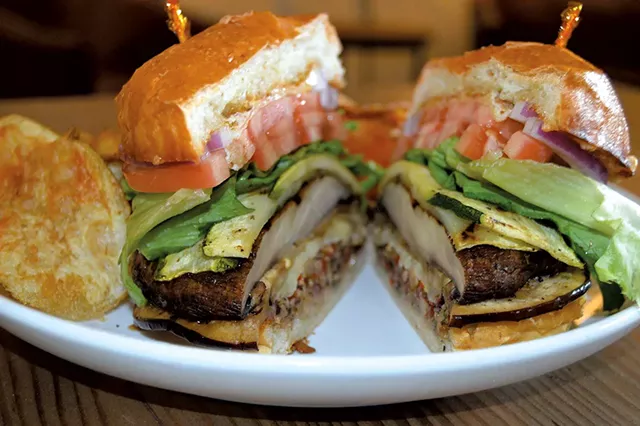 On Saturday, Morrisville got a new breakfast option when the Railroad Café opened for coffee and light morning fare. The new spot is the latest from owners Kim Kaufman and Jimmy Goldsmith and operator Steve Foster, whose other efforts include 10 Railroad Street in Morrisville and the Blue Donkey in Stowe.
The new café shares a kitchen — and chef Andy Figliola — with adjacent 10 Railroad Street. And it replaces the Mo'Vegas Fill Station growler and cigar shop, which closed last winter after about a year in business.
"We opened the Fill Station to get some retail into this side of town," Foster told Seven Days on Monday, "but we always had intentions of doing something different with the space." Quickly, the team realized that Morrisville had room in its market for high-quality coffee and simple morning and daytime fare.
The menu is "starting small," Foster said, with New York-style breakfast sandwiches: melty amalgamations of eggs, meats and cheeses layered into crusty but soft rolls. Also available are crêpes and light lunch fare such as sandwiches and health-focused Buddha bowls stuffed with whole grains, veggies and proteins. Foster said he plans to expand the menu "as we feel out our customers."
The café offers full espresso service. The cappuccinos, lattes and macchiatos can be lightened with housemade soy, nut or hemp milks, in addition to traditional dairy. The beans come from North Carolina roaster Counter Culture Coffee, respected among connoisseurs for its commitment to quality product, market justice and environmental sustainability. "If you go on their website, you can see every coffee they've purchased, where they got it and how much they paid for it," Foster said, adding that every bean is roasted to order and shipped overnight.
The Railroad Café is now open daily from 7 a.m. through late afternoon.