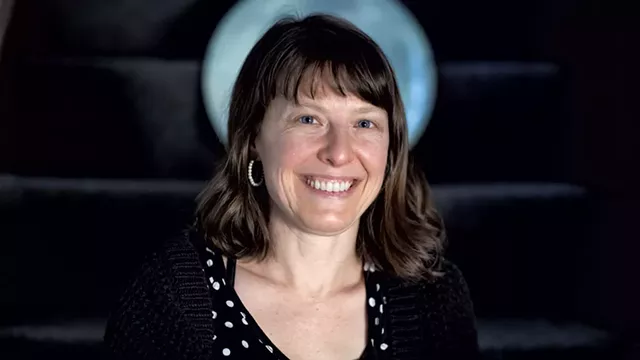 Luke Awtry
Tess Hadley Durand
If you tune in to 105.9 FM The Radiator between approximately 8:15 and 8:21 on a Monday morning, you might catch a wisp of Tess Hadley Durand, the gossamer voice behind the astrology radio show "Happy Astro Pondering!" Durand's style is more poetic than predictive; think "Eye on the Sky" but with Venus transits, internal rhyme and Søren Kierkegaard. In the last week of October, Durand considered the effects of the impending Halloween full moon, the first in more than half a century: "What is this growing sense of knowing as the moon increases its glowing?" she mused.
Since 2018, Durand, who lives in Burlington, has been recording this weekly cosmic roundup, which she also calls her "Metaphorcast," as both a radio segment and a podcast.
Growing up in Rhinebeck, N.Y., an artsy town in the Hudson Valley two hours north of New York City, Durand did very little astrological pondering. She and her twin sister, the musical saw virtuoso Johnnie Day Durand, were obsessed with the TV show "Twin Peaks," whose creepy-campy aesthetic became part of their spiritual vernacular. Their father wrote for ESPN's "This Week in Baseball," a 30-minute highlight reel with a punchy, singsong cadence, hosted by legendary New York Yankees announcer Mel Allen.
The parallels between astrology and baseball might not steamroll you with their obviousness, but Durand sees a clear symmetry between her father's work and her own. "Baseball is super esoteric," she said. "The nine players on the field, the batter's journey — it's so lunar!"
Durand went to Bard College "for a second," then traveled around as a drummer in various bands. At Bard, she played with a group called Variety City, whose guitarist, Matthew Katz-Bohen, later became the keyboardist for Blondie.
In 2009, Durand met that group's front woman, Debbie Harry, backstage after a show in Woodstock, N.Y. "Her handshake was so soft and limp," Durand recalled. "Which is completely not surprising, because she's so watery." "Watery," in astrological patois, refers to the ethereal, emotionally sensitive vibe of someone born under a water sign — Cancer, in Harry's case.
For Christmas in 2006, Durand's sister gave her a copy of Steven Forrest's The Inner Sky: How to Make Wiser Choices for a More Fulfilling Life, a classic of modern astrology. The book sat around her living room for months, untouched; when she eventually cracked it open, she said, it rewired her brain. "For a long time, astrology was the center of my universe."
But eventually, the hyper-personal, inward-looking mode of astrology, the kind that satisfies our hunger for a unifying theory of ourselves, lost its luster for her. "There are so many ways of knowing yourself," Durand said. "The archetype of Aries only extends as far as the archetype of the dawn."
On "Metaphorcast," Durand employs a more literary, impressionistic approach, which she described as "a spirit of leisure," a concept she encountered in the work of the 20th-century German philosopher Josef Pieper. Leisure, Pieper wrote in his 1948 manifesto Leisure: The Basis of Culture, is different from merely not working; it's a kind of communion with the present that doesn't involve grasping at anything.
At various points in her relationship with astrology, Durand said, she became so obsessed with the minutiae of planetary movements that she lost the ability to synthesize the details into a meaningful whole. "It was like standing too close to a painting," she explained.
After reading the British philosopher Owen Barfield's work on the evolution of consciousness, she came to a different understanding of astrology. "He sees humans as evolving from a state of being embedded in nature, in which our thoughts have a direct relationship to our surroundings, to sort of being on the outside looking in," she said. "We have the ability to associate in ways our early ancestors couldn't, but we also have this longing to feel part of the whole universe again."
As Durand sees it, the point of astrology is to expand our understanding of the world through metaphor, hence the title of her podcast. "All of astrology is metaphor," she said. "Especially now, when the state of the world feels like a tennis racket beating on our heads, we need to be able to lift up and look out, and to feel that we have power in our connection with the universe."
Each day, Durand logs the current positions of the planets and doodles the themes of the transits. Last week, for instance, Mars was moving backward through Aries, the sign of action, contributing to a general atmosphere of frustrated will. "Does anyone feel a howl coming on?" Durand asked in last week's episode, which could be the epitaph of 2020.
For inspiration, she keeps a notebook of thinkers she likes, organized by their zodiac sign, including Kierkegaard (a melancholy Taurus) and the surrealist painter René Magritte (a deep, dark Scorpio). On Wednesdays, while her 2-year-old son, Geo, takes a nap, Durand records the show for the upcoming week. Last summer, she joined forces with her twin to turn her podcasts into videos, visual collages on the theme of that week's planetary activity.
"My dream would be to have a permanent spot on television, like after the evening news or something," Durand said. In the absence of a time machine that could transport her back to the 1970s, where she might realize that dream, she enjoys being a voice in the ether, translating the language of the spheres for the chaotic world below.