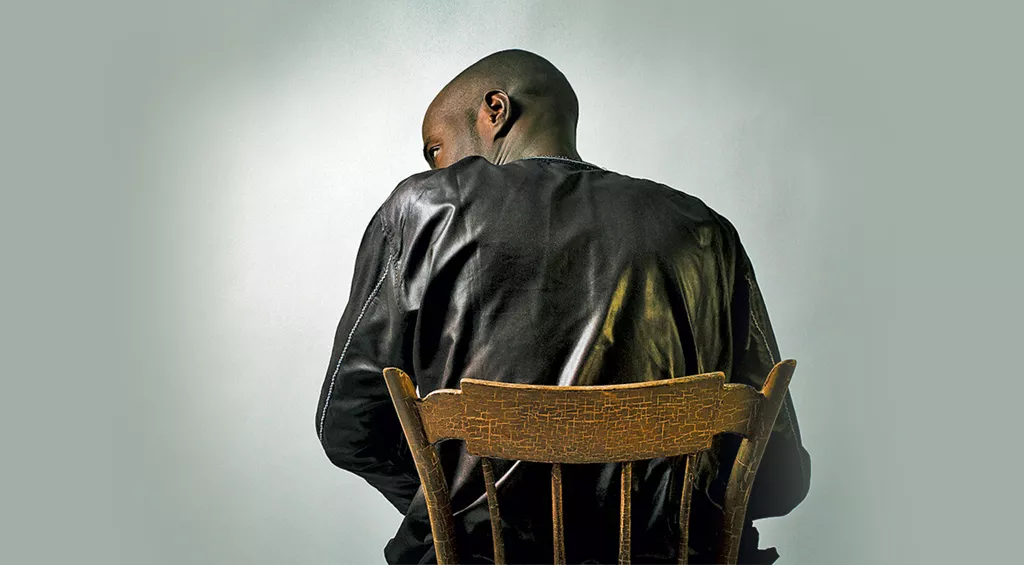 "Ali" by Stephanie Seguino
Stephanie Seguino's exhibition of large-scale color photographs, on view at the Flynndog in Burlington, would be visually powerful even if it weren't so painfully relevant. For "Radical Empathy," she has used her camera like a pickax: to chip away at white Americans' stereotypes of black men. And she has undertaken that task at a time when hostile and fear-laden preconceptions have repeatedly proved lethal — most recently in Baltimore, Md., and before that in Cleveland, Ohio; Ferguson, Mo.; Staten Island, N.Y.; and North Charleston, S.C.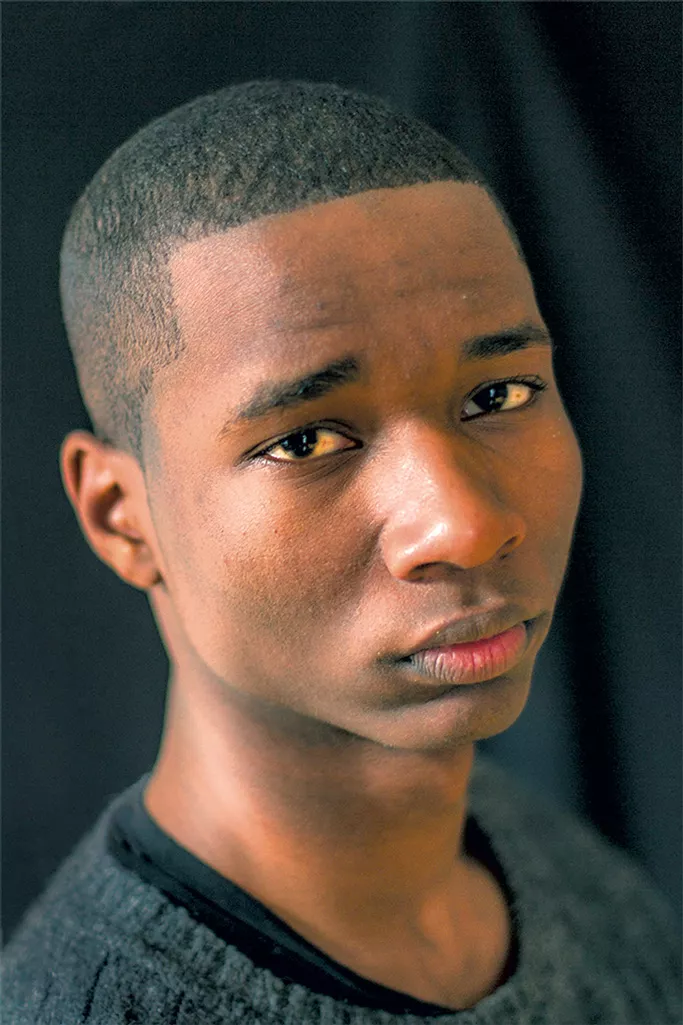 "Khalil" by Stephanie Seguino
Seguino's show was inspired, she explains, by the racial discrimination that her dark-skinned son, Dante, experienced growing up in Burlington. She says she felt an increasingly urgent need to address that theme through her medium following the 2012 shooting of 17-year-old Trayvon Martin in Florida — one of a series of high-profile killings of unarmed African American males, most of them by police.
Dante, now a 22-year-old hip-hop musician, is presented in the show as a sweet-faced young teen with the first few wisps of hair visible above his upper lip. Some of Seguino's other subjects appear equally soulful and gentle. Khalil, for instance, looks out at us almost mournfully, his eyes seeming to ask for the very empathy Seguino calls for in her show's title. Nearby is her portrait of Ali, who looks Vermont-y in his autumnal-colored sweater — and thoughtful, with a thumb and forefinger cradling his chin.
Onlookers who see Khalil and Ali as types rather than as individuals may well have sharply different impressions of these black men. Seguino emphasizes that divergence by contrasting the frontal shots with ones taken from behind. In one of the latter, Ali sits slouched to the side in a shiny jacket, one eye peering back at the camera. All we see of Khalil in his faceless portrait is a crimson "Coke" baseball cap worn in reverse and a chain dangling down his back. Many viewers will form preconceptions of these two — until, farther along the Flynndog's wall, they encounter Khalil and Ali head-on.
"People who succumb to stereotyping have very little experience of black men," observes Seguino, who is white. "It's a manifestation of an unequal system that has pathologized perceptions of black men."
The contrast between summary judgments and actual character forms the core of "Radical Empathy." The title is meant as an appeal for understanding of black men's lives, Seguino says. Achieving such awareness amounts to a radical act, she adds, in that "empathy toward black men is the exception, not the norm."
The photographer's tactic is effective, but her point would register more sharply if each man's facial image were paired with the respective rear view. As it is, the portraits of about a dozen local African Americans — with roughly equal numbers of frontal and rear shots — aren't grouped sequentially. Not every subject is represented by corresponding shots of his face and his back. Visitors have to track back and forth along the gallery's hallway to figure out who's who.
Although each photo is labeled with only a first name, some viewers will be able to identify well-known figures. "Kyle," for example, is Kyle Dodson, a Burlington school board member and director of Champlain College's Center for Service & Civic Engagement. "Reuben" is Reuben Jackson, host of the Friday-night jazz program on Vermont Public Radio. A few of the other men will be familiar to students and staff at the University of Vermont, where they teach or study.
Seguino herself has been a member of UVM's economics faculty for 20 years. Her work in that capacity focuses on issues of inequality and poverty.
Born in Brooklyn and raised in Maine, Seguino came relatively late to her academic career. She was a college dropout who lived in Italy for several years before earning a bachelor's degree from the University of Maine at age 27. By then she had become involved in photography — so much so, Seguino relates in an interview at Flynndog, that she waited until the last minute to decide whether to apply for a master's program in economics or in fine arts. "I've always had this thing about operating from both sides of my brain," she says.
Seguino chose economics and eventually acquired a PhD from American University in Washington, D.C., in part because "photography alone didn't satisfy the intellectual side of me," she explains.
Settling on a discipline didn't mean settling down, however. Seguino has continued to live a peripatetic life. After acquiring her academic credentials, she spent five years in Greece and Italy and another five in Haiti. She travels widely in her current role as a consultant on gender issues to the United Nations Development Programme, and she teaches for a couple of weeks each year at a university in South Africa.
The photos in the show were taken at her studio in Burlington's Chace Mill. Seguino used a Canon 70D — the successor to the cheap and simple Diana cameras she had favored for years. "With photography, I'm not a techie," she confesses.
But she does work painstakingly. Seguino notes that she took about 40 shots of each of the men in her current exhibit, and asked many of them to return to her studio for a second or third sitting. "I was always adjusting the exposure, looking for the right effects with lighting," she says.
Her compositions reflect an interpersonal element. "My life is pretty biracial," Seguino notes, explaining that she knows each of the men she photographed personally.
Even so, most were suspicious of her method. "A white person photographing a black man can be very fraught," she says. "At first, they were very uncomfortable about being shot from behind, but when I told them the purpose of what I was doing, they were all in. It ultimately felt like a collaboration."
The men's willingness to trust her was "something so profound," Seguino adds. "It's something that has to be earned. People who don't interact with black men on a daily basis have no idea of what it's like for them to deal with whites."