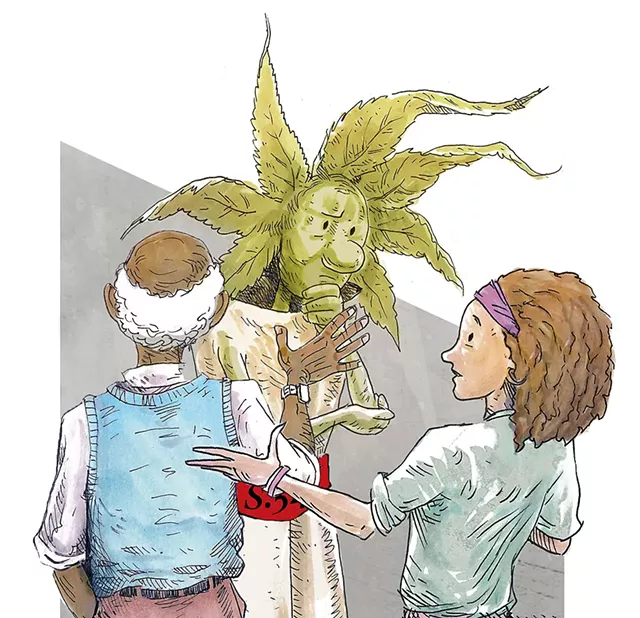 Vermont's new law establishing a retail marijuana market does too little to recruit people of color to the legal cannabis industry, racial justice advocates say.
They are calling for changes to ensure that members of groups disproportionately targeted by past enforcement of cannabis laws would be poised to benefit when the legal market comes online in May 2022.
"For those seriously and genuinely interested in justice who look at this [law], it is clear that it needs work," said Mark Hughes, coordinator of the Vermont Racial Justice Alliance, one of the groups pushing for changes. He added, "We're here trying to dismantle systemic racism, which, at the core, is economics. All this [law] does is pile on to that."
Black people nationwide are nearly four times as likely to be arrested for cannabis offenses than white people, despite similar usage rates, according to a recent report from the American Civil Liberties Union. Vermont's disparity has been even greater: Between 2010 and 2018, Black people were six times more likely to be arrested for marijuana possession.
Hughes' organization was among several that lobbied Gov. Phil Scott to veto the retail pot bill earlier this year, arguing that it lacked adequate reparative measures. Scott ultimately allowed the bill to become law without his signature. But he urged lawmakers to improve upon it in the coming legislative session with an eye toward racial justice, citing several of the alliance's proposals.
"Justice should be foundational to our work," he wrote in a letter to lawmakers, "not an add-on to be figured out secondary to commercial or other interests."
Some lawmakers appear to be listening. Sen. Dick Sears (D-Bennington) and several of his colleagues met with Hughes and other advocates this week to hear their feedback. The senators plan to introduce a bill at the start of the session to amend the law. While Sears did not know whether any racial justice initiatives would make it into the first draft, he said it could easily be altered in committee.
"There's plenty of room to make improvements on the racial justice front," Sears said.
Others, meanwhile, question whether there is time — or a need — to take up the issue this session. "The reality is, I don't think there's anything that we have to do at this moment," Rep. Sarah Copeland Hanzas (D-Bradford), whose House Government Operations Committee helped shepherd the bill through the chamber last session, told Seven Days. "I think it could wait until next legislative session, because we are going to be almost universally focused on COVID recovery."
Growing and selling marijuana has become a billion-dollar legal industry — one that is overwhelmingly white. In Massachusetts, where a legal retail market began in late 2018, less than 2 percent of all cannabis businesses were minority-owned as of last year. Figures in other states aren't much better.
Vermont doesn't track minority ownership of businesses in its cannabis market, according to the Agency of Agriculture, Food and Markets, which oversees the state's hemp registry. But anecdotally, the state's cannabis industry is "very nondiverse," said Arantha Farrow, 29, owner of Caledonia Cannabis.
Farrow founded her company in 2018 to market cannabidiol (CBD) products grown by organic farms in the Northeast Kingdom. "If I go to hemp events or anything like that, I will be one of the only — if not the only — people of color in the room," she said.
Marlena Tucker-Fishman is co-owner of Waterbury's Zenbarn Farms, which has grown hemp for the last three years and recently began selling CBD wellness products. She said she realized the extent to which Vermont's cannabis industry is white-owned while looking for other BIPOC (Black, Indigenous, people of color) CBD businesses to support.
"That was a struggle," she said, recalling that only a few turned up in her online searches. She hypothesized that some people who otherwise would be interested in starting a business have been hindered by the startup costs of training, marketing and licensure.
Vermont legislators were well aware of the cannabis industry's racial disparities when drafting the retail weed law, Copeland Hanzas said. She pointed to several measures that she asserted do enough to steer the state in the "right direction at this moment."
First, the three-member Cannabis Control Board, which will be responsible for regulating and licensing all stages of the supply chain, cannot keep people from receiving licenses based solely on a past cannabis conviction. That, Copeland Hanzas said, will prevent the biases of the justice system from seeping into the cannabis industry. (A separate law passed last session automatically expunges low-level cannabis convictions.)
"Some of the most gifted cannabis growers are going to be among that group of people who have been dinged for a cannabis violation during the prohibition era," Copeland Hanzas said. "We want to bring those people out of the shadows."
Second, the law calls on the board to adopt a licensing system that gives preference to minority- and women-owned businesses, as well as those that plan to hire and promote people who were disproportionately impacted by cannabis prohibition.
And third, the law directs the House speaker to appoint someone with expertise in social justice and equity issues to the 12-seat advisory committee that will help the control board come up with its rules. The advisory panel will ensure that the board is "treating everyone fairly," Copeland Hanzas said.
Hughes doesn't buy it. He said the law's purported protections "don't even begin to start a conversation on equity."
"They fall woefully short of truly addressing the economic disparities in entry to market," he said. "And at the root of that lies the fact that most Black and brown folks do not have capital access, and they do not have land."
That's why the Racial Justice Alliance wants state lawmakers to go a step further and establish a so-called cannabis equity program, which would give people who have been harmed by prohibition a leg up in the new market. After sending lawmakers a framework last session — one that was not incorporated into the final bill — the alliance is now working with several growing and farming groups to come up with another formal proposal. That's still a work in progress, but Hughes said the vast majority of the alliance's initial requests remain in play.
They include the creation of a "social equity applicant" licensing category for people who live in areas disproportionately impacted by poverty or cannabis enforcement. People who have been arrested for or convicted of low-level cannabis crimes would also be eligible, as would their family members.
These applicants would then qualify for a 50 percent waiver of cannabis licensing fees, and they could seek low-interest loans and grants from a proposed Cannabis Business Development Fund, which would be started with money from existing medical marijuana revenues and maintained through a share of retail weed taxes.
Responding to the alliance's proposals, Copeland Hanzas said she could envision some legislative appetite for fee waivers once the control board returns with its recommendation in early 2022. A business fund, though? Not so much.
"We don't have any money for that," she said.
There might be an opportunity to create such a fund once cannabis tax revenues start rolling in a few years from now, she said. But if the idea is that the state would launch one beforehand, "then I'd like to see the governor put his money where his mouth is when it comes to racial justice and put that into his budget proposal."
Lawmakers have some breathing room before the market's launch. The Cannabis Control Board hasn't been created yet; Scott's office put out a call for applicants last week and is accepting candidates until the end of the month. A nominating committee will vet the field and send recommendations for his approval.
Scott has not committed to appointing any people of color to the board, but his spokesperson, Rebecca Kelly, said diversity will be factored into his decision. "We have promoted the application process from our office and asked the Racial Equity Task Force members to share the application through their networks in hopes we can draw a broader, more diverse pool of interested applicants," Kelly wrote in an email.
Once established, the control board will then spend the next year compiling recommendations for the legislature on a number of issues — including how many licenses will be available and how much they will cost — before it adopts final rules and starts issuing licenses in spring 2022. And lawmakers could always delay the rollout if they decide they need more time.
Still, advocates say the time to act is now.
"We all know that justice delayed is justice denied," Hughes said. "If we know that we've done something wrong or that we didn't get something right, then, in principle, we ought to fix it as quickly as we can, lest those with political and economic power forget."
— C.F.
Pot or Not? Towns Consider the Option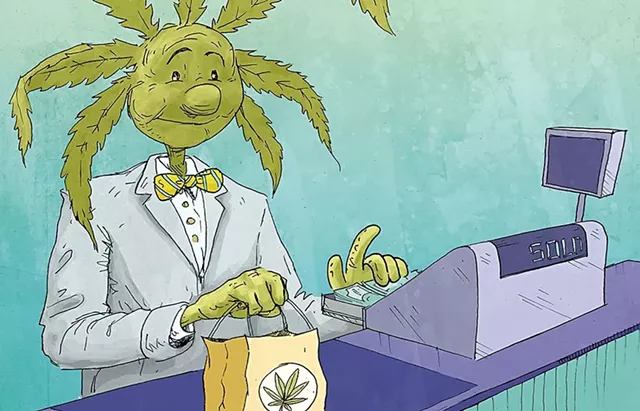 Residents of some Vermont towns are set to vote on Town Meeting Day in March on whether to allow recreational cannabis shops to operate in their communities once sales become legal in 2022. Middlebury and Windsor residents will cast ballots on the question; elected officials in Brattleboro, Burlington, Montpelier and Waterbury, among others, are contemplating similar votes.
Act 164, which sets the framework for taxed and regulated cannabis sales in Vermont, requires such an "opt-in" vote. Approval does not mean a cannabis store would open in town, but it does allow a business to set up within city limits after going through the proper permitting processes. Municipalities would likely hash out zoning and other regulations later on.
Given the expected regulatory hurdles and planning that go into opening a business, especially one in a new, controversial industry, the sooner a municipality makes the decision, the better, said Dave Silberman, a cannabis advocate and Middlebury resident who prompted his local selectboard to put the issue on the ballot.
"For a business like this to be successful in Vermont, it really needs to be welcome in town and woven into the fabric of the town and accepted broadly in the town," Silberman said. "That's what we're trying to do here: create a long runway for these entrepreneurs to gain that acceptance."
In most municipalities, getting a question on the ballot requires a vote by the selectboard or a petition signed by 5 percent of registered voters; ballots must be finalized by the end of January. Cannabis attorney Tim Fair said he's got clients in "15 or 16" towns, including several in Lamoille, Essex and Orleans counties, working to arrange opt-in votes.
He and his clients have encountered "a lot more hesitation than we expected" from selectboards, Fair said.
Unlike host communities in some states, Vermont towns could not collect a cannabis sales tax, aside from the local options tax that about 16 municipalities — including Burlington, Brattleboro and Montpelier — have already enacted. But a pot shop could increase property taxes, and its local licensing fees would go to the host community, among other benefits, said Conor Casey, a Montpelier city councilor. He's asked his colleagues to discuss putting an opt-in vote on the March 2 ballot.
"I think it probably has a good chance of passing," he said, referring both to the council vote and a citywide one.
Casey noted that Montpelier has long been progressive on weed: Voters passed a marijuana decriminalization measure in 2010, well before such decisions were the norm. For the last seven years, the city of 8,000 has also been home to a medical cannabis dispensary, the Vermont Patients Alliance, without any serious incidents, Casey added.
— S.G.