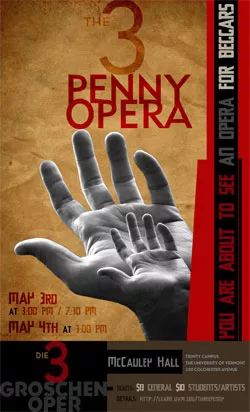 When it debuted in Berlin in 1928, The Threepenny Opera (Die Dreigroschenoper) instantly turned old-fashioned opera into groundbreaking musical theater. It had a political edge, thanks to the lyrics of Bertolt Brecht (1898-1956), and its music was infused with the sounds and sensibilities of 1920s German cabaret, courtesy of the great composer Kurt Weill (1900-1950).
Of course, Threepenny still has those qualities 80 years later, along with a formidable list of credits. In its first year, the so-called "Beggar's Opera" inspired 46 stage productions around Europe; by the time the Nazis rose to power in 1933 — causing Brecht and Weill to flee Berlin for the U.S. — there had been 130 productions. The first major off-Broadway version began in 1954 and lasted seven years, making it, at the time, the longest-running musical in history. Renditions of the show's most famous song, "Mack the Knife," became huge hits for Louis Armstrong, Bobby Darin, Ella Fitzgerald and others. Oh, and Threepenny was made into a film three times (1931, '63 and '88) and inspired others, such as Cabaret and Chicago.
This spring, the University of Vermont's Rachel Perlmeter has made Threepenny the centerpiece of a multidisciplinary course. But not because of the work's phenomenal success; rather, its multilayered complexity. "On every level, the work is still such a challenge, a work that pushes you to question the relationship between the audience and the performer, to stimulate critical thought," she says. "The music is really challenging, for students and professionals alike . . . It was also an opportunity for a group of people from different disciplines to come together and think through what Brechtian concepts have to offer now."
When Perlmeter's staging of Threepenny opens this weekend — at the former McAuley dining hall on the Trinity Campus — it will be the culmination of a semester's efforts from not only UVM students and faculty, but also community members. "It is a hybrid," as she puts it, noting that the age range of performers is broad, too. The cast numbers 17, the orchestra and vocalists — led by T.L. Read and Tom Cleary, respectively — 14. Local actor Rick Ames will play the anti-hero Macheath. Perlmeter has wide involvement from UVM: "German, theater and music departments, as well as art and film to some extent," she explains. "And the Holocaust Center." She's also received support from the New York City-based Kurt Weill Foundation.
Given Threepenny's spirit of alienation, disruption and anti-authoritarianism, Perlmeter's choice of venue was inspired. McAuley Hall is being renovated, and "a lot of it is gutted at this point," she notes. "I was looking for a large space, so we discovered this one was available, in this limbo period. I got permission to use it — the rawness is what I like," Perlmeter adds. "The building has a sort of mid-century/modern feel. There's something very Brechtian about it."
The nontraditional space will give performers free range — there's no actual "stage" — and "allow the audience to be much more immersed in the world of the piece," as Perlmeter puts it. "We've been experimenting since day one." Both the lighting (by John Forbes) and the instrumentation will be "appropriate to the architecture of the space," she adds. "We're just letting it be itself. Brecht said you shouldn't hide the elements" of the production.
Playwright Perlmeter has a history of undertaking projects in which intellectual rigor, experimentation and drama coalesce. In fact, she's brought the concept of "multidisciplinary" to a new level at UVM. In 2006 her "Duras India Song Project" — honoring the French author Marguerite Duras on the 10th anniversary of her death — involved a two-day scholarly symposium, a screening of the 1975 movie version of the novel, and a new theatrical production. Last year she staged her own Ostentatious Poverty: an economical quartet — a "madcap, absurdist play of ideas" that featured an original score, performed live onstage, by UVM music prof/jazz musician Patricia Julien. Ostentatious Poverty may be the only play extant that explores both "the catastrophic and turbulent aspects of our economy and culture" (according to the show's MySpace page) and "counterpoint/polyphony within the quartet structure."
Heady stuff. But as a guest artist working within Continuing Education and embracing multiple departments at UVM, Perlmeter needs to think big. And she does, happily. "It's been great to learn from my collaborators, very stimulating," she says. "I hope this kind of interdisciplinary approach will go on and flourish. It's a special group of people that have come together — I've gone around the university gathering kindred spirits."