Courtesy Of Monika Rivard
Rachel Lindsay
Two letters were written on cartoonist Rachel Lindsay's left hand on a recent Saturday: RX. Did the pen mark reference book duties related to her newly released Rx: A Graphic Memoir? No, she said — it was a reminder to pick up her prescription.
Since 2016, Burlington-based Lindsay has contributed her largely day-in-the-life comic "Rachel Lives Here Now" to Seven Days. Rx, her first book, is a deeper dive into her history, shaped around her life-changing hospitalization for bipolar disorder. Though keenly aware that navigating its symptoms is an ongoing process, Lindsay considers her memoir, seven years in the making, a form of exorcism, a vehement statement of agency, and a necessary reckoning with her illness. The book represents a coming to terms with her past self, and selves, laying bare her traumatic experience of mental health care in the U.S.
When Lindsay, now 31, was in her early twenties, she lived in New York's East Village and worked as an account manager at renowned Manhattan advertising firm Y&R. She experienced her third manic episode while she was working closely with Big Pharma to sell antidepressants — medicines with which she was intimately familiar as a patient.
"I found myself passing for sane in the most extreme scenario I could imagine," Lindsay writes in Rx, released in hard cover by Grand Central Publishing this week.
That "passing," as her memoir chronicles, did not last. When Lindsay quit her job to move to Arizona and pursue a life as an artist, her parents intervened.
Rx opens in 2011, on the date of Lindsay's involuntary committal. She immediately employs the unique form of the graphic novel to her storytelling advantage: The establishing panels show an enthusiastically compliant Lindsay explaining her version of events to a passel of doctors. These are juxtaposed with alternative depictions of that same sequence.
The space that Lindsay artfully opens between disparate versions of reality cuts quickly to a key element of her experience. Structures of duality shape much of Rx: Lindsay's choice to draw her "sane" eyes as small dots and her "insane" eyes as dinner plates; her depiction of her professional self as a wolf in sheep's clothing; fundamental tensions between creativity and capitalism. In this vein, readers will come to understand that Lindsay's life may be starkly divided into before and after.
Asked in another interview about her decision to introduce herself as an unreliable narrator in the memoir, Lindsay offered, "I've been an unreliable narrator in my own life ever since I was diagnosed."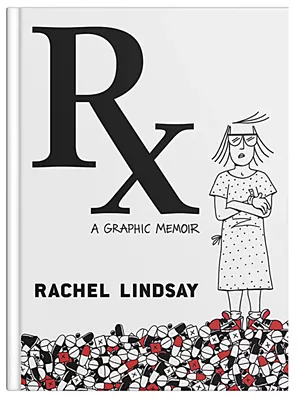 Rx: A Graphic Memoir by Rachel Lindsay, Grand Central Publishing, 256 pages, $28.
What follows Rx's opening is her succinct, painful and often darkly humorous account of hospitalization. Lindsay describes the forces that led her to corporate employment in the first place (needing health insurance to manage her illness), the trials of dehumanization inside the hospital, and her subsequent path toward wellness. Using the graphic form to construct her own narrative, she explained, has been a critical component in her healing.
"Being able to draw these versions of myself," Lindsay said, "has helped me to conceive of toxic selves, recognize when they come up and separate them from my actual self."
"Every stage of this illness has been uniquely challenging," Lindsay said, "and I had to choose the most potent point," referring to the time period she spans in Rx. Still, of all the difficulties she's faced, Lindsay claimed, "Writing this book was the hardest thing I've ever done. I think it was harder than being in the hospital."
The Yorktown, N.Y., native has always dreamed of achieving artistic success. Drawing and graphic narrative was always her "thing," she said, from drawing comics in fourth grade to becoming the graphics editor at Columbia University's literary magazine. Her thesis, "A Comic of Age," was in graphic memoir form — she describes it as "auto-bio hodge-podge."
Lindsay was diagnosed with bipolar disorder when she was a sophomore. Her first manic episode, she said, "totally knocked me on my ass." She took time off from school and, in the pages of Rx, describes this as a time of "reprioritizing my life at age nineteen around a single, somber objective: Staying SaneTM."
When Lindsay graduated into the recession-ravaged job market, she obtained an internship at Y&R, which later became full-time employment — leading to where Rx begins.
Lindsay's story captivates, and quickly. One of the book's uncannily salient aspects is its human relatability, enhanced by the accessibility of the visual form.
"This book will be a failure if people who are not mentally ill stop paying attention when [they] turn the page into the hospital," Lindsay commented, referring to the point in the memoir when she's admitted.
Lindsay readily makes herself understood, showing herself to have the identity she was denied during hospitalization: a talented, educated, capable and creative person. Reclaiming her identity and her own version of events for herself — from the depths of what she presents as a deeply flawed system — has been both harrowing and profoundly rewarding, she said.
Following Rx's advance release to reviewers, Lindsay said she has been somewhat surprised by the book's reception among medical professionals. Some view it less as a text about bipolar disorder than an illustration of the vast shortcomings of the American medical system.
"Manic Reflection" by Rachel Lindsay
Regardless of Lindsay's intentions, she emerges as a proponent for a far more patient-centric approach to mental illness. "My doctors never had the conversation about what I [could] really do for myself besides [they] just give me drugs and I don't say anything," she said.
"I felt like I had no choice [about treatment]," Lindsay continued. "I felt like I had no education about my options. And if you don't have education, how can you have agency?"
In August, Lindsay spoke on a panel at the Graphic Medicine Conference hosted by White River Junction's Center for Cartoon Studies — and received a positive advance review from Ian Williams, a British physician, cartoonist and cofounder of the Graphic Medicine website. Among other opportunities, Lindsay also has been approached for speaking engagements by two vastly different institutions of healing: Harvard Medical School and the California Institute for Integral Studies.
The official launch party for Rx is Thursday, September 6, in a city near and dear to Lindsay: Burlington. Indeed, she has dedicated her memoir to the Queen City. In 2013, she made a carefully planned move to Vermont, a place with a dramatically different pace of life than the city.
"I wanted a fresh start where no one knew about my illness," Lindsay said. "The book was do or die. I didn't think about anything except doing it — and getting out of New York."
Lindsay took a job as a cashier at City Market, Onion River Coop, which not only informed her then-nascent strip "Rachel Lives Here Now," but was also where she met a formidable mentor: Vermont-based cartoonist Alison Bechdel, author of Fun Home: A Family Tragicomic. The award-winning memoirist provided feedback on Rx's creation along the way — as well as a glowing endorsement for its cover.
Another high-profile supporter of the memoir is New Yorker cartoonist Roz Chast. Lindsay noted that somewhere in her patient records is a doctor's note stating that her desire to show her portfolio to the New Yorker was "delusional." Chast writes in her jacket blurb that Rx "is a powerful example of how writing and drawing about something painful and unimaginably difficult ... can be healing, both for oneself and for those who read it."
"For a long time," Lindsay said, "the therapeutic value [of Rx] was me imagining that it was going to be my golden ticket." But she discovered that the labor itself was a considerable conduit for growth: "What really was helpful for me in developing this [story], to take some of the heat off of the emotional trauma," she said, was "the actual craft of making the comic. The drawing helped me fill in a lot of the gaps emotionally."
Lindsay described her process as extremely painstaking. "Finding language that was subtle and universal enough to connect people [to my story] is why it took me months to write three sentences," she explained.
She regards her accomplishment with a mix of pride, humility and disbelief. "I've had to do this so I could move on with my life," Lindsay said, "[but] I don't want to be pigeonholed as a mental-illness cartoonist."
Nor, she added, does she want to suggest that her experience is the same as others with mental illness, or that "it's easy once you decide to pursue treatment — because it's not easy."
No one who reads Rx could conclude that Lindsay's path has been easy. Rather, they are likely to be shaken and softened by her story, and grateful for a narrator so sharply fierce, original and human.