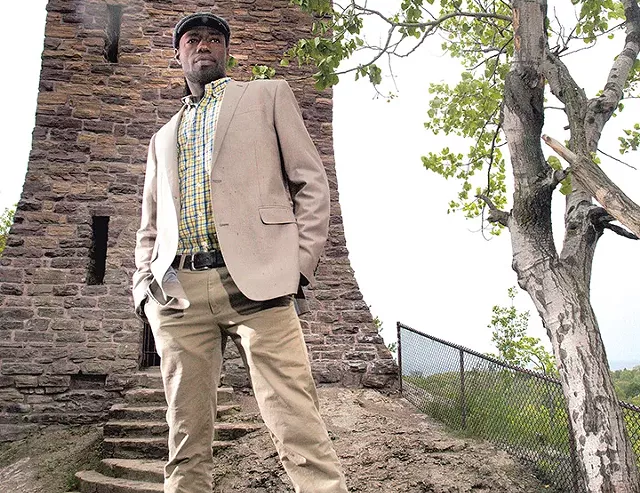 Matthew Thorsen
Ali Dieng
The black man from Mauritania had a message for the white folk at Burlington's C.P. Smith Elementary School. "The way I think is different because I have experienced different things: discrimination, poverty — many, many things," Ali Dieng told a group of 10 Burlington Progressives holding a caucus in the teacher's lounge of the New North End school.
The lanky first-time politician, dressed snappily in a suit coat and newsboy beret, had come seeking the Prog party's endorsement in his campaign for a Ward 7 city council seat being vacated by Democrat Tom Ayres. On June 27, Dieng will face off in a special election against Republican Vince Dober and independent Ellie Blais, both former city councilors and longtime residents of the New North End. Chris Trombly, who first sought the Democratic nomination, said Tuesday night that he plans an independent run.
If elected, Dieng (pronounced "Jeng") would be the second New American to serve on the city council. And he'd be the only nonwhite member on the Queen City's legislative body.
His May 8 pitch worked — sort of.
The Progs didn't like the fact that Dieng couldn't say definitively whether he'd run as an independent or with a party label. The Dems had already endorsed him on May 4.
"You have to know this sort of thing," scolded Meg Polyte, the acting chair of the Chittenden County Progressives and chief of staff for Lt. Gov. David Zuckerman.
But after a lengthy lecture on the importance of political strategy, the Progs took an "advisory vote" to support the 35-year-old newbie. Dieng's identity as a New American is what won Polyte over. She was "really touched" by his desire to help others become engaged.
"The reality is, what he truly knows, truly represents, is a voice of someone we don't have in city hall," she said.
Nonwhite residents make up about 11 percent of Burlingtonians and accounted for nearly 50 percent of population growth between 2000 and 2010, according to a diversity and equity report the city issued in 2014. Strategies to increase citizen engagement among New Americans and other underrepresented groups were also part of that initiative.
The police department hired four officers from diverse backgrounds last February. Both the police and parks commissions have majority-female boards. But officials could not name any New Americans currently serving on boards and commissions in Burlington, and they don't keep track of such stats, according to Noelle MacKay, director of the Community and Economic Development Office.
The most public of those boards is, of course, the Burlington City Council. "It is a loss for the city that we don't have this perspective represented," said Mayor Miro Weinberger, who is supporting Dieng. "He's got great energy, commitment to the community."
In a city that preaches diversity but has little to show for it, Dieng's background is both a blessing and a curse. He has the perspective officials crave but not necessarily the political chops — something Polyte spotted immediately.
"I remain a little bit concerned," she told Seven Days later. "He couldn't really clearly answer any of the questions that night."
Dieng, too, left frustrated. "I was just confused," he said of the Progs' obsession over party affiliation. "It's so distracting, such a mess."
If he hopes to compete, Dieng will have to learn quickly. In his spiel to the Progressive caucus, his platform was vague with no specific policy proposals. He hadn't been to a city council meeting recently, he acknowledged. And during a door-knocking session last week, he misstated the number of city councilors.
If elected, "I think he'll struggle," Polyte admitted. Dieng has since decided to run as a fusion Democrat-Progressive candidate, and the Progs have fully endorsed him.
He faces a politically seasoned candidate in Dober, who served on the city council from 2009 to 2013. The 53-year-old contender said he wants to bring balance to the council, which currently has just one Republican member.
Although he doesn't offer a policy agenda, either, Dober does have a record: He voted against the budget in three out of the four years he served on the council, because of rising property taxes. In 2010, he sponsored a resolution to impeach then-mayor Bob Kiss over the Burlington Telecom scandal.
Knowing the issues and the players "gives me a head start," Dober said. Dave Hartnett (D-North District) and Kurt Wright (R-Ward 4) are both backing him because he has "developed roots in this part of the city," according to Wright.
Similarly, 74-year-old Blais has lived in the New North End for more than 40 years.
"I must have run at least five times or more," said Blais, who served on the council from 1994 to 1996, and again from 2000 to 2006. "I just don't like taking no for an answer." With her name recognition, she added, "I think people realize that I'm honest, and I will work for them."
How does Dieng distinguish himself from these veteran local pols? He has strong opinions about universal childcare, improved transportation, increased affordable housing and public safety. But his favorite topics appear to be communication and connection. "I believe that Burlington diversity makes us stronger," Dieng says in a campaign video on his Facebook page that features him touring Burlington as Afro-pop music plays in the background. "As your city councilor, I will work to ... connect and engage neighbors in what's happening in our city."
Dieng was born in Mauritania, a predominantly Muslim, Arabic-speaking West African country of about 4 million. His family moved to neighboring Senegal to seek medical care for his mother, who died when Dieng was young. Raised by his paternal grandfather, Dieng attended high school in French-speaking Senegal, where he started an English club and campaigned for the only elected office he's ever held: class president. He returned to Mauritania to spend three years at the University of Nouakchott but never earned a degree.
There he met his wife, Angela Smith-Dieng, who was serving in the country as a Peace Corps volunteer. He followed her to the U.S. in 2007, and the couple moved to Burlington in 2008 to be closer to her family.
Stateside, their roles reversed, and Dieng became the "volunteer" — for AmeriCorps — diving into community organizing. He established after-school programming and started a bicycle book mobile in the New North End. While he worked, Dieng founded a drumming group and a soccer tournament for New Americans. He joined the boards of two local nonprofits: Champlain Valley Office for Economic Opportunity and Rights & Democracy.
Dieng currently works as the family outreach coordinator for the Burlington School District and also runs Parent University, a program he started to help get New American parents involved in their children's education. In both roles, he assists families who are struggling to navigate the school bureaucracy and services.
In December 2015, he and Angela moved with their two daughters to the New North End. They're among those changing the demographics of Burlington's most suburban neighborhood, which has traditionally been seen as conservative — and white.
Dieng's made a lot of friends in the past year and a half. A video showed that local residents of all hues, speaking several different languages, packed the Robert Miller Community Center to support him at the Democratic caucus on May 4, four days before he approached the Progs.
"This is unprecedented," a grinning Dieng said as he scanned the throng of more than 100 people. "We are a diverse community, it's uncontestable. We need to move forward just like that. Together."
Dieng won in a landslide. He earned 76 votes, beating out Chris Trombly and Lorraine Carter-Lovejoy, who tallied 15 and 12 votes, respectively.
Fifteen percent of his votes came from New Americans, Dieng said later, some of whom registered on the spot in order to support him. Carter-Lovejoy later endorsed Dieng's candidacy.
But "unprecedented" may be an exaggeration, Hartnett noted: Michael Ly, the son of Cambodian refugees, ran for a council seat in 2015. Kevin Garrison, an African American man, has served on the school board. The first New American to serve on the city council also hailed from Ward 7: Bianka LeGrand, a Democrat born in Bosnia and Herzegovina, spent one term representing her neighborhood before stepping down in 2015.
"For me, this is nothing new," said Hartnett, whose objection to liberal Dieng is that he "really doesn't reflect the views and the politics of the people" in the ward. "I'm a little surprised at the buzz."
LeGrand, though, remembered how difficult it was to break through ethnic barriers. "Not being born here in Vermont can be perceived as not having enough knowledge or experience in a culture, and that's absolutely not true," LeGrand said.
Dieng's candidacy, she said, might be a "demonstration that our community is moving in a more positive and open direction."
Dieng does not frame his campaign explicitly in terms of race, but it's impossible to avoid. He's a tall black man with an accent, and, during a door-knocking session last week, potential voters noticed.
"Are you a citizen?" asked one man, not unkindly, on Hope Street. Dieng said he was indeed.
Down the street, a woman stated matter-of-factly, "You're not from around here."
Ward 7, bounded by the Winooski River to the east and North Avenue to the west, has long seen itself as distinct from the rest of the city. The ranch-style homes with tidy lawns seem distant from the specialty shops and tourist draws in Burlington's downtown.
The district consistently votes no on school budgets and has had mixed feelings about experimental bike lanes installed on North Avenue. Voter turnout is high; last November, 67.8 percent of its 4,005 registered voters cast ballots.
Dieng said he plans to knock on every door before the election — 10 houses per night. On Tuesday evening last week, he hadn't yet met his quota when his wife and two daughters, Aisha, 3, and Apsa, 9, sat down to dinner on their backyard deck.
"I can eat later," he said with a shrug.
At one house, two children greeted him joyfully: "Mr. Ali!"
Another couple pledged their support if he worked to mitigate taxes.
One woman, who declined to provide her name, proved unreceptive to Dieng's pitch. Early childhood education shouldn't be a priority, she said, and the neighborhood doesn't need more public transportation.
"We do that shit ourselves," she told him. "When I was a kid, we biked to school."
Before bidding goodbye, Dieng, ever the optimist, urged her to call him to talk more.
"The one thing I learned is you can never, ever, ever get discouraged," he said as he rang another doorbell down the street. "This country is a democracy, and, whatever I do, not everyone will understand — or agree with me."