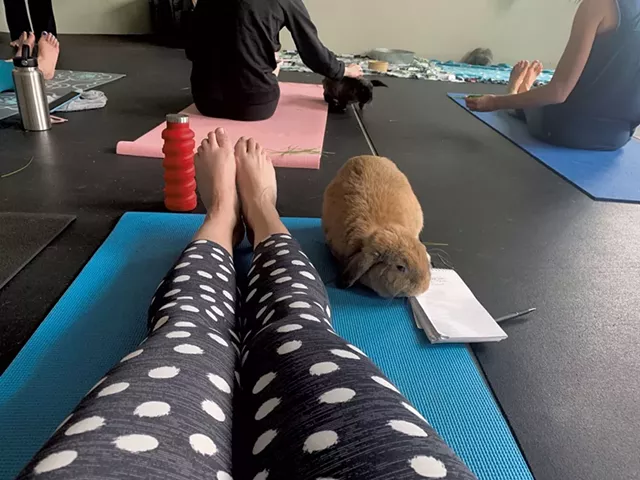 Alison Novak
Goldie nibbles on Alison's notebook
Prior to this article, I'd never had my reporter's notebook nibbled while on assignment. But then, I'd never done yoga with bunnies before.
On a Saturday afternoon in late May, all that changed. My 12-year-old daughter, Mira, and I chatted excitedly as we drove to Water and Rock Studio in Burlington for a Bunny Yoga class. The 1.5-year-old studio is the second outpost of a business started in the Chestnut Hill neighborhood of Philadelphia by Suzanne and Japheth Brubaker, who now live in Shelburne with their two young children. The Philadelphia studio offers kitten and goat yoga, while Burlington classes include bunnies, puppies and, in the near future, goats.
"Are we going to watch the bunnies do yoga?" Mira mused. "Do you think we'll do poses with them?"
I explained to her what I had gleaned from social media and my brief conversation with the owners. We'd be doing the poses while the bunnies free-ranged around the room. Still, I wondered aloud, how much yoga would we actually practice with a cluster of cute cottontails to distract us?
Research shows that doing yoga and being around animals are both good for your health — and "doing these things together is amazing," explained Japheth. Animal yoga, he added, is a great way to combat the social isolation that comes with the rise in internet activity.
The classes benefit the non-human participants, too. Water and Rock donates half of the class proceeds to the rescues, sanctuaries or farms that provide the animals. And the Brubakers promote animal adoption when appropriate. Plus, said Suzanne, "many of these animals long for attention, exercise, play and snuggles," and Water and Rock's classes "provide a calm, safe space" for just that.
Jessie Jerry and John Diegel, who run the Fluffy Bunny Rabbit Sanctuary in Panton, brought seven rabbits to the studio for our class, which cost $25 per person. Two of them — a copper-colored mini lop named Goldie Hawn and a brown American sable named Moose — were available for adoption that day, while the remaining five were either permanent residents of the sanctuary or not yet ready for a new home.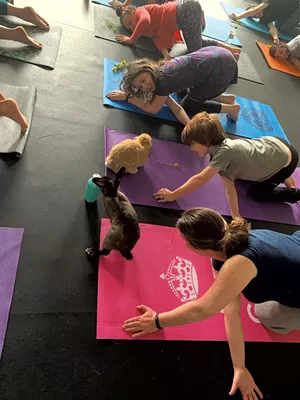 courtesy of water and rock studio
Mira Novak and Grace, Peter and Jill Warrington (top to bottom) enjoy bunnies and yoga
Before class got underway, Suzanne explained to the 16 of us — primarily women, and a few kids and teens — that the bunnies had already participated in a morning class so they might be a little tuckered out. Most of them relaxed on a fleece blanket in the front of the room, while a few hopped over to peoples' mats, eliciting giggles.
"Let them come to you," Jerry advised. Because rabbits are more fragile than dogs or cats, she explained, they shouldn't be picked up during class. She circulated with a basket of grass and dandelions, inviting us to take a handful to place on our mats as bribes.
She then gave us some info that might come in handy if "Jeopardy!" ever has a "Hare-Raising Facts" category. Rabbits are crepuscular, which means they are most active at dawn and dusk. And if you see a bunny grinding its teeth or vibrating its jaw, it's likely a sign of contentment, similar to a cat purring. As for their, er, droppings? Not to worry, explained Jerry. Bunny poop is like little marbles, not slimy or stinky at all. Even so, a Water and Rock staffer stood by with a dust pan.
"We understand that more than half the reason you're here is for the animals," said Suzanne, who explained the class was all about being joyful. With that, she instructed us in a series of asanas, from downward dog to warrior I to tree. For a second, I forgot that this was bunny yoga, until I looked down during a series of cat-cow poses to see a ball of fluff scurrying under my torso.
The rabbits got more lively — and the laughter more frequent — as the class went on. Midway through, I looked up to see Goldie forgoing the dandelions on my mat to munch on the pages of my notebook.
The bunnies made it a bit difficult to totally find my flow. When I tried to lie down, I realized a bunny had made itself comfortable on my mat. Balance poses took on higher stakes, as I worked hard to ensure I didn't topple over onto a rabbit. Still, yoga can sometimes feel a little too "sacred" to me, and I appreciated the light-hearted vibe the bunnies brought to the room.
In his decade of working in the wellness field, Japheth said, "I have never seen the reaction I've seen — the smiles on peoples' faces, the joy" as with animal yoga.
During class, the animals gradually relax, he continued, and then the people become calm, too. "There's something magical that happens there ... Everyone coming out of these classes is so happy."
Mira's assessment? The bunnies "cheered up" the class a bit, she said on the drive home. "I really liked seeing their little noses twitching. It was mindfulness in its own way."
Water and Rock Studio is located at 294 N. Winooski Ave., Suite 125 in Burlington. Bunny yoga classes will be offered on Saturdays, July 6 and August 3, at 11 a.m. For information on dog and puppy, kitten, and goat yoga classes, visit waterandrockstudio.com and select the Burlington location, or visit Water and Rock Studio - Goat Yoga on Facebook.