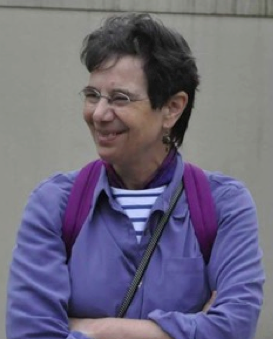 R. Birdie MacLennan of Winooski, age 57, died after a brief illness on March 10, 2014.
Birdie began working in the University of Vermont's Libraries' Cataloging Department in 1990, after working at Harvard University and Merrimack College and receiving a Master of Library Sciences from Simmons College. Since 2008, she served as Director of the UVM Libraries' Resource Description and Analysis Services Department. Her service to the library profession resulted in widespread recognition from her peers around the world. She was also an active member of the UVM faculty, with many years of service on the Faculty Senate's Professional Standards Committee.
In 2005 she received a Master of Arts in French from UVM; these studies greatly informed her teaching and scholarship. She was the Libraries' subject liaison to the Romance Languages department, where her growing proficiencies in French and Italian benefited faculty and students and satisfied her deep intellectual curiosity. Birdie was an accomplished and internationally recognized scholar, with particularly strong ties to Quebec. Her in-depth research on the Grande Bibliothèque of Quebec resulted in published works on libraries and cultural identity. She was an active member of the Burlington Italian Club and the Alliance Française Lake Champlain Region Chapter.
Birdie leaves behind a powerful and passionate legacy as a steward of Vermont history. Through projects funded by the National Endowment for the Humanities, she helped to ensure preservation copies and digital access for Vermont's historic newspapers. Most recently, she served as Project Director and Principal Investigator for the Vermont Digital Newspaper Project, securing multiple rounds of funding and overseeing the creation of 250,000 pages of digital content, much of which is now available on the Library of Congress Chronicling America website.
Birdie was a devoted colleague and mentor, dedicated to serving students, faculty, staff, and librarians-in-training. She was compassionate, generous, and supportive to all who knew her. She will be profoundly missed in the faculty and staff of the University Libraries and as a valuable faculty member at the University of Vermont. Birdie is survived by Anne MacLennan Perkins, her sister, Dominika Perkins her niece, and Donald Perkins her brother-in-law of Nantucket.
The Libraries are establishing a fund to further Birdie's work preserving Vermont's Newspapers and will create a local digital collection in her name. Checks may be made payable to the UVM Foundation and directed to the UVM Libraries, in honor of Birdie MacLennan (The University of Vermont Foundation, 411 Main Street, Burlington, VT 05401).
A Celebration of Birdie's life will be held at 11 a.m. at the Billings Library on Sunday, May 4, 2014, followed by a reception at The Ice House.