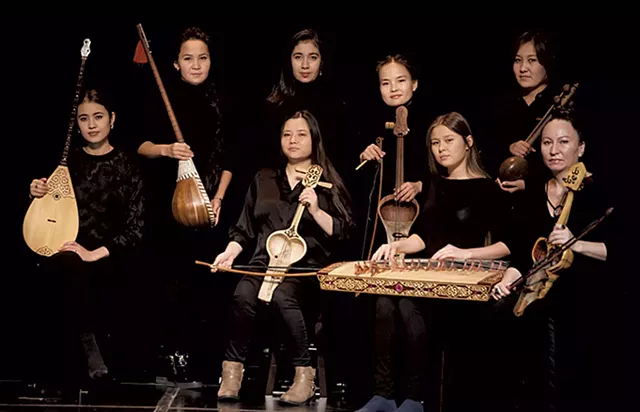 Courtesy Of Jennifer Hauck/aga Khan Music Initiative
The Qyrq Qyz musicians
When Qyrq Qyz (Forty Girls) premieres at the Hopkins Center for the Arts on Thursday, March 1, Saodat Ismailova, director of the multidisciplinary performance, hopes the audience will be inspired and touched by the piece from distant lands.
"It's a project that [brings] together Central Asian countries," said Ismailova by phone, "[and] it tries to think about traditional music in a different way." The Uzbekistan-born filmmaker lives in the country's capital, Tashkent, and in Paris.
Copresented by the Aga Khan Music Initiative, the 86-minute Qyrq Qyz, (pronounced kerr-keys) includes projected video, ambient sounds of the steppes, and live music and singing by seven young female bards. The women range from 19 to 30 years old and hail from Kazakhstan, Kyrgyzstan, Uzbekistan and Karakalpakstan, an autonomous republic within Uzbekistan.
Ismailova's Qyrq Qyz is inspired by the ancient oral epic of Gulayim, a teenage female warrior from the steppes of Central Asia. After invaders killed her father, Gulayim led a group of 40 young women to liberate their land and establish a rule of justice and compassion.
"It's a story about female power that comes from that part of the world," said Ismailova.
Because audiences in the West might be unfamiliar with Central Asian music, film and performing arts, Qyrq Qyz presents "universal archetypes and aspirations for fairness and justice that offer hope and inspiration, both for women and men," said coproducer Theodore Levin.
It's an "urgent story for our times about women's empowerment and fierceness," continued Levin, a professor of music at Dartmouth College. Fairouz Nishanova, director of the Aga Khan Music Initiative, is producing the piece with Levin.
Both Ismailova and Levin stressed that Qyrq Qyz does not attempt to present historically accurate music or costumes of the distant past.
"The idea of making a work very contemporary, very much a part of the present, yet inspired by tradition — that was our objective," said Levin. He and Ismailova first met in 2001 and have been collaborating on various projects since, including a textbook on the music of Central Asia.
Ismailova's multinational creative team includes acclaimed Uzbek composer Dmitri Yanov-Yanovsky, Kazakhstan-raised theater designer Kamilla Kurmanbekova and French lighting designer Séverine Rième. Yanov-Yanovsky's music has been commissioned and performed by cellist Yo-Yo Ma, the Chicago Symphony Orchestra, North Carolina Symphony and Kronos Quartet.
According to Ismailova, selecting the group of seven performers was a challenging process that took about a year. Both she and Levin conducted auditions in cities and towns across Central Asia.
"We wanted musicians who were rooted in traditions, who have in them the seeds of traditional knowledge through traditional processes of transmission that go from master to disciple," Levin explained. But working with these musicians posed numerous challenges for him, Ismailova and the artists themselves.
In the nomadic music world from which some of the Qyrq Qyz artists come, they normally perform solo, Ismailova said. But she and Levin sought musicians who could read musical scores, follow the direction of a conductor and work in a team.
"Even if you fall in love with a lot of musicians ... you should also [consider] how they would function together musically," she noted. Each young performer was paired with a master musician, adding a significant educational aspect to the project.
When the casting offers were made, some parents didn't allow their daughters to participate in the project because they didn't understand the process, Ismailova said.
The filmmaker had to justify to performers and parents the yearlong commitment required of the musicians, including attending rehearsals.
"They are trained as traditional musicians," Ismailova said. "For them, it's just a question of going onstage or in front of people and singing their repertoire."
In addition, cast and production team couldn't work in their own languages; they communicated in Russian — the lingua franca of the former Soviet Union, said Levin.
He praised the performers for surmounting the initial difficulties and taking up the challenge of doing work unlike that which they perform in their home countries.
"We view these young women as the seeds of our continuing work in the Aga Khan Music Initiative to develop and revitalize and further evolve the artistic traditions of Central Asia, which are very old, very rich, very profound," said Levin.
"They were already great when I met them," Ismailova noted. "This is the most fulfilling part of the project — to see how these girls [have grown]."
During their monthlong tour of the U.S., the young women will perform Qyrq Qyz at New England venues and the Brooklyn Academy of Music. Ismailova plans to bring the show to Uzbekistan in the fall and to Kyrgyzstan and Kazakhstan next year.