File: matthew thorsen
Earth Clock
Vermont and independent thinking go way back. In 1777, our state declared itself a sovereign republic. It stayed that way for the next 14 years, and the idea to form a second republic still circulates today. We're free spirits up here, and evidence is ample, from a dog chapel to a museum that showcases scissors and dust. There's even an annual Festival of Fools — the 12th one takes place in Burlington August 2 through 4. We wear weird with pride. And you can, too. Stop by Vermont Republik: Home of Keep Vermont Weird, at 33 Church Street in Burlington, for "Keep Vermont Weird" T-shirts and souvenirs.
1. Burlington Earth Clock
Cruise the Burlington bike path to see the Burlington Earth Clock, built in 2007 by Circles for Peace, a Vermont nonprofit based on the philosophy that witnessing the rhythms and cycles of nature can restore inner peace and strength. Stand in the center facing west, and the five stones you'll face are arranged to mark the horizon where the sun sets at the solstices, equinoxes and midpoints between those times of year. Stand on the flat granite sundial in the middle, and your shadow tells the time of day. Free. [location-9]
2. World's Tallest Filing Cabinet
Tallest Stack of File Cabinets
File this under "Things that make you go
Huh?!
" Eleven stacked metal cabinets stretch 40 feet into the air. (A steel rod running through the middle keeps them from toppling.) Architect Bren Alvarez created this satirical symbol of urban planning bureaucracy in 2002. In its name, "File Under So. Co., Waiting for...," the "So. Co." refers to the Southern Connector, a road conceived of in 1965 but still not built. Each of the 38 drawers represents one year from 1965 until 2002. And if the road does get built? The structure will have to move; it's standing in the way. Free. [location-1]
3. Museum of Everyday Life
Embarking on a "mission of glorious obscurity," this run-down barn calls itself an "asylum for ideas" and a "home for the wanderer." Just like home, you let yourself in and turn off the lights when you leave. This self-service museum has staged exhibitions celebrating the match, the safety pin, the pencil, the toothbrush, the mirror and dust. A yearlong ode to scissors starts in June. Open daily between 8 a.m. and 8 p.m. Donations accepted. [location-2]
4. Wilson Castle
Feeling royal? Tour this castle. Vermonter John Johnson studied medicine in England, where he met and married a wealthy aristocrat. Construction on their Vermont home began in 1885. The $1.3 million house, on a 115-acre estate, has three floors, 32 rooms, 84 stained-glass windows and 13 fireplaces. Herbert Lee Wilson bought it in 1939, and it's now owned by his granddaughter. $6-12; free for children 6 and under. Open Memorial Day through mid-October. Look for haunted tours at the end of the season! [location-3]
5. Estey Organ Museum
From 1846 until 1960, Brattleboro was home to one of the world's largest organ manufacturers. The Estey Organ Company — once the state's largest employer — produced more than half a million reed organs and more than 3,000 pipe organs, as well as electronic organs. You can play them in this museum housed in one of the manufacturing buildings. $5. Open weekend s, 2-4 p.m., May 18 through October 13. [location-6]
6. Dog Mountain
tristan von duntz
Dog Chapel
Not only are dogs allowed, they are celebrated, cherished and enshrined at this 150-acre, leashes-optional mountaintop built by the late artist Stephen Huneck and his wife, Gwen. A barn became studio space, and Stephen built Dog Chapel, which welcomes "all breeds, all creeds; no dogmas allowed," as a ritual space for dog lovers to find closure after their dogs die. The interior is covered with remembrances. Gallery hours vary, but the chapel and grounds — with hiking trails and dog ponds — are open daily, dawn to dusk. The Summer Dog Party is on Saturday, August 3. Free. [location-4]
7. Flying Monkeys
file: matthew thorsen
Flying Monkeys
Perched atop this old train station are six intricate winged monkeys. The steel and copper creatures are the work of late artist Steve Larrabee. A now-defunct Burlington waterbed shop called Emerald City of Oz commissioned the first two in 1975. The monkeys multiplied — the original couple even welcomed baby twins in 2004 — and the simian six serve to delight ... or spark nightmares. Free. [location-8]
8. Earth Line
The Queen City has marked its place in the world with a granite Earth Line running down the center of Church Street. The line follows Burlington's line of longitude around the globe. Every three feet represents 50 miles. City names engraved here, including Montréal, Xi'an, Djakarta and Phnom Penh, are closest to Burlington's longitude. Face north to read the names of cities in the eastern hemisphere and south to read those in the western hemisphere. Free. [location-7]
9. Five Elm Arches
When elms are your medium, sculpting is a years-long process. Artist Dan Ladd has achieved awe-inspiring results, on display at Sculpture Fest, an outdoor sculpture park open dawn to dusk year-round. Ladd used wiring and metal frame armatures to form the arches. Now about 30 years old, some of the trees are dying, but the archway — tall enough walk under — stills stands. Also among the 50-plus exhibits, find Bonnie Gale's 10-by-20-foot living willow installation with eight chambers. Free. [location-10]
10. Whale Tales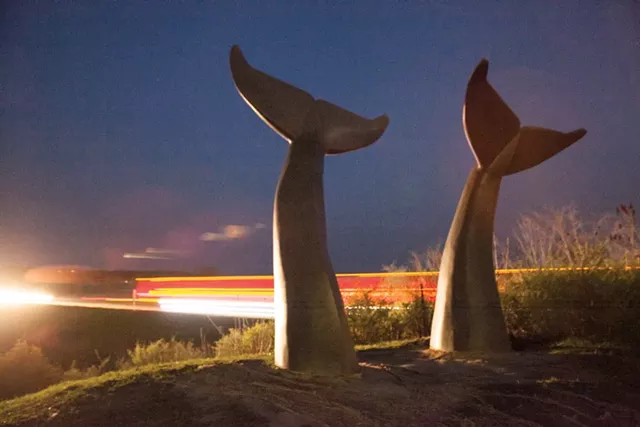 file: matthew thorsen
Whales Tales
Visible from Interstate 89 between Exits 12 and 13, this sculpture — officially named "Reverence" — was created by Jim Sardonis in 1989. Carved from 36 tons of African black granite, the tails stand between 12 and 13 feet tall and symbolize the fragility of the planet. While whales may seem out of place in Vermont, consider this: Workers constructing a railroad in 1849 found the bones of a beluga whale near Charlotte. The Champlain Valley we know today was once the saltwater Champlain Sea. See the real whale skeleton at University of Vermont's Perkins Museum of Geology. Free. [location-5]