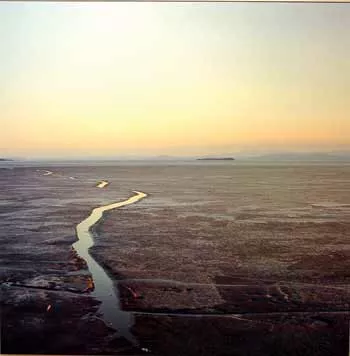 "Lake Champlain V" by Shayne Lynn
A painter and a photographer, both Vermonters, share an exhibition this month at the Shelburne Art Center, and each has written an artist's statement that might apply to both their bodies of work. Shayne Lynn says of his photographs: "Here I am trying to move past beautiful scenery and explore shapes, textures, shadows." Trice Stratmann's oil-on-panel landscapes look beyond outward beauty as well. Her statement explains, "My hope was to have captured the calm energy that exists in each of these locations." With his camera, Lynn captured moments frozen in time that are similarly calm, yet vibrant.
His 48-by-48-inch "Lake Champlain V" is the largest piece in the show. The chromogenic print depicts a waterway, cut by a kayak or canoe, which snakes through vegetation along the lake's shore, headed for distant open water. Islands and mountains dot the background, and a band of orange light tints the horizon. All the hues are muted, but Lynn found contrasts in the three main elements: smooth-as-glass water; soft, mossy vegetation; and an ethereal, misty firmament. While his website demonstrates his ample experience with action shots - such as vigorous skiers - in supersaturated colors, Lynn's selections for this exhibition are quiet and peaceful.
His five other photographs in the exhibition are 12-by-18-inch archival, pigmented prints, which he describes as "among the most stable color prints available." "November" initially appears to be black and white but actually includes low-key browns and blues. The image presents stark values - for example, blinding background illumination of a twig that pokes through ice in the foreground. Lynn also ponders the ground with two slightly more colorful pieces: "Hewitts Island I & II." Brown grasses surround a pool in the first image, reflecting a cloudy sky. In the upper left corner is a flat rock, and a small, island-like stone rests in the placid pool. In "Hewitts Island II," Lynn's camera was trained on a tuft of grass growing between two blocks of granite. He has varied the compositions in his similarly scaled images.
Variations on a theme are even more important in Trice Stratmann's 10 oil-on-panel landscape paintings, because all are the same size - 10 by 12 inches. She's a hyperrealist who relies on actual local color. Her two renditions of Cape Cod beaches, "Bound Brook Island" and "Le Count Hollow" demonstrate different approaches to space.
Like many of Lynn's works in this exhibition, "Bound Brook Island" was created from just a few basic elements. A blue-gray sky hangs over the horizon, while beach grass, white sand and a triangle of silvery-blue ocean unfurl along the right of the picture. Paths and patches of sand deepen the space, with a Z-shaped composition angled across the modest dunes.
"Le Count Hollow" looks inland from the shore, with a horizon of undulating, grass-covered dunes. Sand in the foreground rises gently into a narrow field, and a row of seven unevenly spaced posts leads the eye toward the upper left. This beach is more contained and intimate than the sprawling one in "Bound Brook Island."
Stratmann's forest scenes, such as "Duck Pond" and "Trail, Cochran Road," are tall, thin, vertical paintings depicting stands of trees both young and old. Their composition is a bit more complex than that of her beach paintings, but their colors remain naturalistic rather than subjectively expressive, and her paint handling is likewise restrained - as if to abet the "calm energy" of the scenes.
Lynn and Stratmann's dual Shelburne Art Center exhibition closes September 29, and that's good timing: October's foliage fireworks might otherwise drown out the subtleties of this quiet, high-quality show.