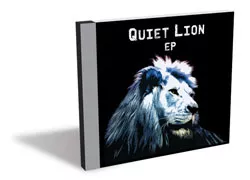 (Jenke Records, digital download)
Tommy Alexander has carved out a nice little niche for himself in Burlington. The college baseball player turned acoustic-guitar-slinging troubadour gigs around town constantly, playing one cozy café or college bar seemingly every night of the week. In addition to his busy performance schedule, Alexander is also the founder of Jenke Records, a small imprint that's home to a ragtag assortment of Vermont songwriters. As if that weren't enough, he has recently unveiled yet another project, a collaboration with his best friend, songwriter Alanna Grace Flynn, called Quiet Lion. Their self-titled debut EP deepens both Alexander's and his label's enigma.
Left to his own devices, Alexander trends toward introspective and at times melodramatic, confessional songwriting, as evidenced in his 2011 solo debut, Maybe One Day. That tendency is apparent throughout Quiet Lion EP's five cuts. But where his solo record favored a blunt approach, here Alexander's wounded musings seem softened. Credit is due to Grace Flynn, whose easy, Deschanel-ian croon is a fitting foil for Alexander's M. Ward-meets-Conor-Oberst weariness. On the opening cut, "The Quiet Child," she tempers his lovelorn wanderlust with warmth and tenderness.
Alexander is predictably solid throughout, and his writing seems to have evolved from the straightforward prose that characterized his solo debut. The poetic nuance and depth here is a pleasant surprise.
Even more pleasant is the revelation that is Grace Flynn. While the EP is essentially a duet album, it's hard not to want to hear more from Alexander's songwriting partner. When she does take the lead, as on the EP's fourth track, "Home Grown," the results are sparkling. Her delivery is effortless and flirtatious, which provides a welcome contrast to Alexander's brooding.
"The Bird House" is the best example of how well matched these two are, and how potent a combination they can be. Trading verses, Grace Flynn and Alexander alternate sun-dappled whimsy and overcast melancholy before joining voices at the chorus, bringing the song, and the EP, to a close in humble and comforting fashion.
Quiet Lion EP by Quiet Lion is available at tommyalexander.bandcamp.com. Tommy Alexander performs at Manhattan Pizza & Pub in Burlington this Saturday, April 28.