W
hat's the best way to improve your home's energy efficiency? And why should you care, anyway? The answers to these questions may surprise you. Here's a quick quiz from the team at
Efficiency Vermont
that will test your knowledge and make the case for upgrading your home.
It doesn't matter how efficient your heating system is if the heat it generates is escaping your home. Warm air can seep out through drafty windows, but houses typically lose more heat through the attic and basement, says Jacob Robichaud of Springfield-based Analyzing Energy.
Robichaud performs energy-efficiency audits for 600 to 700 clients a year, getting referrals from 17 state agencies as well as Efficiency Vermont. He inspects new construction, apartment buildings and aging homes to help owners come up with an efficiency to-do list. It often starts with insulating attics and basements.
"That's the biggest bang for your buck," Robichaud advises. "It's the lowest hanging fruit. It's the best return on investment." Efficiency Vermont currently offers up to 75% off the cost of a weatherization project, and lower income residents can have their homes weatherized for free.
A visit from an Efficiency Excellence Network (EEN) contractor involves an assessment of the existing insulation values and air-sealing measures in place. Implementing recommendations from a contractor such as Jake can dramatically improve the R-value of a home — a measure of heat retention. Proper insulation can take your home from R20 to R60, which can save you hundreds of dollars on your heating bills annually.
Efficiency Vermont can help you find a licensed contractor to do this work, or to perform an energy audit.

Chris Bergeron and his wife, Jenn, experienced all these benefits after they started making energy-efficiency upgrades to their Bristol home in 2014.
A home energy audit revealed lots of cracks and crevices open to the elements. Sealing them made the house more efficient and less expensive to heat, but it also made their living space feel warmer in the winter — and it eliminated the cluster flies that had been nesting behind the siding. Getting rid of the insects and sealing the house against rodents made their home healthier for them and their now-1-year-old daughter, Bergeron says.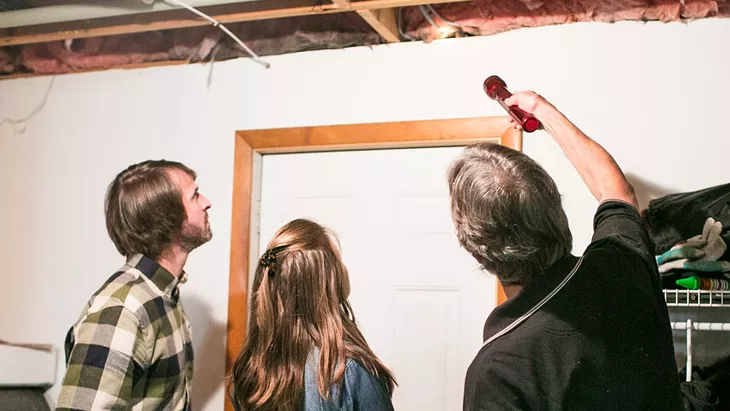 Courtesy
An energy assessment in progress.
In fact, their energy-efficiency audit may have saved their lives: The contractor who did the assessment checked the boiler to measure its efficiency and discovered that it was leaking carbon monoxide into the basement. The level of the deadly gas was too low for their alarm to detect, but breathing it in over time would have affected them. Fixing it improved their indoor air quality.
Bergeron notes that the house is now less susceptible to mold and keeps out pollen during allergy season. Overall, the energy-efficiency work they've had done "made a huge contribution to a much healthier living environment," he said.
Learn more about how to set up a home energy assessment for your home.


Heat pump technology has advanced significantly in recent years, making them a viable alternative heating option, though Efficiency Vermont recommends keeping your existing heating system as a backup heat source for the coldest days of winter. Still, heat pumps can extend the reach of your woodstove or boiler, which can lower your overall heating bill and reduce your reliance on oil or natural gas.
Bergeron and his family primarily use heat pumps with their gas-fired boiler as back up to heat their house, as well as an apartment unit they built above their garage. They're very happy with the results, he says.
James Buck
Mike shows off the heat pump to his son Roan
Efficiency Vermont data analyst Mike Fink also uses a heat pump in his home, along with a woodstove that's been outfitted with a catalytic converter to cut down on particulate emissions.
Fink estimates that his heat pump handles about half of his household's heating load in the winter; he also purchased a heat-pump water heater. He concedes that the up-front cost for both was daunting, but he points out that they're saving the family money in the long run, and both have relatively short payback periods. It's just harder to see those savings right away.
"Nobody sneaks into your room and leaves a few dollar bills on your night table while you're sleeping," Fink jokes. "But that's what you're saving every day" — in addition to saving on carbon emissions.
Interested in a heat pump system for your home?

Incentives for comprehensive weatherization projects
from Efficiency Vermont and VGS can cut the cost by as much as 75 percent, up to $5,000, depending on household income. Low-income Vermonters may qualify for
free weatherization services
through state weatherization agencies.
Instant discounts for ductless heat pumps
start at $350, plus a bonus for income-eligible Vermonters, and most electric utilities also offer additional rebates.
On top of that, more incentives are coming our way in 2023 through the federal Inflation Reduction Act.
Learn more about how this new law could save you even more money
.
If the upfront cost has deterred you in the past, you can also break costs down into monthly payments through payment plans that start at 0% interest. For example, a middle-income Vermonter could potentially pay about $50 per month for a weatherization project and could save a few hundred dollars a year in heating costs. VGS and a handful of electric utilities are now offering an option to let you incorporate the monthly payments directly into your utility bill (no credit score required).
Get the latest updates on
rebates and incentives
from Efficiency Vermont. The
Efficiency Vermont website
also offers product information, energy-saving tips, and connections to retailers and licensed contractors. Don't procrastinate: Make 2023 the year you start your energy-efficiency journey.
Bear Cieri
Chris and Jenn Bergeron at their home in Bristol
Bristol homeowner Chris Bergeron encourages everyone to get an energy audit and start checking things off the list. "All these improvements make a huge difference," he says.
This article was commissioned and paid for by Efficiency Vermont in support of the fight against climate change.