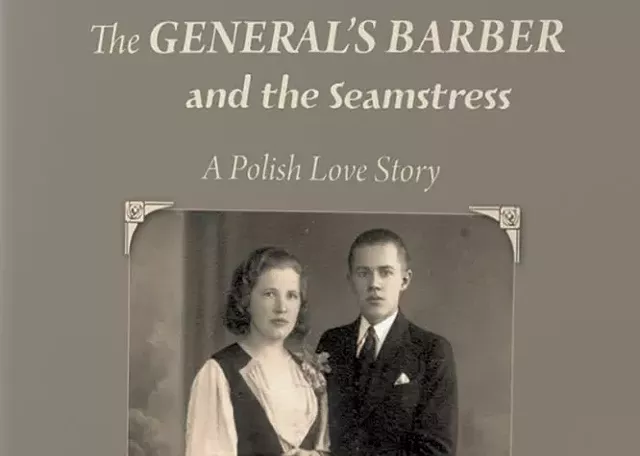 We've reviewed many titles from Wind Ridge Books over the years, so we learned with regret earlier this month that the Shelburne publisher has closed up shop after seven years in business. Not long ago, we received a book called The General's Barber and the Seamstress: A Polish Love Story, a family history from Tereska J. Buko of South Burlington. Released by Red Barn Books, the assisted-self-publishing arm of Wind Ridge, it reminds us of the vital role small publishers can serve in helping people get their stories to the public.
The General's Barber and the Seamstress: A Polish Love Story by Tereska J. Buko, with illustrations by Lerna, Red Barn Books, 294 pages. $18.95.
While Buko's story may lack the hook it would need for a commercial sale in the ultra-competitive field of World War II memoirs, it's a compellingly told addition to the literature of that era. In a preface, Buko recalls that her Polish American mother rarely spoke of her experiences during the German occupation, which she'd spent mostly in Warsaw, separated from her husband. Once, when questioned about that time in her life, Buko's mother "broke out in hives all over her body and literally lost her voice."
But stories did eventually emerge. Buko has turned her parents' oral histories into a colorful narrative, alternating between Józef Buko's adventures in the Middle East (where he fought for the Allies with the independent Polish forces) and Marysia Buko's fearless work in Warsaw with the resistance. The book bursts with fascinating episodes, from Józef's development of a bond with the general whose hair he painstakingly barbered (hence the title) to Marysia's respite at a clandestine theater performance hidden from the Nazis.
Besides being a tale of incredible hardships endured and survived — sometimes with the aid of rare luck — The General's Barber is, as its title indicates, also an inspiring story of the unfading love that kept Buko's parents together for nearly 70 years. The author writes of the pair, who both came from hardscrabble peasant backgrounds, "They lived by a simple code: Know what's right. Do what's right. Just keep going."