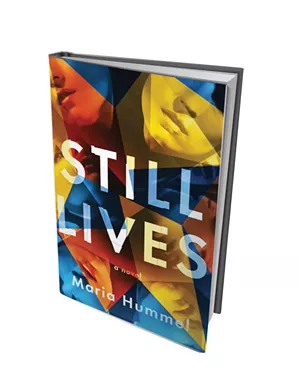 Still Lives by Maria Hummel, Counterpoint Press, 288 pages. $26.
The human fascination with death manifests itself throughout history, from the ornate tombs of the Egyptians to the Mexican Día de los Muertos. Those traditions hinge on offerings to the dead meant to ease their passage to the afterlife. Mexicans leave ofrendas, tiny replicas of household goods and foods, for their ancestors.
But what happens when we can't let go of the dead?
An entire media industry has been built around murder, including television shows such as "CSI: Crime Scene Investigation" and "Criminal Minds." Many dive into the obsession with crimes against women, or sex crimes in general — think of the perennially popular "Law & Order: Special Victims Unit."
Still Lives, a new novel from University of Vermont assistant professor Maria Hummel, is set against this consumption-of-death backdrop. The book is both murder mystery and social commentary, and likely to resonate with anyone who has tried to redefine themselves in a new city far from home.
The novel follows Maggie Richter, a Vermont native and former aspiring journalist, who moves to Los Angeles for a job in a prestigious museum called the Rocque. She works as a proofer, catching errors and glitches in copy before it goes out to the public. After famous artist Kim Lord vanishes on the night of her much-hyped opening, Richter suddenly finds she must catch a far bigger "glitch": Lord's killer.
The complicated plot is propelled by a variety of neatly placed technical factors. Lord's latest boyfriend was Richter's ex, everyone involved seems to have a motive to kill Lord, and Richter was supposedly the last person to see Lord alive.
All of these details keep the plot moving, as does Richter's nose for leads — references abound to her internship with a noted Vermont journalist. But the more intriguing aspect of Still Lives is its obsession with obsession: Collectors are obsessed with artists, artists with their subjects, lovers with exes, and everyone with LA.
Perhaps the most powerful fetish the novel depicts is violence against women. Lord's solo show consists of paintings of murdered women — all of them self-portraits, as she painted herself in their final poses. The images address both our fascination with violence and our fear of becoming victims.
Lord's paintings reference a selection of notorious real-life killings, from Elizabeth Short (posthumously called the Black Dahlia) to Kitty Genovese to Gwen Araujo. Hummel's mentions of well-publicized murders are pointed, as if to remind us, "This is happening."
Likewise, Lord ostensibly intended her viewers to question themselves when looking at her paintings. If we admire her work, are we accomplices? Are we voyeuristically eager to tune in for these acts of violence? This discomfiting closeness to the material may force readers, as well, to examine their relationship to the consumption of death.
Another thematic thread through Still Lives is the relationships Richter has to Vermont and Los Angeles, as Hummel explores how identity is shaped by the physical and social environments we inhabit.
For Richter, Vermont is too quiet. LA is too sprawling and loud. When she first moves there as a young adult, a dialogue underlines the difference between Richter's perception of the metropolis and that of her then-boyfriend, Greg Shaw Ferguson:
"I could be anyone here. I just realized that. And it terrifies me."
"Why?"
"But it's too huge — this city —"
"That's not the city. That's life. Life is huge. Isn't that what you wanted?" Greg sounded earnest and impatient.
I meekly agreed with him, but something inside me did not.
Richter explains that LA's "staggering possibilities left me paralyzed." Ferguson, by contrast, is invigorated. He reinvents himself as a successful gallerist, assuming a new face to fit his new reality.
Later in the story, after the crime is solved, Richter returns to Vermont and again experiences paralysis, this time in her relationship with her home state. So, like a good Vermont protagonist, she climbs a hill to contemplate a scenic vista and gain new insights into her future.
Though Still Lives critiques the societal obsession with violence and death, particularly death of women, it is also a story about the opportunities one gains by flinging oneself into a new environment. It's about trying on masks and deciding which to keep, or which most resembles one's own face. m