Courtesy Of Kaela Coble
Kaela Coble
How many secrets can five bosom friends keep from one another when gossip "is an intangible presence that cloaks the town in intrigue and fear"? Quite a few, we discover in Friends and Other Liars, the debut novel from Kaela Coble of Burlington.
In Big Little Lies fashion, Coble's narrative opens with an untimely death and then weaves between past and present, in and out of different perspectives, to help us understand what happened. The secrets here are less splashy than the ones in Liane Moriarty's best-seller, and the setting less swanky: a Vermont town called Chatwick, which strongly resembles St. Albans. While the novel doesn't quite deliver on the juicy scandals that early pages lead us to expect, Coble makes up for it by giving her far-from-glam burg and her characters' dilemmas a lived-in authenticity.
Ruby, Ally, Emmett, Murphy and Danny call themselves the "crew." Friends since grade school, these Chatwickians have a bond that others, including their own romantic partners, can't quite fathom. Now nearing 30, the crew gathers for the funeral of Danny, the black sheep of the group, who succumbed to a heroin overdose. The others soon learn it was a suicide.
Danny left something behind: a set of missives detailing his friends' deepest, darkest secrets, which he demands (in another posthumous letter) that they disclose to one another. Otherwise, he warns, "you never know how, or when, I might have arranged for them to come out."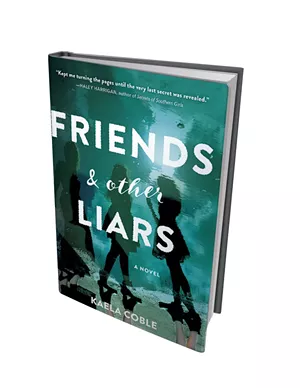 Friends and Other Liars by Kaela Coble, Sourcebooks Landmark, 368 pages.
Naturally, this act of beyond-the-grave manipulation throws the crew into a tizzy. The prospect of having her secret exposed particularly worries Ruby, the only member of the crew who deserted Chatwick for the big city. With one foot in both worlds, she struggles with conflicted loyalties, guilt and an abiding attraction to Murphy — once her best friend, now a small-town lothario.
This is a Vermont-set novel with a gritty feel: There are no quaint general stores, no wandering cows, no spats between old-timers and back-to-the-landers. Instead, the opiate crisis looms over this working-class landscape. Chatwick may look "charming" to outsiders, Ruby tells us, but "they don't guess at how the boredom and the lack of lucrative jobs and the six months of postcard-perfect snowy winters create the ideal breeding ground for depression and addiction."
Despite that ominous context, and Danny's threats, the book is less thriller than character study. Coble devotes the bulk of her pages to flashbacks that explore Ruby's difficult family life and thorny relationship with Murphy. (Although four characters share first-person-narration duties, most of the chapters are Ruby's.) The book flirts with romance tropes — Murphy is depicted as the awkward, pudgy kid who grew up to be dreamy — but ultimately it's more of a bittersweet coming-of-age story than a happily-ever-after.
As a tale of one woman's complicated relationship with her past, Friends and Other Liars rings true. Readers more accustomed to stories of same-sex friend groups may find the internal dynamics of the "crew" especially compelling.
If the secrets that tear these friends apart aren't all that shocking, they do have the virtue of being plausible. And Coble affirms the power of friendship and tradition to help us rise above such petty differences — sometimes even after we're dead.