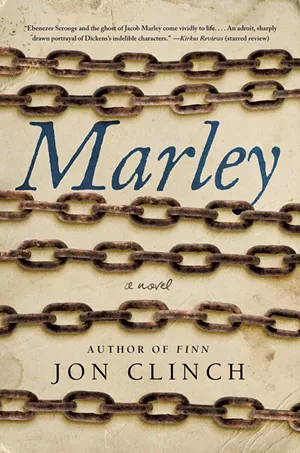 Marley by Jon Clinch, Atria Books, 304 pages. $27.
It's time to bust out those copies of A Christmas Carol — or at least to watch one of the bastardized versions of Charles Dickens' classic that clog the Hallmark holiday lineup. Or, this year, you could get a darker kind of almost-Dickens fix.
Southern Vermont author Jon Clinch gave Huckleberry Finn's dad a backstory in the acclaimed Finn (2007). His new novel, Marley, takes on a different iconic character to relate precisely how Ebenezer Scrooge became an archetype of a money-grubbing buzzkill.
A Christmas Carol opens thus: "Marley was dead, to begin with." Jacob Marley, Scrooge's late business partner, appears only briefly as a chain-dragging ghost. Yet he's key to Dickens' whole conceit, personifying the "[i]ncessant torture of remorse" that Scrooge will face in the afterlife if he continues to spurn his fellow humans in favor of ruthless acquisition.
Despite its title, Marley is the story of Scrooge and Marley. Clinch traces their business partnership from their adolescence to Marley's death, fleshing out aspects of Scrooge's life that Dickens left in sketch form.
He imagines the two men as complements of each other. While Scrooge is an "automatic counting machine," Marley is a confidence man who multiplies the pair's income using shell companies, forgeries and aliases. These chameleon skills come in handy when England outlaws the slave trade, which has been a chief source of the pair's wealth.
Clinch faces a hefty challenge: how to give his characters meaningful development without contradicting Dickens' text, which presents them as having spent their lives in a rut? His solution is to show us young Scrooge making an abortive attempt to change his life during his courtship of the Dickens-canonical Belle Fairchild. When Belle's father refuses to let her wed a participant in the slave trade, Scrooge is spurred to clean up his business.
His less-scrupulous partner is having none of it. Like Dickens' ghostly Marley, Scrooge has forged his own chains, chief among them Marley himself. When Scrooge tries to disentangle himself, a ruinous cat-and-mouse game ensues and Scrooge's sister, Fan, becomes a pawn.
Clinch achieves a convincing pastiche of Dickens' style: baroque descriptions of foul urbanscapes, exhaustive lists, colorful verbiage and in-jokes. At the same time, strategic alterations convey a modern feel. Present tense and short chapters give us a sense of taking brief, bracing plunges into the foggy morass of early 19th-century London.
While not as expansive as his Dickens counterpart, Clinch's omniscient narrator offers plenty of deadpan wit to keep things from getting too grim: "Now that Scrooge and Marley are fully occupied with ruining each other, their personal relations have grown more friendly than at any time before."
Overall, Marley is a brisk, inventive read, sure to provoke lively book-club chat. Yet it never engages us emotionally to the extent that A Christmas Carol does. For all Clinch's efforts, the principals lack the color and gusto of Dickens' best caricatures.
Belle and Fan are sympathetic enough, but powerless (and often clueless). While the original Scrooge reveled in his misanthropy, this young Scrooge is more of a waffler — and perhaps more despicable for it. Marley is a one-dimensional schemer until a change of heart that seems motivated mainly by mortality.
The real star of Marley may be the author himself, as he finds sly ways to make A Christmas Carol relevant to the 21st century without betraying its Victorian essence. Viewed slightly askance, Clinch's numbers-obsessed Scrooge could be a tech bro who disclaims responsibility for the things his algorithms do. The shape-shifting Marley could be an online scammer or propagandist. Their disdain for everything but their own profits still walks among us. And Clinch doesn't need to remind us that modern-day Scrooges and Marleys know how to co-opt the Christmas spirit to their own ends.